BCFC: Fan Forums – Update
Further to the article published by Blues Trust on Tuesday concerning the lack of engagement with Blues fans, the club has now confirmed that a Forum for supporters is to take place. The event is to be held next Thursday evening,15 December in the Jasper Carrott suite at St. Andrew's.
Blues Trust has been invited to attend and is pleased to do so.
Together with all other attendees, the Trust has also been invited to submit questions prior to the meeting to form the agenda for the event. The deadline for doing so is Tuesday 13 December. Following on from the article earlier this week, the Trust has already received some questions that supporters would like to be asked but there is still time for others. The Trust cannot guarantee that every question received will be asked, but if you would like to submit something for consideration, please do by replying to this update and commenting in the section below.
The Trust will share the key discussion points and outcomes from the Forum after the meeting.
Blues Trust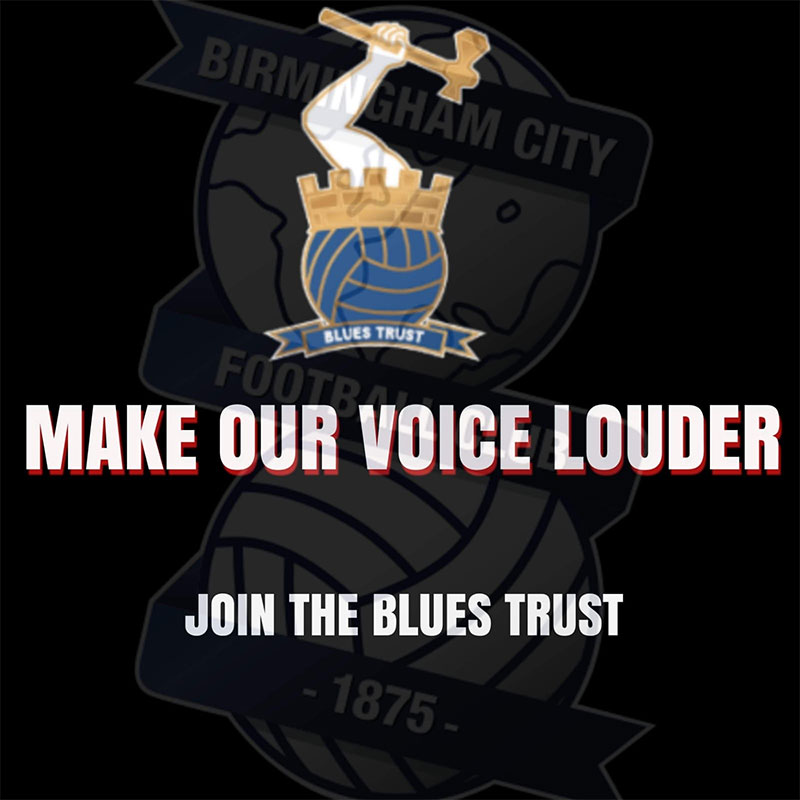 Want to be a full member with voting rights?
We have options for 1 and 2 years at £5 per year.  There is also a 5 year membership for £20 so you get 5 years for the price of 4.  See information and options here.
By making comments:
All we ask is that it relates to the Club that we all love. It can inform, question, challenge, criticise even….but it should not be written to threaten and/or cause personal offence.
By making comments on the above article, you agree to Blues Trust retaining your email address should we need to make contact with you for admin purposes.   Let us know at admin@bluestrust.org if you do not wish us to do this.  We will not give out your email address to any 3rd party sources.
The Trust reserves the right to moderate any comments made (in consultation with the writer) or to deny publication if comments are considered to be inconsistent with the requirements identified above.