The following article has been written by one of our Trust members.  They are the opinions of that person and not necessarily those of Blues Trust.  Would you like to contribute a discussion point of your own about Birmingham City Football Club?  If so, we would be delighted to hear from you.
Next match up for our rested and hopefully rejuvenated squad is, of course, Blackpool. Last season's bad memories of the visit to Bloomfield Road at Easter still linger, after a hammering and humiliation that witnessed everything from the awful to downright unprofessional. But let's leave it at that and move on.
Are we a different animal this time around, wanting to put on a show, surge up the Championship table and make a real challenge for second half season success? Who knows? Time alone will tell. But I like to think we are different now and we can make an impression going forward. Most fans I talk to also feel we have the armoury to upset the odds in one of the most unpredictable Championship campaigns in recent years.
Matters on the pitch are all that concern me now in the light of last week's well documented takeover disappointment. Blackpool, like Bournemouth, have humiliated Blues in recent years with huge goal scoring wins. I hope that motivates the team on Saturday, because the manner of last season's defeat really does need addressing in my view.
The Blackpool match gives the excellent John Eustace another chance to show his worth by getting this current squad of players to perform. My belief is he will. And in some style. Like it or not, Eustace is the only redeeming feature we have right now. With decent players returning after injury, a team spirit not witnessed for a very long time and skill and energy to burn, Blues all round playing personnel look more than useful from where I stand.
Plenty of games still to play should give supporters hope and encouragement for the remainder of the season, even with rumours of a couple of loanees possibly returning to their parent clubs in the new year. Fourteenth in the Championship table is ok at this stage, especially with a small gap to a playoff spot as things stand. Anything lower and dropping further down the league would be a real disappointment now though.
Further lifting spirits with three points at the seaside on Saturday afternoon will do very nicely for all Blues supporters. And, fingers crossed, followed by another majestic display by the nation's future captain when England take on France in the evening. Positive results from both fixtures will surely make Saturday a very, very memorable day.
Mitchell Bray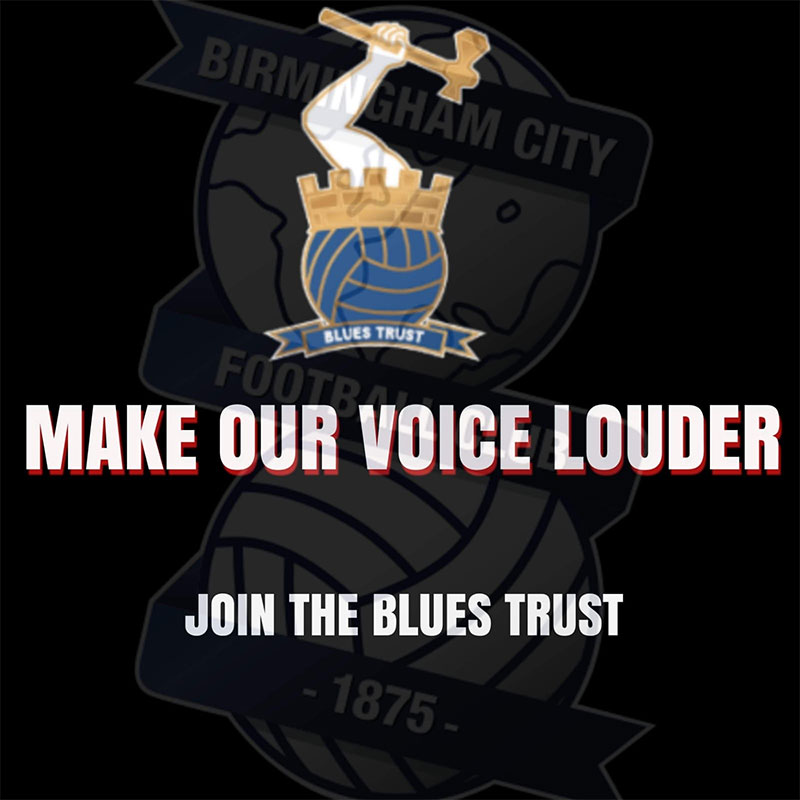 Want to be a full member with voting rights?
We have options for 1 and 2 years at £5 per year.  There is also a 5 year membership for £20 so you get 5 years for the price of 4.  See information and options here.
By making comments:
All we ask is that it relates to the Club that we all love. It can inform, question, challenge, criticise even….but it should not be written to threaten and/or cause personal offence.
By making comments on the above article, you agree to Blues Trust retaining your email address should we need to make contact with you for admin purposes.   Let us know at admin@bluestrust.org if you do not wish us to do this.  We will not give out your email address to any 3rd party sources.
The Trust reserves the right to moderate any comments made (in consultation with the writer) or to deny publication if comments are considered to be inconsistent with the requirements identified above.