The following article has been written by one of our Trust members.  They are the opinions of that person and not necessarily those of Blues Trust.  Would you like to contribute a discussion point of your own about Birmingham City Football Club?  If so, we would be delighted to hear from you.
​After getting what we needed and hoped for against Reading last Friday, Blues now look nicely placed. Not just the current league positioning, but the feeling that the second half of the season could be anything we want it to be.
However, for any meaningful success to be achieved a bit of extra help from those in charge at St. Andrew's is required. Their actions will determine whether we really do intend on going for gold. We all know the need for this extra input and, as with the Lyle Taylor scenario at the same point last season, it is necessary if we mean business.
Starting the second half of our campaign against Burnley at Turf Moor next Tuesday shouldn't be a daunting prospect with the squad we currently have. But for that extra threat we need an additional bullet or two. My feeling is that unlike the many recent seasons of being in survival mode, this new prospect of finishing in a playoff spot with a real chance of the jackpot will tempt investment.
Nothing requires over complicated thinking, albeit in unfamiliar territory, with the second half of this season providing the very real prospect of upward challenge instead of clutching for survival. Striker power is going to be the key. Selling, or in recent times 'giving gifts away', will hopefully be properly addressed this time around with Craig Gardner in situ and the astuteness of our talented manager.
Hope and belief are never far away from followers of our club, which is at last beginning to stir at the prospect of the next twenty three games. Surely the club's hierarchy will want to grasp this long awaited opportunity? My view is that they will, even with takeover talk still fresh in the memory. Should they decide to pull the trigger and have a real dash for a playoff position then that's got my approval, even at the expense of delaying any such move in selling the club.
Healthy New Year to everyone.
Mitchell Bray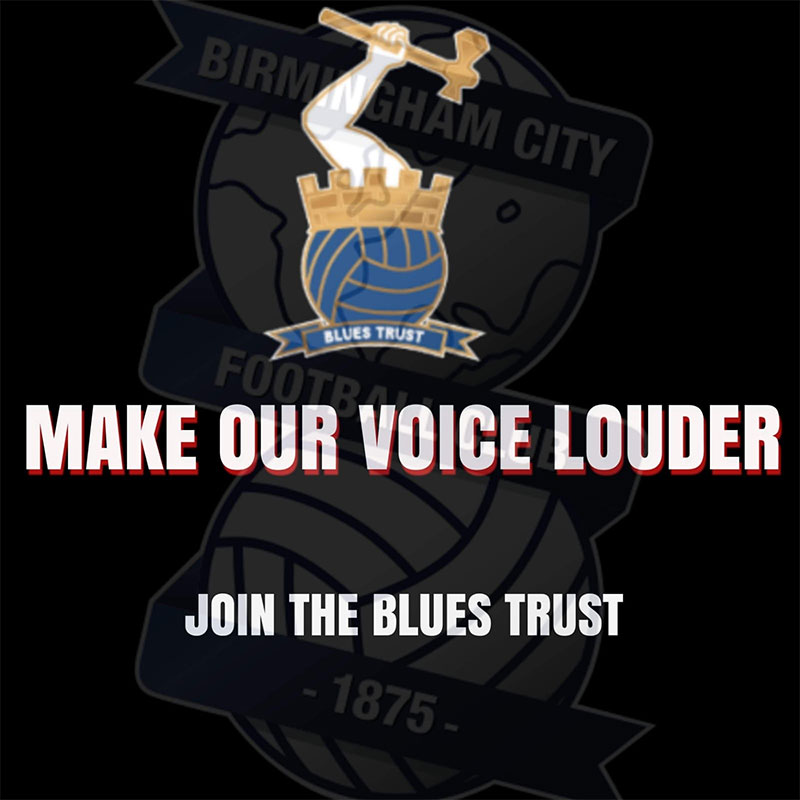 Want to be a full member with voting rights?
We have options for 1 and 2 years at £5 per year.  There is also a 5 year membership for £20 so you get 5 years for the price of 4.  See information and options here.
By making comments:
All we ask is that it relates to the Club that we all love. It can inform, question, challenge, criticise even….but it should not be written to threaten and/or cause personal offence.
By making comments on the above article, you agree to Blues Trust retaining your email address should we need to make contact with you for admin purposes.   Let us know at admin@bluestrust.org if you do not wish us to do this.  We will not give out your email address to any 3rd party sources.
The Trust reserves the right to moderate any comments made (in consultation with the writer) or to deny publication if comments are considered to be inconsistent with the requirements identified above.