The following article has been written by one of our Trust members.  They are the opinions of that person and not necessarily those of Blues Trust.  Would you like to contribute a discussion point of your own about Birmingham City Football Club?  If so, we would be delighted to hear from you.
Not much appears wrong with the team's recent displays that a fresh new face for one position in particular wouldn't solve. Easy to see and say but, nevertheless, a major issue that cannot be underestimated. Quite obviously, the position that needs addressing is that of an additional genuine striker.
It was almost inevitable that, sooner or later, we would find ourselves without the rejuvenated Scott Hogan. And so it proved on Saturday when a hamstring strain picked up in training the day before ruled him out of the match against Blackpool. We knew it would happen and, basically, the club has ridden its luck by keeping him injury free so far this season
The upcoming January transfer window provides an opportunity to solve this striker shortfall, assuming the club has the desire and resources to do so of course and particularly if we want to progress up the table.
This Friday evening presents another chance to pick up more league points, this time against Reading at St. Andrew's. It's a completely different scenario to that of our last home game against Sunderland in my view. Win, and the pressure is on for an exciting challenge for a successful second half of the season. A tasty prospect for our hierarchy to smell that something good just might be on the horizon, and therefore adding spice for a striker investment. Anything other than a win might deflate the balloon though, and dropping down the table could, in my opinion, deter the urgency to strengthen such a vital position in the squad.
This current Championship is not clever, lacking both consistency and quality. But that presents a real opportunity in itself with an open invitation for any team to push for a not-so-difficult fourth, fifth or sixth position. Surely this is the season for a smash and grab? Preston look to have twigged it along with Millwall, Blackburn and Reading.
Recent seasons have seen us stuck in uncomfortable positions in the league by Christmas, and this may still happen depending on the outcome of the game on Friday. Unlike the Sunderland game this is the one that matters for  tempting some serious on-field investment. Keeping quality younger players at this club has never been more important either, and particularly so after watching one of our own parade World Cup skills so majestically for England. Surely premature departures can only be halted if the club is competing regularly for end of season honours?
Strikers can certainly make the difference, with their goals getting us into the shake up. We all know the need, and no doubt John Eustace has plans for such an addition. Finances dictate, but positions of strength also carry clout, particularly from a winning situation that hopefully will come courtesy of Reading.
Finally, a touch of emotional pride. On my local shopping trips to Stourbridge town centre I can now enjoy a wonderful mural in Market Street of Jude Bellingham wearing the three lions shirt. Worth taking a look.
Mitchell Bray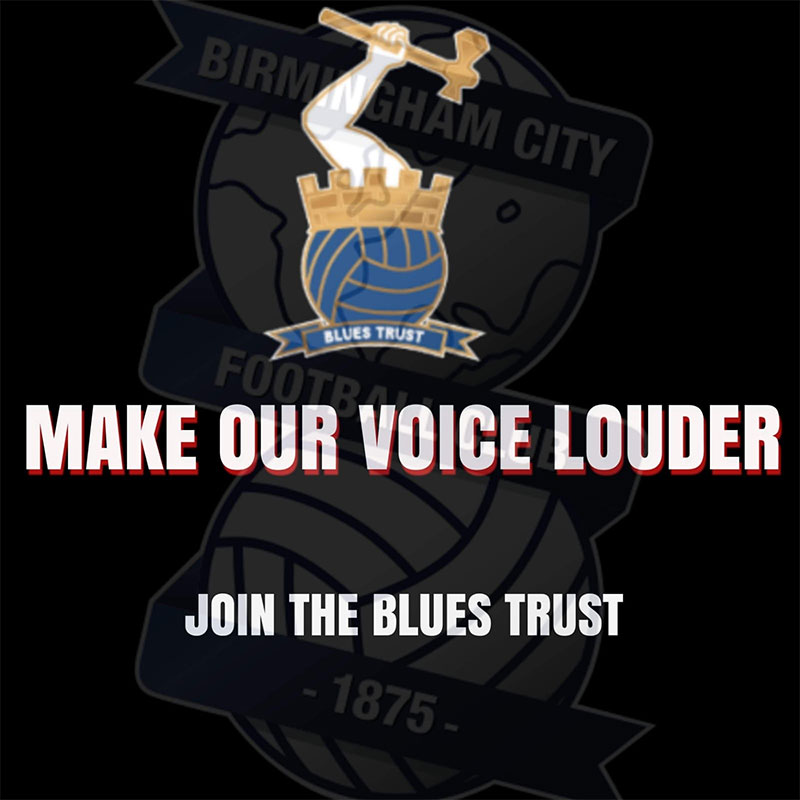 Want to be a full member with voting rights?
We have options for 1 and 2 years at £5 per year.  There is also a 5 year membership for £20 so you get 5 years for the price of 4.  See information and options here.
By making comments:
All we ask is that it relates to the Club that we all love. It can inform, question, challenge, criticise even….but it should not be written to threaten and/or cause personal offence.
By making comments on the above article, you agree to Blues Trust retaining your email address should we need to make contact with you for admin purposes.   Let us know at admin@bluestrust.org if you do not wish us to do this.  We will not give out your email address to any 3rd party sources.
The Trust reserves the right to moderate any comments made (in consultation with the writer) or to deny publication if comments are considered to be inconsistent with the requirements identified above.