The following article has been written by one of our Trust members.  They are the opinions of that person and not necessarily those of Blues Trust.  Would you like to contribute a discussion point of your own about Birmingham City Football Club?  If so, we would be delighted to hear from you.
Four league defeats in a row have certainly deflated all Blues followers. That's putting it mildly. Apart from being annoyed and frustrated with the team's overall performances, and against very mediocre opposition in most cases, my own disappointment is with myself for believing that times were changing. Like one of the Eurythmics song lyrics 'I should have known better'. Another false dawn has now cruelly emerged and with a vengeance.
Players that I thought would change our fortunes have nosedived in form and, quite apparently, in confidence. John Eustace, like those before him, now appears to cut the familiar figure of someone not understanding why the crash landing has happened. Injuries cannot always be the excuse, and the very weak notion that those stepping in have the opportunity to show their talents is not working.
Papering over the cracks is continually being worked on by means of numerous loan players. They change in huge dollops season on season, giving us supporters little time to warm to them and not allowing for any proper building of the team. Before Christmas we had reason for believing change was happening this time around. But these last four defeats really have bitten hard, with reality now centred on another season firmly based on survival.
Pointless aiming anger at the Manager, even if our current eighteenth slot in the table drops further, as my feeling is that under him we have got as good as it gets. At this stage of the season my only suggestion to him would be to drop this fragile notion that we use wingbacks. We clearly haven't got any. Any opposition now seizes on our weakness here and we can see their rewards. Back four would be my choice from now on.
Preston North End next up in the league and, hopefully, a win which will lighten the gloom for everyone around the club. Failing that, then the key to the cupboard drawer housing the prayer mats will have to be used yet again.
Mitchell Bray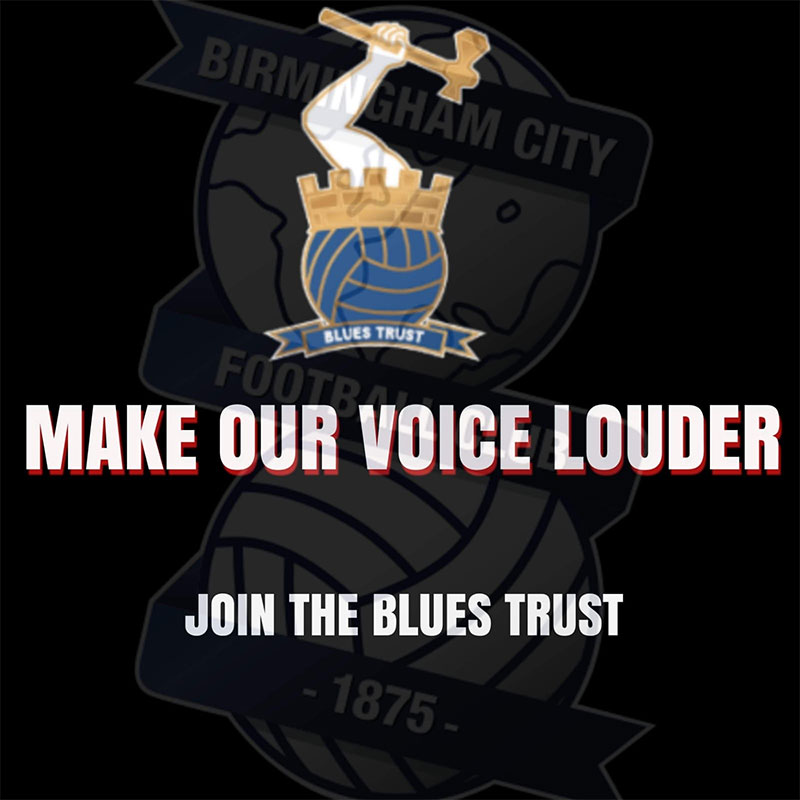 Want to be a full member with voting rights?
We have options for 1 and 2 years at £5 per year.  There is also a 5 year membership for £20 so you get 5 years for the price of 4.  See information and options here.
By making comments:
All we ask is that it relates to the Club that we all love. It can inform, question, challenge, criticise even….but it should not be written to threaten and/or cause personal offence.
By making comments on the above article, you agree to Blues Trust retaining your email address should we need to make contact with you for admin purposes.   Let us know at admin@bluestrust.org if you do not wish us to do this.  We will not give out your email address to any 3rd party sources.
The Trust reserves the right to moderate any comments made (in consultation with the writer) or to deny publication if comments are considered to be inconsistent with the requirements identified above.