The following article has been written by one of our Trust members.  They are the opinions of that person and not necessarily those of Blues Trust.  Would you like to contribute a discussion point of your own about Birmingham City Football Club?  If so, we would be delighted to hear from you.
Three defeats on the bounce plus hamstrings galore have certainly put a dampener on proceedings.  Seventeenth position in the table with twenty games to go has more or less decided what many feel will be our target for the remainder of this season. Survival.  Again.
What has been so disappointing is the fragile nature of the last three results.  And at a time when, maybe, better returns could have persuaded our hierarchy to invest in this January window.  They may still do so depending on the outcome of our next league game against Bristol City.
Getting that depressing outburst out of the way, here comes what I feel might be a different scenario for this coming Saturday and beyond. Having had the cup game postponed against Forest Green Rovers last weekend, the squad will have had almost a full fortnight of rest and, hopefully, the healing of tired limbs.  Hamstrings apart, the refreshed players need to perform and straight to the point 'give us supporters a show'.  We deserve it if only for not exactly being demanding or greedy.
Since these last three defeats the balloon has certainly deflated with talk around our loyal followers centred on survival.  Not good enough anymore in my opinion, with this annual ritual now entering well over a full decade.  We need the players to break this wretched cycle of getting over the line and guarantee another season of second tier football.
Whatever this month's incomings and outgoings deliver, John Eustace needs to recapture that spirit of this season being significantly better than the last.  Millwall, Luton, Preston and Sunderland now start their twenty game campaigns with real hope and backed by supporters with belief and, above all, a buzz.  These four clubs have no world beating strikers or silky creative maestros in midfield areas, but a desire to at least challenge for a single digit place in the Championship table.
John Eustace has players returning from injury with, who knows, maybe even a couple of new arrivals to come as well.  That should help ensure that the team joins the challenge of climbing higher than this awful seventeenth 'home' that so regularly arrives.  We start up again at Bristol City on Saturday, the first league game after the holiday season.  A win will make a huge difference and soften the disappointment of the festive period.  As supporters of our club we have a habit of bouncing back after setbacks and a "winning Blues" will re-ignite the smiles.
Mitchell Bray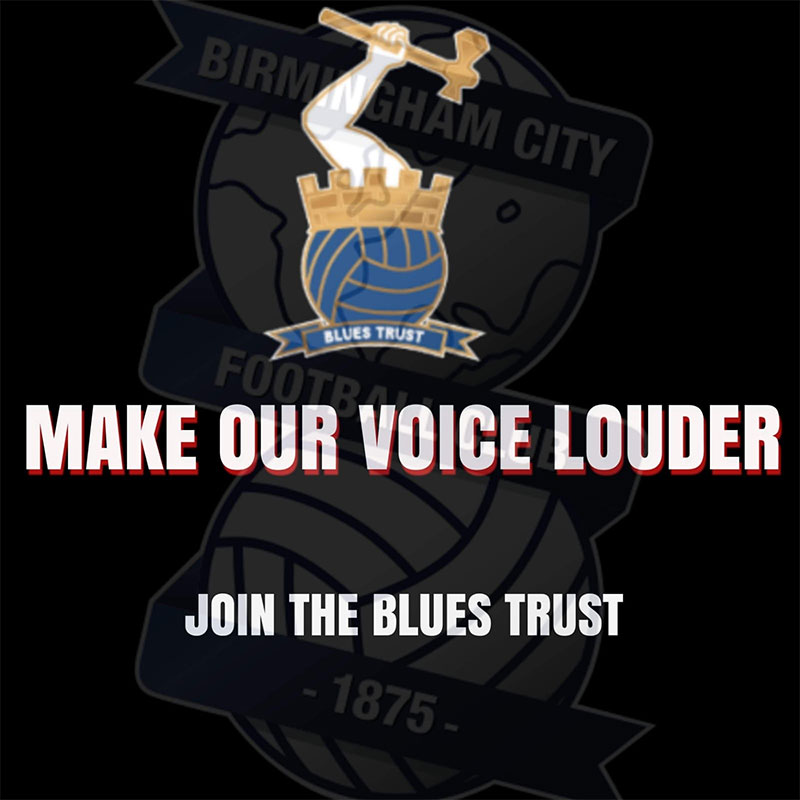 Want to be a full member with voting rights?
We have options for 1 and 2 years at £5 per year.  There is also a 5 year membership for £20 so you get 5 years for the price of 4.  See information and options here.
By making comments:
All we ask is that it relates to the Club that we all love. It can inform, question, challenge, criticise even….but it should not be written to threaten and/or cause personal offence.
By making comments on the above article, you agree to Blues Trust retaining your email address should we need to make contact with you for admin purposes.   Let us know at admin@bluestrust.org if you do not wish us to do this.  We will not give out your email address to any 3rd party sources.
The Trust reserves the right to moderate any comments made (in consultation with the writer) or to deny publication if comments are considered to be inconsistent with the requirements identified above.