The following article has been written by one of our Trust members.  They are the opinions of that person and not necessarily those of Blues Trust.  Would you like to contribute a discussion point of your own about Birmingham City Football Club?  If so, we would be delighted to hear from you.
Whilst the harsh disappointment of Friday night's defeat by Hull City still lingers, the reality of the current situation at our club couldn't be clearer.  In a nutshell, the club needs looking after.  No fancy, complicated theory or psychoanalysis required.  John Eustace and the squad work to their capabilities with tight numbers, leaving the dreaded thought of injuries never more than a tweaked hamstring's moment away.
Since the supposed "takeover" collapse two weeks ago, the club has stuttered and almost stopped moving forward.  Both physically and mentally. Most Championship sides appear well settled right now, and reasonably confident as to their paths ahead, whereas we in B9 rise in spirits one moment and fall off the pedestal the next.
Success on the pitch is what matters to us supporters, but off field business relating to the ownership of the club is still key.  Defeats by Burnley and Hull have hampered genuine hopes of the upward thrust wished for by year end, and depending what result the next game against Middlesbrough brings, the new transfer window will need to be shrewdly operated.
Supporters know what is required and what positions need to be strengthened but with a higher than normal points survival target looking likely to be required this season, those pulling the strings at St Andrew's needs to act quicker than ever.  Survival first is again the priority now. Strikers are needed and never more so, as amazingly there don't appear to be any youngsters coming through the ranks which simply beggars belief.
However, this article is not about chucking blame around and getting at anyone, but simply trying to understand why we get deflated after only a short time of hope.
The recent excellent piece from Almajir and his report from Hong Kong was both interesting and informative, and raises more questions about what the future might hold for our club. Weird to say but from my point of view the quagmire surrounding the 'will we or won't we' be the subject of a takeover in the near future gets ever more thicker.  The club appears stuck and uncared for which leaves supporters at the mercy of people who seem interested in only throwing enough crumbs to get the club through yet another season.
How long this might last is impossible to imagine.  That's why my hope is for early wins in 2023 which might get the investment that John Eustace deserves and a push for the big money lottery only achieved by end of season top six.  Still possible providing injured bodies return, with the added attraction of the pacy striker so desperately needed.
Mitchell Bray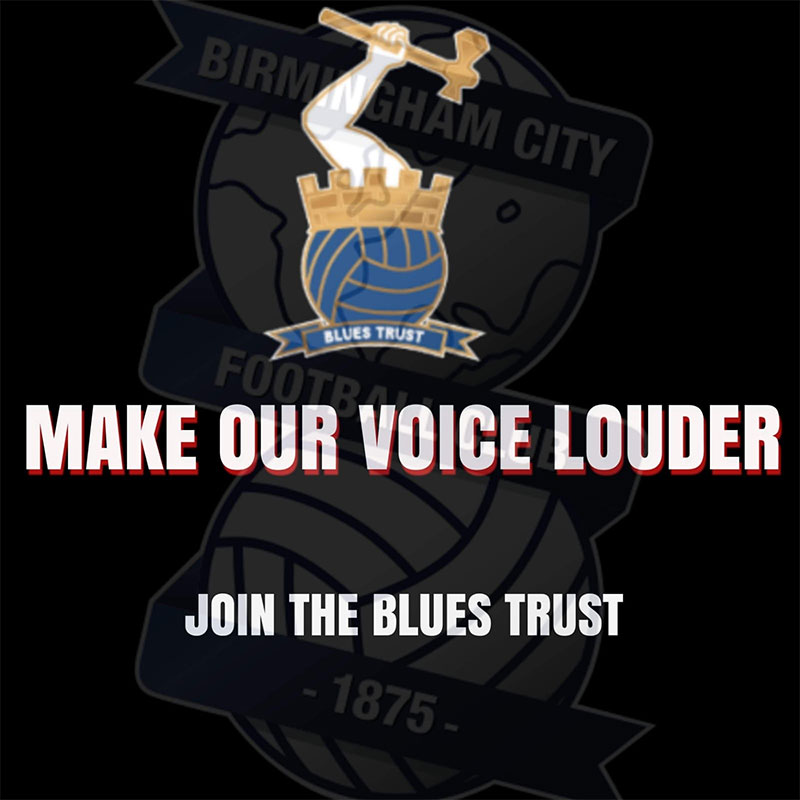 Want to be a full member with voting rights?
We have options for 1 and 2 years at £5 per year.  There is also a 5 year membership for £20 so you get 5 years for the price of 4.  See information and options here.
By making comments:
All we ask is that it relates to the Club that we all love. It can inform, question, challenge, criticise even….but it should not be written to threaten and/or cause personal offence.
By making comments on the above article, you agree to Blues Trust retaining your email address should we need to make contact with you for admin purposes.   Let us know at admin@bluestrust.org if you do not wish us to do this.  We will not give out your email address to any 3rd party sources.
The Trust reserves the right to moderate any comments made (in consultation with the writer) or to deny publication if comments are considered to be inconsistent with the requirements identified above.