The following article has been written by one of our Trust members.  They are the opinions of that person and not necessarily those of Blues Trust.  Would you like to contribute a discussion point of your own about Birmingham City Football Club?  If so, we would be delighted to hear from you.
After last Saturday's final whistle and yet another utterly avoidable defeat against a very modest Preston at St. Andrew's, my thoughts immediately centred on the wasted years that seem to grow season upon season.  Pointless dwelling on the occasional highs which give false dawns, as eventually damp squibs always appear as the winners.
Every true Blues follower needs little insight as to the problems why we cannot compete properly in each Championship season.  We simply don't need analysis, reasons why or what needs to be done.  The answer is as clear as night follows day. It is obvious.  We are waiting and hoping for a Goliath with clout which in turn means serious finance.
We all know this, but why state the obvious I can hear every supporter bellowing?  Whatever and whichever way everything at BCFC is defined or discussed, it all usually leads to frustration and despair.  And especially at this business end of the season when relegation avoidance takes centre stage.  Our club remains static.
Waiting for the knock on the St. Andrews door by the hopeful investor is all we need to know as supporters.  We are sponged out with financial data from the Far East, the endless names that make nonsensical reading because we have no idea who they are and the detailed percentages of who owns what shares which might as well be smarties in a tube.  Analysis is dead as far as I am concerned, together with all that accompanies it.  Likewise the HKSE, which has now got into my thinking as a red herring.
Waiting and hoping for the proper knock on the St. Andrew's door is my simple advice now to my fellow supporters of the club we all love.  Will it happen?  In my view, then most certainly yes. It is just a case of waiting.  Tomorrow is another day. And who knows.
Mitchell Bray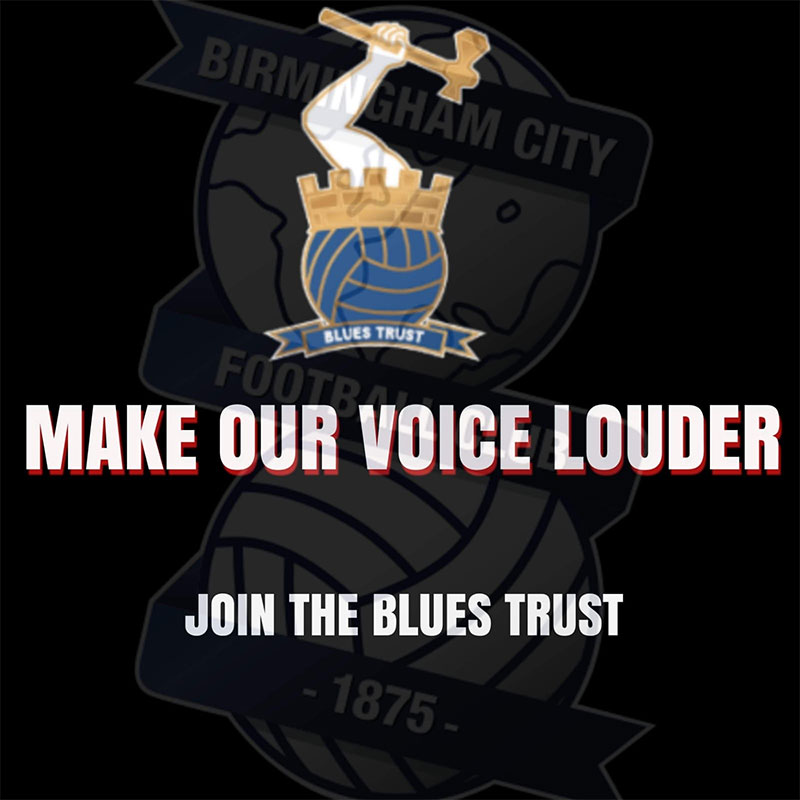 Want to be a full member with voting rights?
We have options for 1 and 2 years at £5 per year.  There is also a 5 year membership for £20 so you get 5 years for the price of 4.  See information and options here.
By making comments:
All we ask is that it relates to the Club that we all love. It can inform, question, challenge, criticise even….but it should not be written to threaten and/or cause personal offence.
By making comments on the above article, you agree to Blues Trust retaining your email address should we need to make contact with you for admin purposes.   Let us know at admin@bluestrust.org if you do not wish us to do this.  We will not give out your email address to any 3rd party sources.
The Trust reserves the right to moderate any comments made (in consultation with the writer) or to deny publication if comments are considered to be inconsistent with the requirements identified above.