The following article has been written by one of our Trust members.  They are the opinions of that person and not necessarily those of Blues Trust.  Would you like to contribute a discussion point of your own about Birmingham City Football Club?  If so, we would be delighted to hear from you.
At the time of writing John Eustace has not been dismissed. But unlike the very safe bunch of professional footballers in his charge, he might be finding it hard to sleep at night right now. This in a nutshell is the reality. Our likeable head coach ages by the day, while those actually responsible for on field performances and getting results seem to be carrying on regardless.
Defeat after hideous defeat is resulting in an amazing run that almost makes for an entry into the Guinness Book of Records. But the players currently performing for the club are far better than this awful run of two wins in eleven games with nine defeats. Defending the likes of John Eustace is not the issue here, as no doubt many supporters will be expecting the axe to fall upon him. Awaiting the familiar is what we have come to expect every season.
Players at our club cannot get a point against any opposition at the moment, especially at home. Lowly opposing teams rule ok when St. Andrew's is on the menu. How we have arrived at this pitiful state is not difficult to fathom, especially with the experienced players at John Eustace's disposal. Comfort zone and low expectations are the reasons in my book.
We hear of "sticking together" and players "giving everything", with "opportunities for those coming in for the injured" etc. All kindly excuses from what appears to be a very compassionate coach. But all that is wearing very thin now.
Time and games are surprisingly still on our side however. There are twelve league matches left, and only a measly ten points required for safety and another season in the Championship. But this current squad needs the proverbial rocket, and quick, if that is to be achieved. Supporters can clearly see the big picture and there should be no more kindly words from a protective JE.
Wigan and Rotherham are up next, and change needs to happen if zero points are not once again the outcome. Not necessarily in new managerial terms though, but in a firmer and tougher directness a la Ferguson or a Clough.
Taking chances and scoring goals is an obvious, and urgent, requirement. But stopping the rot at the other end is the priority in my view. We haven't got the savvy striker nor the gifted midfielder to trouble the opposition at the moment. But at the back we do have defensive experience which should be enough to get the paltry number of survival points needed, starting at Wigan. Forty eight is the number and my advice to JE is to get that emblazoned on every player's mind immediately.
Mitchell Bray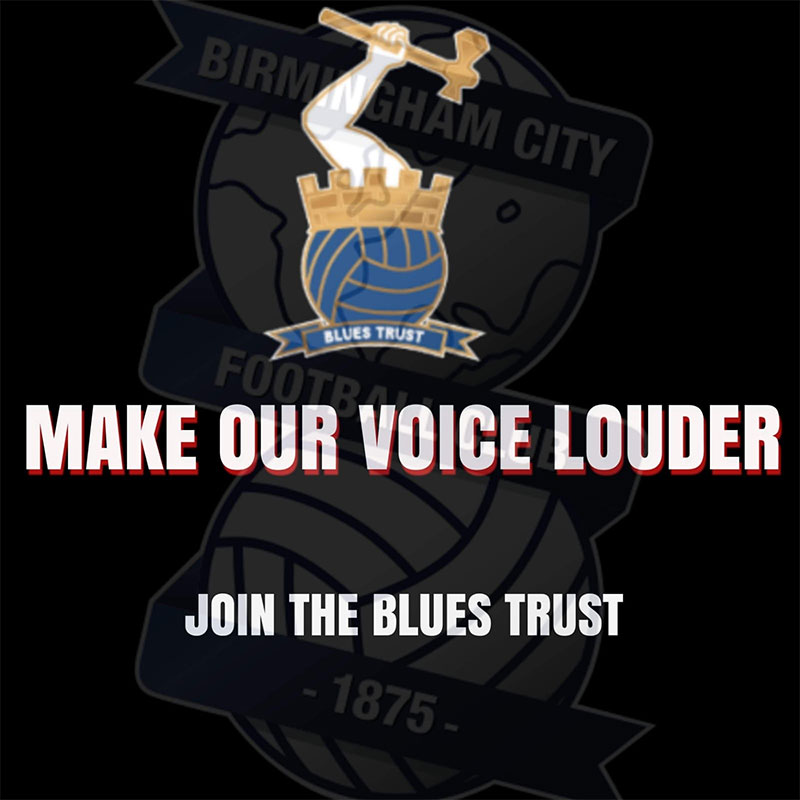 Want to be a full member with voting rights?
We have options for 1 and 2 years at £5 per year.  There is also a 5 year membership for £20 so you get 5 years for the price of 4.  See information and options here.
By making comments:
All we ask is that it relates to the Club that we all love. It can inform, question, challenge, criticise even….but it should not be written to threaten and/or cause personal offence.
By making comments on the above article, you agree to Blues Trust retaining your email address should we need to make contact with you for admin purposes.   Let us know at admin@bluestrust.org if you do not wish us to do this.  We will not give out your email address to any 3rd party sources.
The Trust reserves the right to moderate any comments made (in consultation with the writer) or to deny publication if comments are considered to be inconsistent with the requirements identified above.