Desperately Seeking Safety
The following article has been written by one of our Trust members.  They are the opinions of that person and not necessarily those of Blues Trust.  Would you like to contribute a discussion point of your own about Birmingham City Football Club?  If so, we would be delighted to hear from you.
After two avoidable defeats against lowly opposition, the target for the remainder of this month and what is left of the season is to seek safety with forty eight points. A pathetic target now reduced to a paltry ten which, with current form, looks like climbing Mount Everest. The sooner we get over the line the better.
Since the victories against Swansea and West Bromwich Albion, the uplift in supporters confidence has been well and truly blown away with now ever increasing annoyance. As Tracey Tyler correctly points out, an awful haul of only six points out of a possible twenty seven has been achieved since the victory against Reading before Christmas. This for a squad of reasonably decent players is pitiful. Of course, injuries can be pointed at and, let's face facts, pulled hamstrings are getting to become a joke. But the current situation is serious.  
We all know something is wrong and we all know the situation will not be changing anytime soon. But we desperately need to survive again this time around, and live for another season in the Championship. My real concern is that the longer this barren accumulation of league points goes on, the more anger will be felt at St. Andrew's. And heaven knows we already have enough problems off the pitch.
Many will point the finger as to what is going wrong on match days, with questions being asked about formations and so on. Or simply which are the  best players who should be taking to the field. My opinion, and mine only, is that we have too many elders dictating the on field play, leaving our likeable manager on the fringes. 'Sticking together' and 'lads giving everything' doesn't wash anymore.
Of course we need strong leadership on the pitch and, yes, that certainly includes the captain. But the person calling the shots has to be the manager. At the moment I don't see that. Perhaps this is a subject for another day.
In the meantime we need that safety line and we need it like yesterday. After the false dawn of the two victories seen against Swansea and Albion, the prayer mats had been prematurely returned to the closet. My foolishness and my apologies. Starting against Norwich City tomorrow evening, and until further notice, they are down again.
Mitchell Bray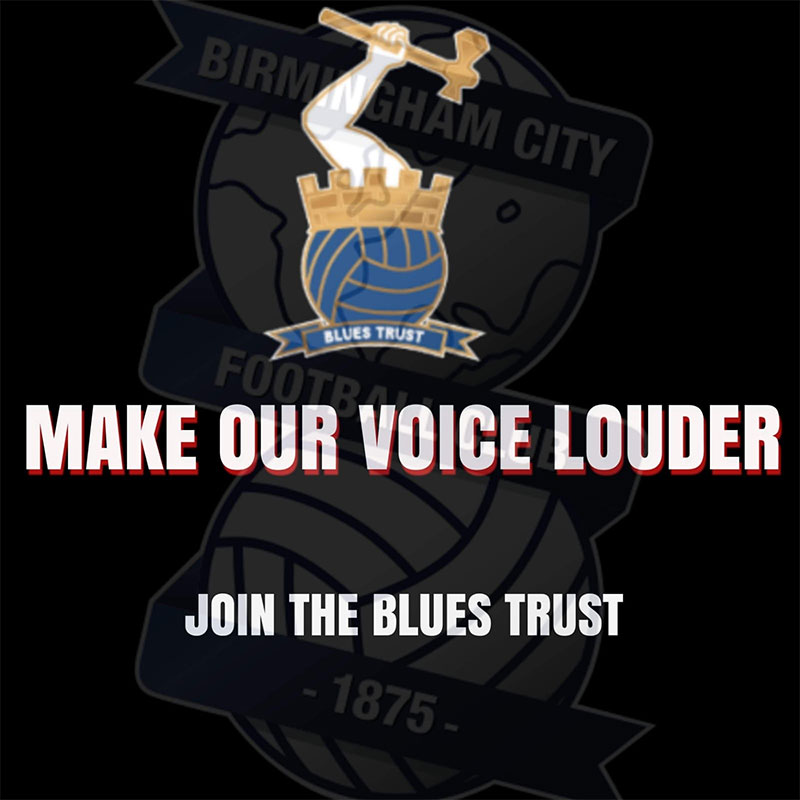 Want to be a full member with voting rights?
We have options for 1 and 2 years at £5 per year.  There is also a 5 year membership for £20 so you get 5 years for the price of 4.  See information and options here.
By making comments:
All we ask is that it relates to the Club that we all love. It can inform, question, challenge, criticise even….but it should not be written to threaten and/or cause personal offence.
By making comments on the above article, you agree to Blues Trust retaining your email address should we need to make contact with you for admin purposes.   Let us know at admin@bluestrust.org if you do not wish us to do this.  We will not give out your email address to any 3rd party sources.
The Trust reserves the right to moderate any comments made (in consultation with the writer) or to deny publication if comments are considered to be inconsistent with the requirements identified above.