Getting Through Unscathed
The following article has been written by one of our Trust members.  They are the opinions of that person and not necessarily those of Blues Trust.  Would you like to contribute a discussion point of your own about Birmingham City Football Club?  If so, we would be delighted to hear from you.
We have been here before and are seasoned enough to be at the ready.  Reality hurts but the facts don't lie. We probably need a minimum of fifteen more league points to survive another season in the Championship.  And we need them fast.  A blunt and hard target if we are to get through unscathed yet again.
Simple for the players and us supporters to accept and understand, albeit dreadfully depressing to be fighting in the dregs of the Championship barrel once more.  Dismiss the illogical notions that dropping a league would actually be helpful, especially those who use this more as a defensive mechanism against disappointment. Relegation would be horrific.
What concerns me, and I'm sure many fellow supporters, is just where are we going to get the required points?  Defensively we are vulnerable, to put it kindly.  Midfield contributions in terms of goals is virtually zero. And, since the World Cup restart, our strikers have gone missing.
John Eustace voices stoically that we must stick together and have belief that we will come through this 'pointless' period.  All very well and commendable, but the trick is to get the players to believe in his words.  Blues supporters are more than doing their bit in 'sticking together'.
Our Championship survival is paramount this time around, and I keep asking myself if we are suitably equipped to get over the line.  Fifteen is a modest target in terms of points required, but with Swansea and West Bromwich Albion next up we need to get some more points on the board urgently.
My plea to JE is to get the back four sorted and organised, and without any ideas that wing backs might come into play.  After that then who knows, as starting and finishing with a point has to be the least requirement.  Let's get through the eighteen games and see what develops, hopefully retaining our Championship status in the process.
This season has been strange for many reasons, with hopes raised by bubbling nicely along only to be interrupted by poor results and the dreaded hamstrings which now leave us struggling and bereft of ideas once out on the pitch.  John Eustace praises his experienced players during the week continuously, and his loyalty is commendable.  But that begs the question why is this appreciation not carried forward to actual match days?  As fans we all have differing views, and perhaps this summer may see an upward movement for the club in general terms.
But in the meantime, starting at Swansea City, we need to start accumulating  more points.  Stuck on 32 for what seems an eternity says it all.  My inner thoughts assure me that by the law of averages things must look up soon, and fortunes will start to change.  But, then again, I have to remind myself we are talking about Birmingham City and logic doesn't always follow.
Mitchell Bray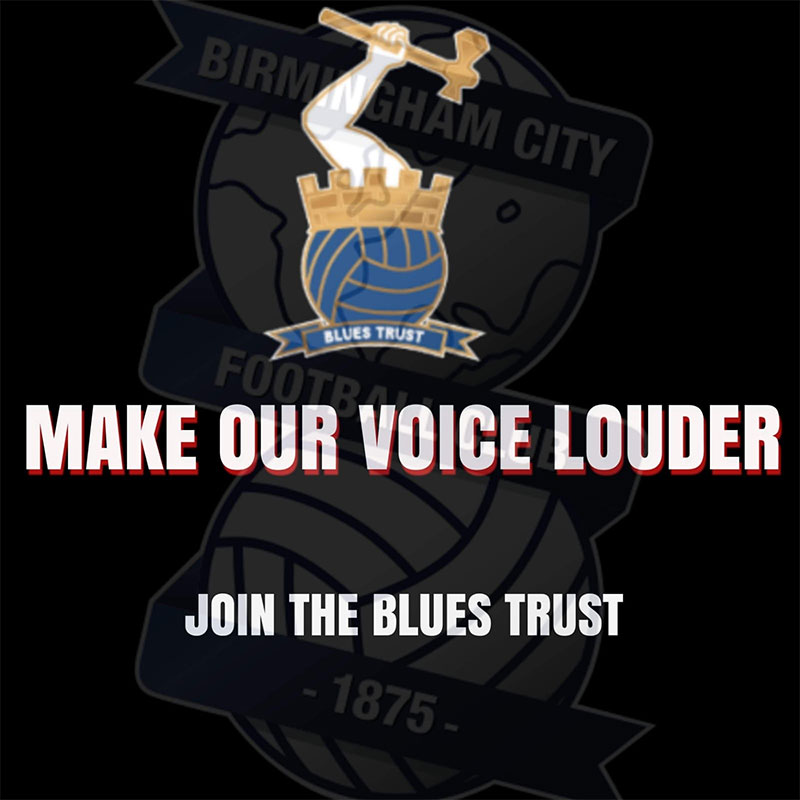 Want to be a full member with voting rights?
We have options for 1 and 2 years at £5 per year.  There is also a 5 year membership for £20 so you get 5 years for the price of 4.  See information and options here.
By making comments:
All we ask is that it relates to the Club that we all love. It can inform, question, challenge, criticise even….but it should not be written to threaten and/or cause personal offence.
By making comments on the above article, you agree to Blues Trust retaining your email address should we need to make contact with you for admin purposes.   Let us know at admin@bluestrust.org if you do not wish us to do this.  We will not give out your email address to any 3rd party sources.
The Trust reserves the right to moderate any comments made (in consultation with the writer) or to deny publication if comments are considered to be inconsistent with the requirements identified above.