The following article has been written by one of our Trust members.  They are the opinions of that person and not necessarily those of Blues Trust.  Would you like to contribute a discussion point of your own about Birmingham City Football Club?  If so, we would be delighted to hear from you.
Blackburn Rovers at home this coming Saturday marks the start of our final eight championship games.  Safety for another season almost within touching distance. Two simple and factual sentences.  Living to fight another day or, more accurately, another season in the second tier will most probably sum up our 2022/23 campaign.
Each new campaign since 2011 has almost repeated itself, with the accompanying emotional anxiety for sheer survival.  What could break the mould this time, however, and be most welcome into the bargain too, would be to see the team go a bit barmy and start these eight games winning and hitting real form.  An unbeaten sequence to the end of the season would be very welcome.
In my view it is really important for our club to complete the season on a high.  Finishing in a very respectable position in the table is the best shop window for potential buyers.  By this I am obviously referring to the forthcoming summer months of takeover speculation.
We need credibility that makes the purchase of our club attractive.  Decent on field results between now and the season's end could bring new interested buyers out of the shadows.  As a club we never really do the norm of course, and what's around the corner can never be foreseen, but facts don't lie and potential fresh interest could be ignited by witnessing a higher placed Birmingham City than previously seen for a long time.  Wishful thinking or not, it has to be a major fact for any buyer.
These eight remaining games are therefore more important than completing another forgettable season by simply surviving the trapdoor, leaving the club with little on field credibility.  We desperately need bargaining power to highlight what could be achieved with sound and sensible investment.  Being kicked around, lacking in respect and generally humiliated has been our bubble for too long, not helped by unhealthy positioning in the league table.  There is now the opportunity to make this season a decent one with a strong finish.  It might just make a whole lot of difference come the summer months.
Mitchell Bray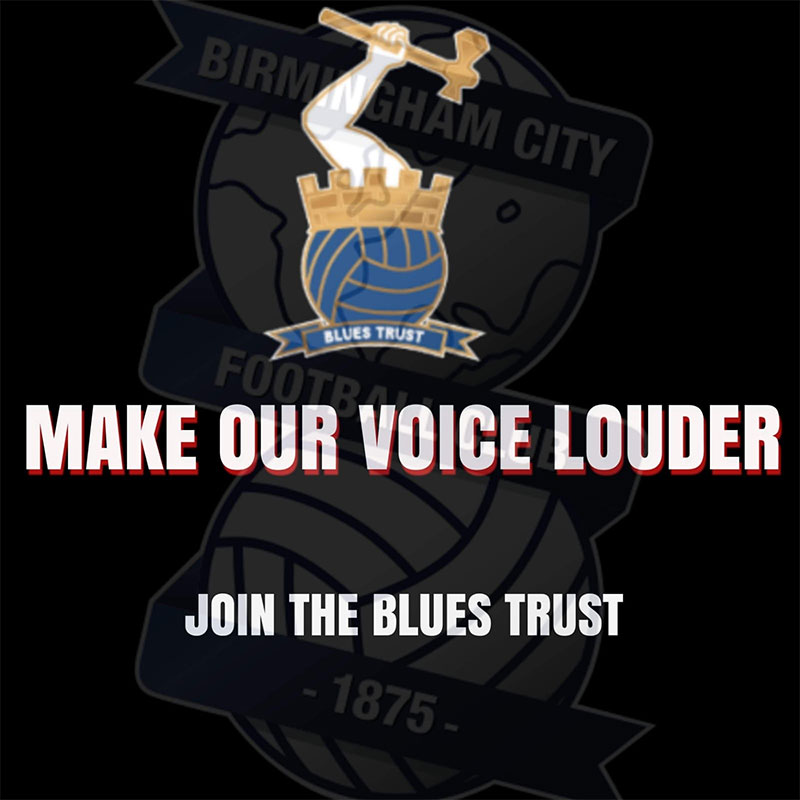 Want to be a full member with voting rights?
We have options for 1 and 2 years at £5 per year.  There is also a 5 year membership for £20 so you get 5 years for the price of 4.  See information and options here.
By making comments:
All we ask is that it relates to the Club that we all love. It can inform, question, challenge, criticise even….but it should not be written to threaten and/or cause personal offence.
By making comments on the above article, you agree to Blues Trust retaining your email address should we need to make contact with you for admin purposes.   Let us know at admin@bluestrust.org if you do not wish us to do this.  We will not give out your email address to any 3rd party sources.
The Trust reserves the right to moderate any comments made (in consultation with the writer) or to deny publication if comments are considered to be inconsistent with the requirements identified above.