The following article has been written by one of our Trust members.  They are the opinions of that person and not necessarily those of Blues Trust.  Would you like to contribute a discussion point of your own about Birmingham City Football Club?  If so, we would be delighted to hear from you.
Moving swiftly on from Tuesday night's disappointing defeat at Watford, the real matter in hand is avoiding a similar happening at Queens Park Rangers on Saturday.  This game is so crucial due to the very nature of it's timing, namely the international break.  Nobody wants a melancholy cloud hanging over St. Andrew's for a fortnight with only eight games left for the season.
Continuing to pick up the odd point or three is where we are at, and anything else has to be shelved until after the final game.  Analysing results will do nothing at this stage, especially when clubs such as ourselves and QPR are talked about in the same sentence.  Nothing makes logical sense other than agreeing both teams need regrouping and starting afresh.  After getting thumped by Blackpool last night, they will be keen to bounce back.  Likewise ourselves, although we perhaps have a modicum of an excuse having played against a far better team in Watford. But make no mistake, the team needs to respond and quick.
This season, like all the recent wretched campaigns, continues to frustrate and drain us supporters of any belief that better times lie ahead.  The only target on offer is, once again, Championship survival.
Next season, or rather this summer break, must see significant change at St. Andrew's.  It simply has to happen because the club cannot keep functioning in this soul destroying manner with supporters, particularly us older generation, getting more and more cynical and losing heart.
For now though, the next match is the one that really matters.  All our thoughts will be focussed upon it, with not losing the absolute minimum requirement.  Our club cannot afford an international break with a nasty cloud hanging over it, something which all our players need to recognise.
Mitchell Bray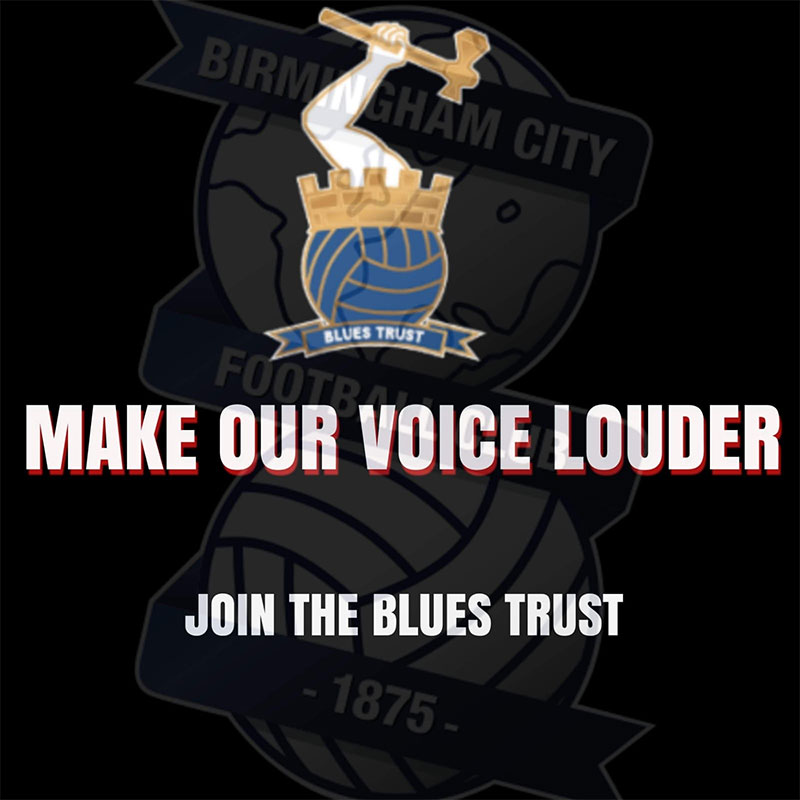 Want to be a full member with voting rights?
We have options for 1 and 2 years at £5 per year.  There is also a 5 year membership for £20 so you get 5 years for the price of 4.  See information and options here.
By making comments:
All we ask is that it relates to the Club that we all love. It can inform, question, challenge, criticise even….but it should not be written to threaten and/or cause personal offence.
By making comments on the above article, you agree to Blues Trust retaining your email address should we need to make contact with you for admin purposes.   Let us know at admin@bluestrust.org if you do not wish us to do this.  We will not give out your email address to any 3rd party sources.
The Trust reserves the right to moderate any comments made (in consultation with the writer) or to deny publication if comments are considered to be inconsistent with the requirements identified above.