The following article has been written by one of our Trust members.  They are the opinions of that person and not necessarily those of Blues Trust.  Would you like to contribute a discussion point of your own about Birmingham City Football Club?  If so, we would be delighted to hear from you.
Forty eight league points secured with seven games remaining will surely make all Blues supporters breathe more easily.  This achievement, after a dour start to the New Year, should be recognised for what it is.  Truly praiseworthy.  With a raft of injuries to key players and almost zero personnel arriving through the January window, a novice but likeable manager seems to be about to repeat what his predecessors have done over the last decade.
Barring a meltdown, survival is now assured.
As the late Eric Morecambe used to sing, 'Bring me Sunshine'.  Which is precisely what we are now enjoying after a dull period.  Long may this continue into Easter and beyond.
What should change now from the survival talk of late must surely be the retention of those players who we want to keep going into next season. George Hall immediately jumps out along with Auston Trusty.  Depending on what happens behind the scenes, and it's pointless to even remotely speculate, keeping Hall will send out hope to us all.
Clamour for Premier League status and mixing it with the big names doesn't bother me, nor should it, as the bigger bonanza is stability and some evidence of progression for our club in my view.  Not just surviving year upon year.  Get the ownership issues settled if at all possible, a big ask I know, with a realistic plan for the future and the rest will follow.  But that must include keeping our talented players and resisting the knock down offers that has led to so many departing prematurely over recent seasons.
Jude Bellingham must certainly be a learning curve to anyone remotely connected to our ownership.  George Hall could leave for peanuts or big money. Fact.  Keep him as a genuine investment and the returns could be colossal.
Should John Eustace remain at the helm, and I hope he will, the search for genuine young strikers has to be a must whether it be unearthed gems playing at lower or even non league level.  Also give summer trials to genuine applicants who feel they could become a Birmingham City striker.  Let's go for the unusual route and if a couple are found then what a story that would be.
However, the present task is the Easter fixtures.  An away trip to Reading is next up on Good Friday followed by a resurgent Stoke City visiting St. Andrew's on Easter Monday.  We should be fairly relaxed about both games.  And, with the weather set to improve and temperatures expected to rise, maybe all of us tired and weary Blues followers will at last be able to enjoy some extra sunshine.
Mitchell Bray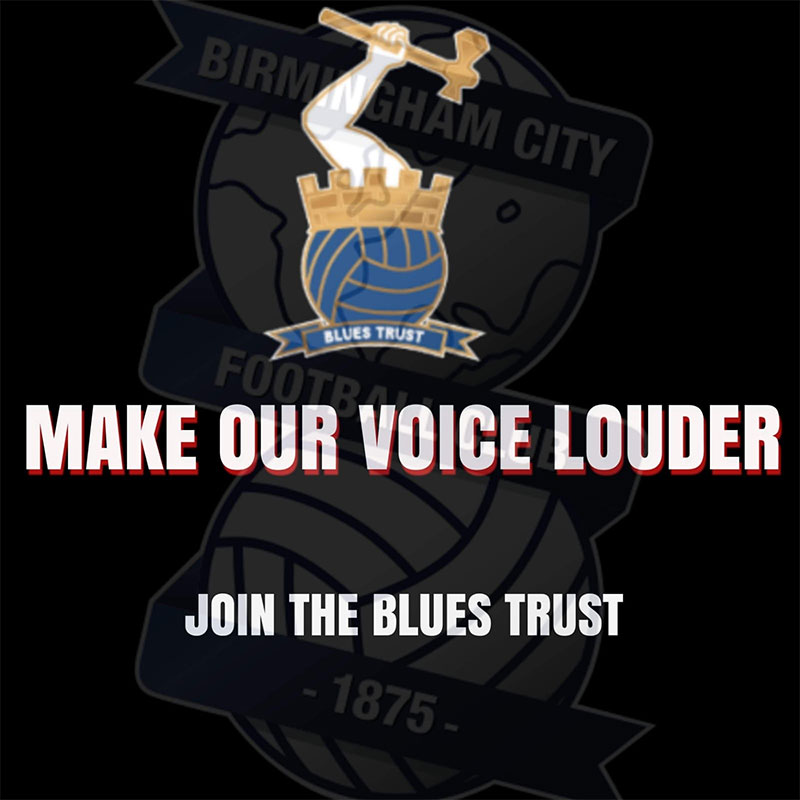 Want to be a full member with voting rights?
We have options for 1 and 2 years at £5 per year.  There is also a 5 year membership for £20 so you get 5 years for the price of 4.  See information and options here.
By making comments:
All we ask is that it relates to the Club that we all love. It can inform, question, challenge, criticise even….but it should not be written to threaten and/or cause personal offence.
By making comments on the above article, you agree to Blues Trust retaining your email address should we need to make contact with you for admin purposes.   Let us know at admin@bluestrust.org if you do not wish us to do this.  We will not give out your email address to any 3rd party sources.
The Trust reserves the right to moderate any comments made (in consultation with the writer) or to deny publication if comments are considered to be inconsistent with the requirements identified above.