The following article has been written by one of our Trust members.  They are the opinions of that person and not necessarily those of Blues Trust.  Would you like to contribute a discussion point of your own about Birmingham City Football Club?  If so, we would be delighted to hear from you.
Whatever happens at St. Andrew's during the summer months, the importance of change cannot be understated.  Not just for the overall survival, wellbeing or security of our club for yet another season.  But also because we supporters need this change.
Our mindset has been in dormant mode for twelve years now, expecting very little and getting exactly that.  Apart from February 2011 and that wonderful day at Wembley, and perhaps the following year with our adventures in Europe, slowly and surely the footballing seasons since have been nothing short of depressing.
In a weird way, lifting the Carling Cup has somehow kept us going, albeit a decade past.  But as someone once said "trophies gather dust whereas memories stay fresh and last forever".  This I feel is where we literally are right now.  New owners, fresh hope and a chance to change our attitude are all urgently required.
We are currently getting good vibes regarding new guardians for our club, and long may these continue.  As I write, vital details such as due diligence and spreadsheets as wide as the Thames appear to be gaining momentum, which is what we want to believe.  Nothing is ever taken for granted for Blues supporters, as reality has regularly resulted in bloody noses.  But this time around I get the feeling we will avoid the handkerchief.
Never has there been a better time for a new meaning to BCFC, and a mindset firmly on the future.  That will help spawn a new generation of support and the expectations that hopefully will follow.  Every football club needs  new supporters coming through, and having survived the trapdoor to League One for so many seasons, the stage at St. Andrew's is now set for a fresh and exciting beginning.
We need change and we need a new mindset.  We have to leave the past behind and move on with genuine hope and expectation.  Only change is likely to deliver that for us.  Which brings everything back to the present  where we eagerly hope for the summer news all supporters want to hear.
Mitchell Bray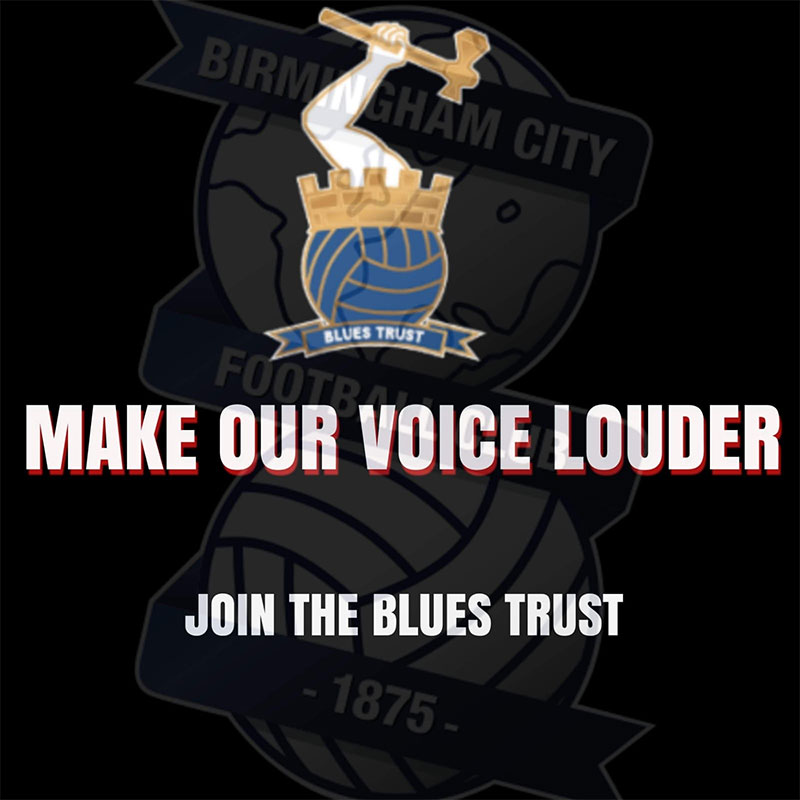 Want to be a full member with voting rights?
We have options for 1 and 2 years at £5 per year.  There is also a 5 year membership for £20 so you get 5 years for the price of 4.  See information and options here.
By making comments:
All we ask is that it relates to the Club that we all love. It can inform, question, challenge, criticise even….but it should not be written to threaten and/or cause personal offence.
By making comments on the above article, you agree to Blues Trust retaining your email address should we need to make contact with you for admin purposes.   Let us know at admin@bluestrust.org if you do not wish us to do this.  We will not give out your email address to any 3rd party sources.
The Trust reserves the right to moderate any comments made (in consultation with the writer) or to deny publication if comments are considered to be inconsistent with the requirements identified above.