The following article has been written by one of our Trust members.  They are the opinions of that person and not necessarily those of Blues Trust.  Would you like to contribute a discussion point of your own about Birmingham City Football Club?  If so, we would be delighted to hear from you.
It might be a bit over the top to say so, but Blues victory in a bruising encounter at Millwall on Tuesday night must make potential investors sit up and take notice.  This club we support with amazing consistency, despite so many seasons of meagre investment, surely offers an attractive purchase proposition?  Particularly after having flirted with the relegation trapdoor for several seasons on the trot and yet now reaching a points total of respectability with three games to go.  Add the fan base, location and a sensible asking price then BCFC surely comes gift wrapped?
The Millwall game was, for me, the acid test as to how we would perform with such a limited group of players at John Eustace's disposal.  Following the disappointment of defeat at Sunderland on Saturday, the quick turnaround between the two fixtures and the demanding travel requirements involved, the result at The Den was very satisfying.
With the close season almost here and with it the hope of new owners, this summer of '23 could be a turning point.  Wishful thinking or not, we have to believe that this summer will be the one that brings change and makes the club a serious threat for the new Championship season and beyond.
What makes us a decent acquisition is the key question. Easy for us supporters as we know the answer.  We simply love our football club. Not really a good enough reason for an investor's hard cash though, unless of course whoever comes in is a diehard Blues supporter.
My feeling is that the timing of a serious purchase could not be better with many factors aiding our quest for new guardians.  Highly respectable points total under severe limited resources has to be a major selling factor, with the tantalising thought about 'what if' we had transfer window money to strengthen?
We have been on the canvass so many times over the years but managed to resurrect and live to fight another season.  This time around we are maybe punching a little above ourselves but, with finishing the current campaign strongly, this now positions the club in a good place with current interested parties.
We are desperate to support whoever has the desire to match the supporters ambitions.  Provided the asking price is right and the club is geared for long-term investment, then our club as a whole comes as near gift wrapped as any serious buyer can expect.
Mitchell Bray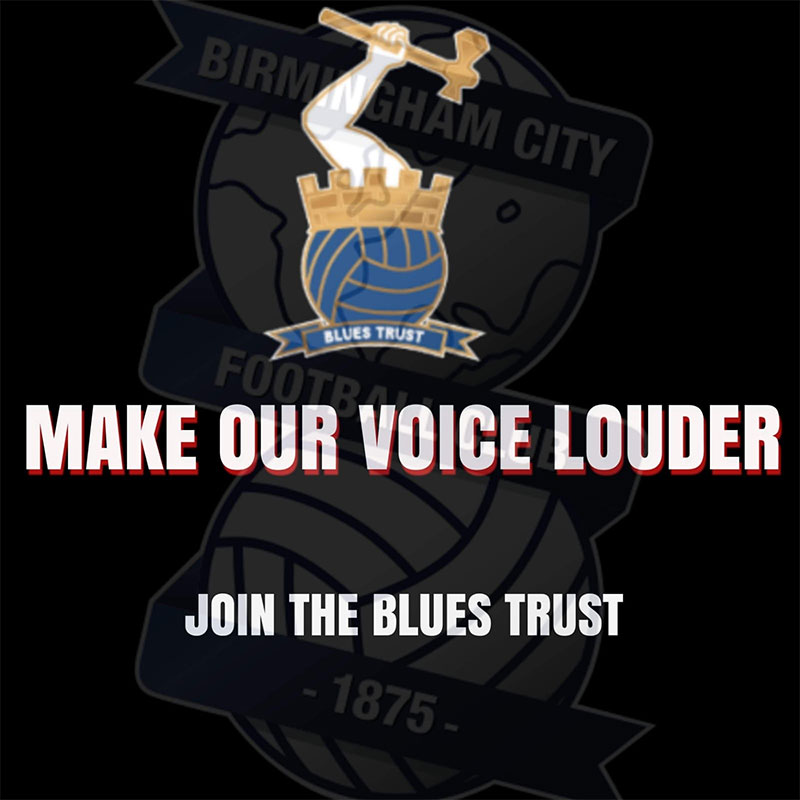 Want to be a full member with voting rights?
We have options for 1 and 2 years at £5 per year.  There is also a 5 year membership for £20 so you get 5 years for the price of 4.  See information and options here.
By making comments:
All we ask is that it relates to the Club that we all love. It can inform, question, challenge, criticise even….but it should not be written to threaten and/or cause personal offence.
By making comments on the above article, you agree to Blues Trust retaining your email address should we need to make contact with you for admin purposes.   Let us know at admin@bluestrust.org if you do not wish us to do this.  We will not give out your email address to any 3rd party sources.
The Trust reserves the right to moderate any comments made (in consultation with the writer) or to deny publication if comments are considered to be inconsistent with the requirements identified above.