The following article has been written by one of our Trust members.  They are the opinions of that person and not necessarily those of Blues Trust.  Would you like to contribute a discussion point of your own about Birmingham City Football Club?  If so, we would be delighted to hear from you.
Dour draw or not, the single point achieved against Stoke City on Easter Monday afternoon made the fifty point mark for the season very pleasing.  League tables don't lie, but to see a Blues squad made up of loanees, elders and novices get to where we are deserves a few accolades.
Ok, so it is not into the 60+ points return which is where the play off contenders are now.  But, given the situation that the club yet again finds itself in, avoiding relegation with 5 games still to play is an achievement worthy of note.
Seasoned followers of Blues will know just how difficult this season has been, particularly as our two main strikers in Jutkiewicz and Hogan may well have been expected to have departed last summer.  "Bare bones" regularly being quoted by clubs is the norm, but surely we top that list given the players that John Eustace has had to work with? And that's before you take into account the tepid atmosphere at St. Andrew's whilst building repair works drag on and on and on.
Monday, however, brought home to me just what supporter power can achieve when committed and loyal followers gather together in large numbers. Wrexham is my point.  That club, with fifteen years in the wilderness, is now almost certainly back in the EFL.
We all know the story about two Hollywood stars stepping in and backing the club. But listening to Ryan Reynolds after their dramatic victory in the top of the table clash against Notts County, he explained that initial contact with the Wrexham Supporters Trust was a key moment in the decision to get involved.  For him, it confirmed the strength of supporter feeling for the club and the desire of fans to become active and make it better.   
Because the Wrexham Trust was big enough to make an impact, it was a defining moment for him to take notice.  Today, both Reynolds and Rob McElhenney have been awarded the freedom of Wrexham.  And the club now has a global profile.
At this stage, it is important for me to point out that I am simply a Blues Trust member and not on any Board making decisions.  But strength in numbers, like the Wrexham Trust, surely makes the point.  They had clout.
We never know what's around the corner at St. Andrew's.  And maybe it's best that we don't.  But a 'Wrexham model' could be a godsend to lift the club from the doldrums.  We might not be in the public spotlight at the moment, and certainly not quite Hollywood.  But we have a very respectable and passionate fanbase which, given half a chance and supportive owners, can play its part in driving the club forward.
Mitchell Bray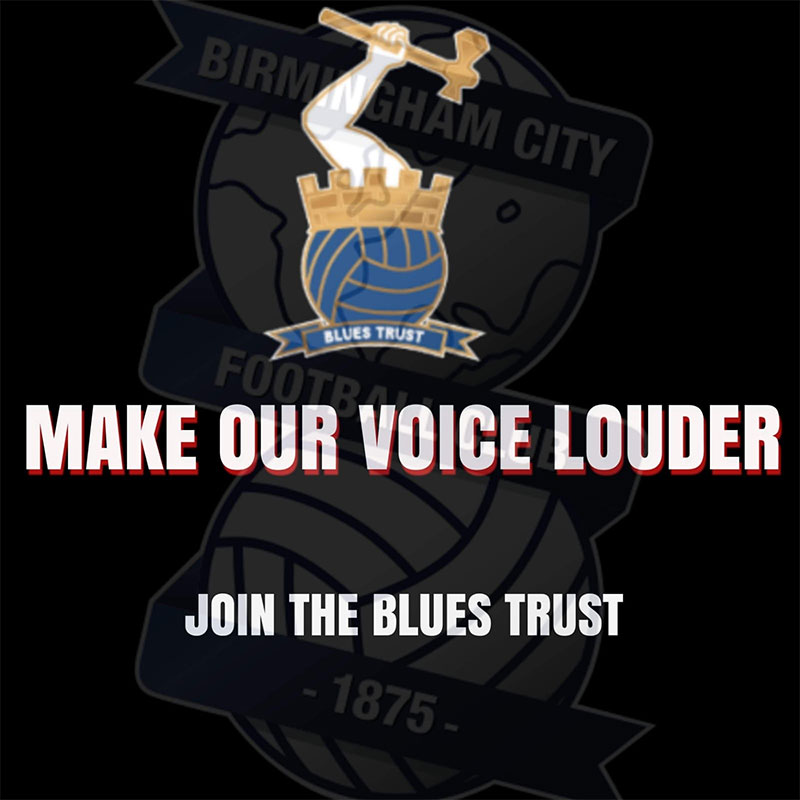 Want to be a full member with voting rights?
We have options for 1 and 2 years at £5 per year.  There is also a 5 year membership for £20 so you get 5 years for the price of 4.  See information and options here.
By making comments:
All we ask is that it relates to the Club that we all love. It can inform, question, challenge, criticise even….but it should not be written to threaten and/or cause personal offence.
By making comments on the above article, you agree to Blues Trust retaining your email address should we need to make contact with you for admin purposes.   Let us know at admin@bluestrust.org if you do not wish us to do this.  We will not give out your email address to any 3rd party sources.
The Trust reserves the right to moderate any comments made (in consultation with the writer) or to deny publication if comments are considered to be inconsistent with the requirements identified above.