The following article has been written by one of our Trust members.  They are the opinions of that person and not necessarily those of Blues Trust.  Would you like to contribute a discussion point of your own about Birmingham City Football Club?  If so, we would be delighted to hear from you.
Welcome mats down and a sensible expectation of new arrivals through the St. Andrew's door awaits.  This is possibly the best way that I can describe my feelings as a seasoned Blues supporter.  Tom Wagner and his team have given us a chance to progress rather than tread the proverbial safety waters of the Championship.
We want to be immune from further false dawns and on-field disappointments, with stability and a long timetable for positive impact.  This 2023/24 season, with strong competition whichever way the Championship table is viewed, is to be welcomed.  Hopefully we are in the hands of good guardians who get value for money and have a vision and timescale to match.
Investments appear to be the most critical area this season for the playing side, with new players and possibly a couple of last season's loanees coming through the door.  This month and next will certainly give a clearer indication as to the way forward, with my fervent hope that we start the season with a well rounded squad.  Easier said than done I admit, but let's get proper pegs in their appropriate holes.
Recruitment is unquestionably the key here and I hope we have the expertise to handle it well. Since Tom Wagner's arrival and the rubber stamping of approval by the EFL, the pride for playing in a Blues shirt should reach out far and wide.  Getting the squad right is now the exciting priority for all us supporters, with welcome mats down and the doors of the arrivals lounge well and truly open.
Mitchell Bray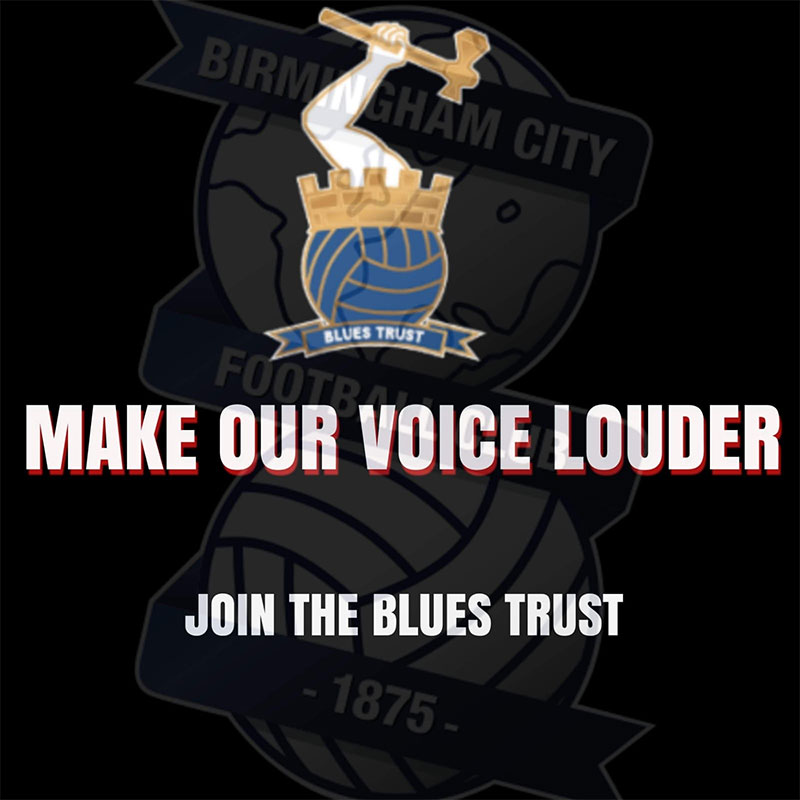 Want to be a full member with voting rights?
We have options for 1 and 2 years at £5 per year.  There is also a 5 year membership for £20 so you get 5 years for the price of 4.  See information and options here.
By making comments:
All we ask is that it relates to the Club that we all love. It can inform, question, challenge, criticise even….but it should not be written to threaten and/or cause personal offence.
By making comments on the above article, you agree to Blues Trust retaining your email address should we need to make contact with you for admin purposes.   Let us know at admin@bluestrust.org if you do not wish us to do this.  We will not give out your email address to any 3rd party sources.
The Trust reserves the right to moderate any comments made (in consultation with the writer) or to deny publication if comments are considered to be inconsistent with the requirements identified above.