BCFC: Meeting With New Owners
Last week was an exciting week for Blues fans. The new owners have continued apace with their refurbishment work at St. Andrew's which, of course, hosted an emotional and gripping home curtain raiser to the new season on Saturday afternoon. As we all know, Tom Wagner and his colleagues were present including the legendary Tom Brady.
Behind the scenes there has been a lot of progress too, with the new owners and their executive team having already started to meet with supporter groups to better understand fan perspectives. Blues Trust has been invited to two such meetings in the last fortnight, including one with Tom Wagner and other members of the Board on Friday evening, and we wanted to give Trust members and other supporters an overview of those sessions.
From the Trust's perspective we have been able to share with the new owners some background on the Trust and the work that has been undertaken in recent years. In particular with regard to the Fan Led Review, including our discussions with Tracey Crouch MP who chaired the Review, and also working with other fan groups to ensure the future wellbeing of the club. We also shared ideas and views on the need for a robust fan engagement strategy which, we hope, will lead to the development of a best in class fan engagement model which gives Blues fans a voice in governance and service delivery.
The new owners listened attentively to what we had to say and reaffirmed their commitment to develop proposals for fan engagement going forward. It was clear from the discussion that they take fan engagement very seriously, and want to establish a model that brings fan groups together with a common set of objectives.
It was also very clear from the discussions that the new owners are in this for the long term and are very keen to build the club and its revenue base. It was fully acknowledged by them, however, that short-term Profitability and Sustainability constraints will clearly have a part to play.
The Trust was delighted to participate in the initial discussions and looks forward to those discussions continuing into the future. They represent a very clear step change from what was on offer previously and, in the Trust's view, all fans and supporter groups should take encouragement from the club's new approach.
We will see where it takes us of course, but the Trust warmly welcomes the initiative taken by the club to reach out to supporter groups. For its part, the Trust will continue dialogue with the club as required and looks forward to helping to build what we hope will be an exemplary fan engagement strategy going forward.
Blues Trust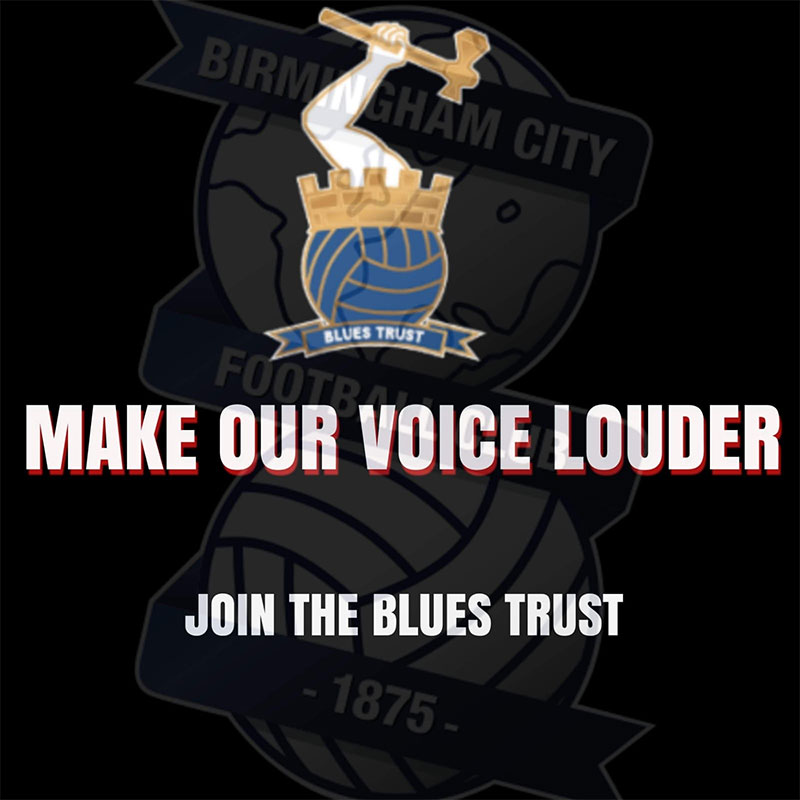 Want to be a full member with voting rights?
We have options for 1 and 2 years at £5 per year.  There is also a 5 year membership for £20 so you get 5 years for the price of 4.  See information and options here.
By making comments:
All we ask is that it relates to the Club that we all love. It can inform, question, challenge, criticise even….but it should not be written to threaten and/or cause personal offence.
By making comments on the above article, you agree to Blues Trust retaining your email address should we need to make contact with you for admin purposes.   Let us know at admin@bluestrust.org if you do not wish us to do this.  We will not give out your email address to any 3rd party sources.
The Trust reserves the right to moderate any comments made (in consultation with the writer) or to deny publication if comments are considered to be inconsistent with the requirements identified above.