The following article has been written by one of our Trust members.  They are the opinions of that person and not necessarily those of Blues Trust.  Would you like to contribute a discussion point of your own about Birmingham City Football Club?  If so, we would be delighted to hear from you.
Leeds United at home this Saturday heralds a new chapter in the life of every Blues supporter.  Not only because it begins the first home game of a new season, as important as that is.  But also, of course, because it carries the fanfare for our beloved club's new investors.  I have absolutely no doubt that they will be warmly and gratefully welcomed, and particularly so after such a long wait for new leadership and, with it, genuine hope for a brighter future.
My hope is that players and supporters firmly put their best foot forward.  We want to make a good impression, and we want to show a bit of class both on and off the pitch.  Tom Wagner really needs to be shown how much we are behind him.
Support and commitment strike deep within B9, not least after years of us weary followers literally hanging on in there.  But now a deserved upturn in fortune beckons.  We know it and we grasp it firmly, because this is the golden break we have wished for.
The players will be on the front foot I'm sure, and keen to be part of this new journey.  And with so many newcomers taking to the pitch at St. Andrew's as properly contracted employees.  In itself, such a refreshing and welcome change.
Predictions and crystal ball gazing are not up for grabs from me at this early stage of the season, although many fellow Blues fans are likely to be doing just that.  For me it is more an expectation that this new season will be the one which, finally, delivers consistent performances of good football.  Failure to achieve this will be promptly dealt with though I am sure.
The 2023/24 season is here to be enjoyed and, hopefully, it will be.  And with it the accompanying and very satisfying thought that whatever our new hierarchy dictates is fine with us, together with the comforting feel that any nasty twists or turns have been banished to the past.
Leeds United at home, tough as that sounds, is just the test we need.  A point won't necessarily be a disaster, but the mindset of Tom Wagner and his supporting team will probably want more.  Bring it on.
Mitchell Bray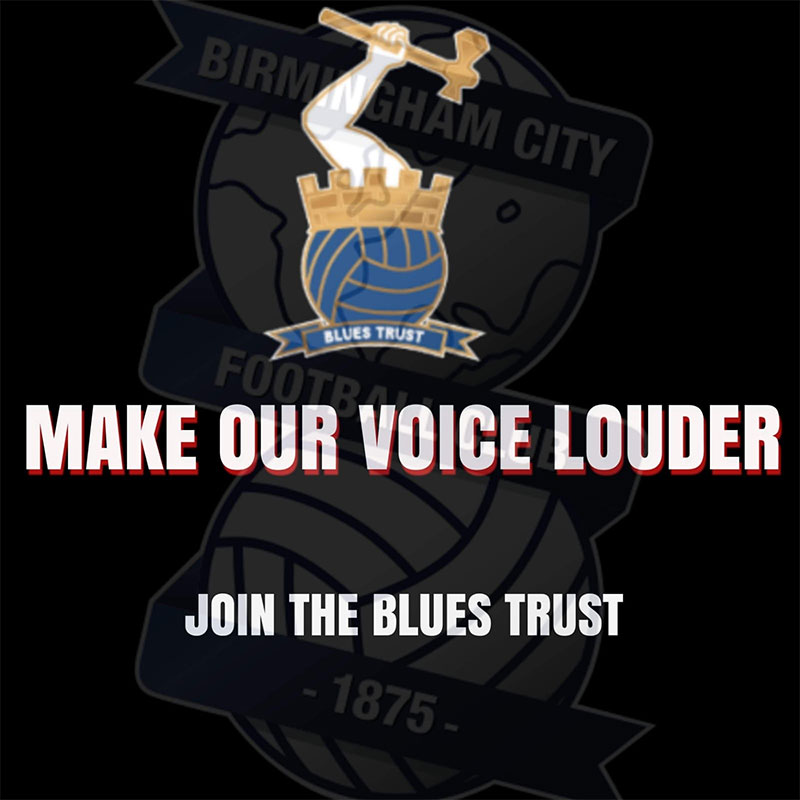 Want to be a full member with voting rights?
We have options for 1 and 2 years at £5 per year.  There is also a 5 year membership for £20 so you get 5 years for the price of 4.  See information and options here.
By making comments:
All we ask is that it relates to the Club that we all love. It can inform, question, challenge, criticise even….but it should not be written to threaten and/or cause personal offence.
By making comments on the above article, you agree to Blues Trust retaining your email address should we need to make contact with you for admin purposes.   Let us know at admin@bluestrust.org if you do not wish us to do this.  We will not give out your email address to any 3rd party sources.
The Trust reserves the right to moderate any comments made (in consultation with the writer) or to deny publication if comments are considered to be inconsistent with the requirements identified above.