The following article has been written by one of our Trust members.  They are the opinions of that person and not necessarily those of Blues Trust.  Would you like to contribute a discussion point of your own about Birmingham City Football Club?  If so, we would be delighted to hear from you.
During this enforced international break from our own Championship football, one topic has dominated the news media as far as Blues are concerned.  This, of course, being the reference to John Eustace and his possible departure to Rangers in Scotland. At first we took notice, but then we quickly saw a deluge of stuff being written and spoken about with successors to JE being dished up.
Whether it was me being overly touchy on this fake news farce I'm not sure, but irritability quickly took over.
At last, we now have our club under serious and stable ownership after a decade of being tossed all over the place.  The new ownership regime has strategies in place for future success and the intent to become an active player in the great community of Birmingham itself.  Basically a new club, the likes of which we had begun to think we would never see again.
My plea is don't break it.
We have to show respect to our new owners and also demonstrate that tittle-tattle and gossipy fake news is not for us Blues fans.  We must rise above it and continue to demonstrate the support which they have very quickly recognised. Fake news is harmful, and this particular issue demonstrates the very curse that appears to be destroying other areas of life in general.
Protecting what is good has never been so important in this current climate,  and Birmingham City FC is for the first time in a long time in a very good place.  Trying to destabilise it is for others and not for the true followers of our resurgent club.
Two away games in quick succession now, eagerly awaited against Watford and Preston North End.  Injured players hopefully returning, points up for grabs and performance levels to be maintained.  That's the real world for us.
Mitchell Bray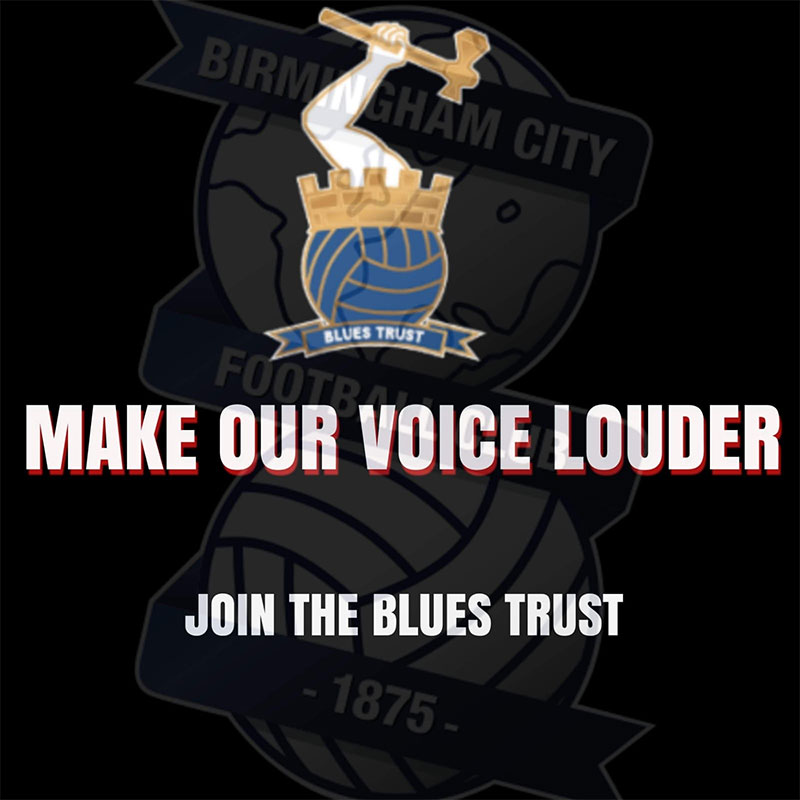 Want to be a full member with voting rights?
We have options for 1 and 2 years at £5 per year.  There is also a 5 year membership for £20 so you get 5 years for the price of 4.  See information and options here.
By making comments:
All we ask is that it relates to the Club that we all love. It can inform, question, challenge, criticise even….but it should not be written to threaten and/or cause personal offence.
By making comments on the above article, you agree to Blues Trust retaining your email address should we need to make contact with you for admin purposes.   Let us know at admin@bluestrust.org if you do not wish us to do this.  We will not give out your email address to any 3rd party sources.
The Trust reserves the right to moderate any comments made (in consultation with the writer) or to deny publication if comments are considered to be inconsistent with the requirements identified above.