The following article has been written by one of our Trust members.  They are the opinions of that person and not necessarily those of Blues Trust.  Would you like to contribute a discussion point of your own about Birmingham City Football Club?  If so, we would be delighted to hear from you.
Whichever way Blues supporters view the bagging of two paltry points out of the last twelve, disappointment is clearly in the air. After the brightest of starts in August, and the hope carried forward for keeping the club bubbling into the autumn fixtures, this run of winless games is damaging to say the least.
Last Friday's encounter with a very beatable QPR smacked of 'bad times past'. Analysis after analysis will not alter the fact that we are slipping into familiar territory. What feels like a short holiday in the August sunshine paradise is quickly losing it's good feel factor.
Watford, Preston and QPR all took points from us during a challenging three matches in six days which is the really disappointing bit. Getting the warmth back around St. Andrew's is now the sole aim.
Norwich City away on Saturday is a new chance to get points, and particularly so after their surprise mauling at the hands of Plymouth Argyle last weekend. The fixture at Carrow Road has yielded little in recent seasons, with expected defeats materialising regularly. Our new owners will surely be looking at this match closely, with thoughts no doubt as to Norwich's capitulation against a promoted team that was part of our August joy.
Team selection and who plays where will surely be the key on Saturday, not least after some questionable decisions of late. Why, for example, did Stansfield, who led the line so well at Preston on Tuesday, play wide as against starting in the centre forward position again instead of Hogan? My own opinion is that Stansfield needs Jutkiewicz and not Hogan, despite the latter running more. Why was Sunjic not in the starting line up on Friday? He should have been kept in place and not sacrificed for creativity. Tinkering and overthinking is not a luxury we can afford this season, and the coaching staff need to get that.
Continual news updates that the squad trains hard all week and the players are ready for match days is all well and good. But in reality we never seem to manage to put games to bed, either having taking the lead or by adapting to hold out for a decent draw.
Harsh as this might seem to some supporters, we are in a different mode this season with players who should be more than capable of keeping the club around the play-off spots. Anything else and we will surely have thrown away a great opportunity.
My view is that our new owners will not let this happen and should this run of pitiful points return continue, then changes will be made. The next transfer window is, for me, a big one providing we are in with a shout of the extended season roulette.
The Watford and Preston defeats were certainly avoidable, and supporters should be under no illusion that Tom Wagner wasn't in the crowd at Preston just for the camaraderie and experience. He will surely have been looking closely to see how his investment is progressing.
After defeat at Deepdale and last Friday's game with only the single point gained, I am not sure he will reflect on this current month as being anything other than poor. What would change the whole mood of course is a win against Norwich. Should this happen then the new month of October gets us back into paradise mode.
Mitchell Bray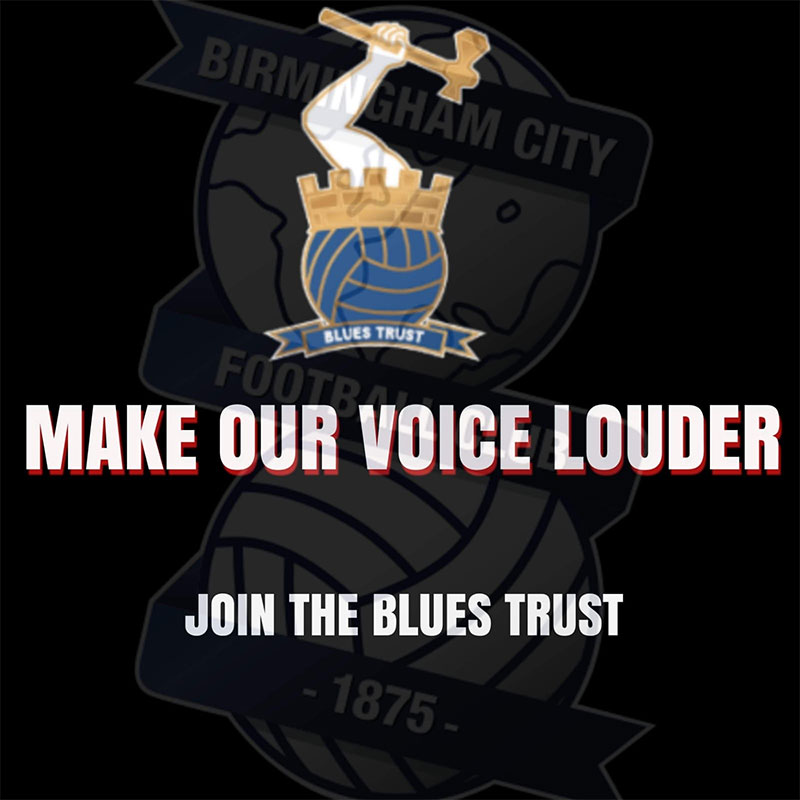 Want to be a full member with voting rights?
We have options for 1 and 2 years at £5 per year.  There is also a 5 year membership for £20 so you get 5 years for the price of 4.  See information and options here.
By making comments:
All we ask is that it relates to the Club that we all love. It can inform, question, challenge, criticise even….but it should not be written to threaten and/or cause personal offence.
By making comments on the above article, you agree to Blues Trust retaining your email address should we need to make contact with you for admin purposes.   Let us know at admin@bluestrust.org if you do not wish us to do this.  We will not give out your email address to any 3rd party sources.
The Trust reserves the right to moderate any comments made (in consultation with the writer) or to deny publication if comments are considered to be inconsistent with the requirements identified above.