Blues today announced the departure of Head Coach John Eustace after 15 months at the club. During his time at Blues, John had secured safety from relegation last season, when we were bookies' favourites for the drop, and led Blues to sixth place in the table before the current international break. Whilst his teams were not always the prettiest to watch, Blues were invariably competitive during his tenure, and he did an awful lot to stabilise the club during very difficult times.
The Trust would like to thank John for everything he did at St. Andrew's.  We are sorry to see him go and wish him all the very best for the future.
The new owners are clearly ambitious for the club, and have set about improving the club in so many ways. It is perhaps not surprising that at some point they would want to bring their own coach in.
However, the timing of the change is far from ideal as it risks disrupting the momentum and team spirit that Eustace had created. Also, the statement put out to announce the decision this morning hinted at a difference in philosophy and was not as gracious to John Eustace as it perhaps might otherwise have been.  If there have been disagreements between the parties, they have been well hidden. Hopefully, in time, they might become known more widely so that supporters can better understand the call that has been made.
Nevertheless, the Trust hopes that the new appointment, whoever that might be, receives from the club the time and space needed to properly develop a side we can all be proud of. And, crucially, with full support from the fans to achieve that.
Blues Trust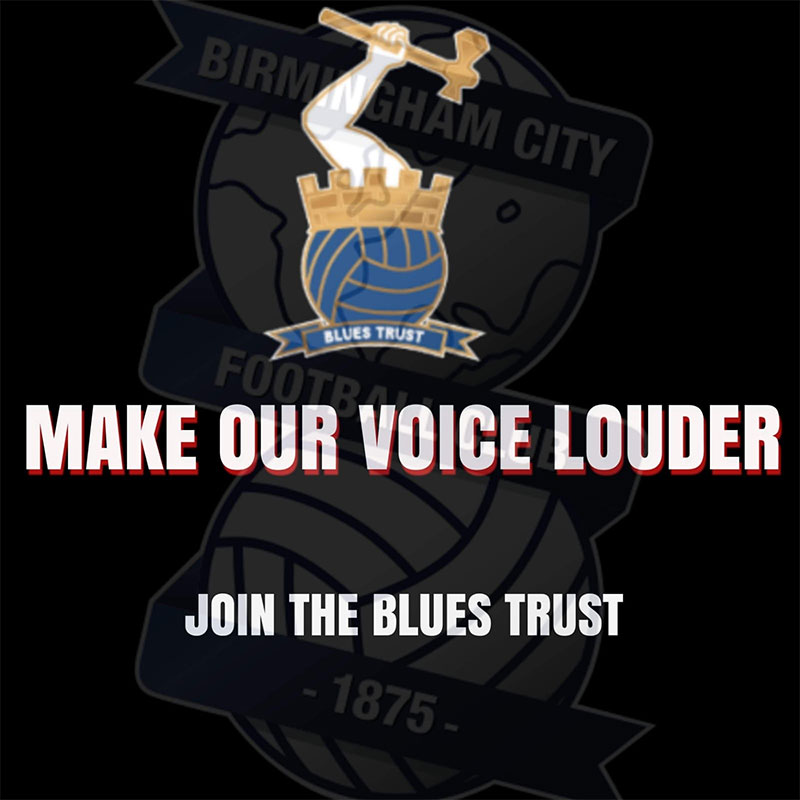 Want to be a full member with voting rights?
We have options for 1 and 2 years at £5 per year.  There is also a 5 year membership for £20 so you get 5 years for the price of 4.  See information and options here.
Have you visited our shop?
To raise funds for Blues Trust, we have for sale :
Blues Trust Pin-badges.
Old Football Programmes that have been donated.
Gift memberships in Blues Trust that you can buy for family or friends.
By making comments:
All we ask is that it relates to the Club that we all love. It can inform, question, challenge, criticise even….but it should not be written to threaten and/or cause personal offence.
By making comments on the above article, you agree to Blues Trust retaining your email address should we need to make contact with you for admin purposes.   Let us know at admin@bluestrust.org if you do not wish us to do this.  We will not give out your email address to any 3rd party sources.
The Trust reserves the right to moderate any comments made (in consultation with the writer) or to deny publication if comments are considered to be inconsistent with the requirements identified above.