The following article has been written by one of our Trust members.  They are the opinions of that person and not necessarily those of Blues Trust.  Would you like to contribute a discussion point of your own about Birmingham City Football Club?  If so, we would be delighted to hear from you.
This Saturday's match away at Middlesbrough begins the start of a juicy thirty five championship league games under Wayne Rooney's new leadership. All the hype and excitement of the last week must now be put to bed and replaced by the serious business of professionally focusing on match days. Destination play-offs has to be the target.
With the second transfer window nearing, Blues now have a dozen games being solely reliant on the current squad. From what we have already seen this season, that should be more than sufficient for the challenges to come. Playing with no fear is the new maxim, something which will be eagerly scrutinised with the results which lie ahead.
Blues supporters know our club well, and if our hierarchy can match what they want with sufficient league points then good times await. With more players hopefully returning from injury, and young guns emerging to take part, there is certainly cause for optimistic belief.
Middlesbrough has, in the past, not often been kind to Blues points wise. But this time around we can surely look upon the trip to the Riverside with fresh hope? Keeping clear of injuries is, in my opinion, a key factor for continuing progress and this absolutely includes avoiding the needless training ground mishaps that have afflicted the season so far. Hopefully Wayne Rooney and his backroom staff are alert to this already and will sort the ongoing problem. They simply have to.
Predictions are not really useful at this time. But this new programme of thirty five fixtures starts with real hope, and they will no doubt generate much  excitement as the season unfolds. Our owners have gambled somewhat, and they are now reliant on their decisions proving fruitful. Sit back and enjoy the ride. Pride has returned to St. Andrew's and it is long overdue. I for one intend to bask in it.
 Mitchell Bray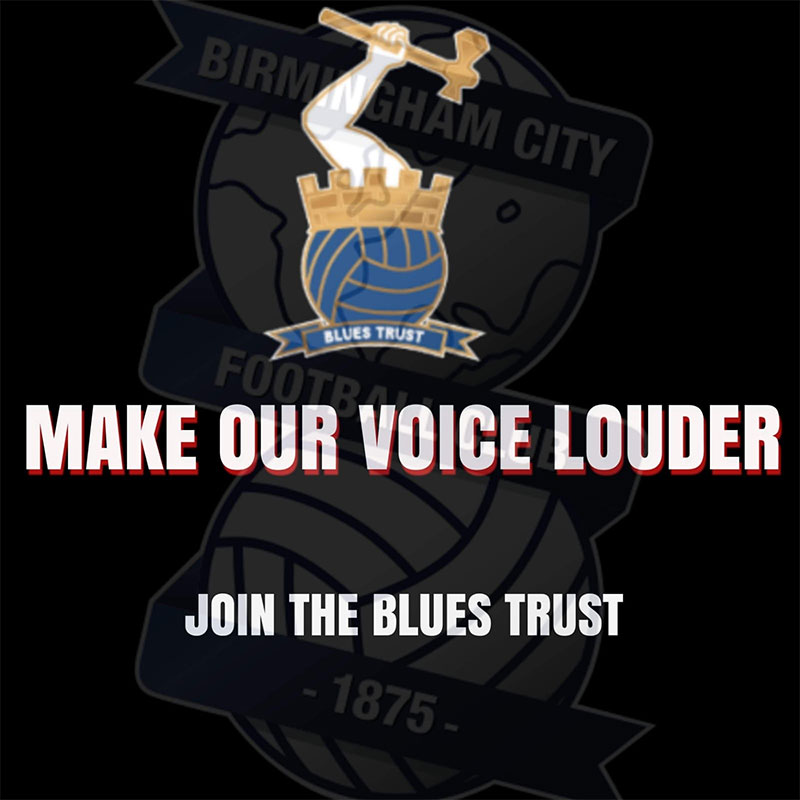 Want to be a full member with voting rights?
We have options for 1 and 2 years at £5 per year.  There is also a 5 year membership for £20 so you get 5 years for the price of 4.  See information and options here.
Have you visited our shop?
To raise funds for Blues Trust, we have for sale :
Blues Trust Pin-badges.
Old Football Programmes that have been donated.
Gift memberships in Blues Trust that you can buy for family or friends.
By making comments:
All we ask is that it relates to the Club that we all love. It can inform, question, challenge, criticise even….but it should not be written to threaten and/or cause personal offence.
By making comments on the above article, you agree to Blues Trust retaining your email address should we need to make contact with you for admin purposes.   Let us know at admin@bluestrust.org if you do not wish us to do this.  We will not give out your email address to any 3rd party sources.
The Trust reserves the right to moderate any comments made (in consultation with the writer) or to deny publication if comments are considered to be inconsistent with the requirements identified above.