The following article has been written by one of our Trust members.  They are the opinions of that person and not necessarily those of Blues Trust.  Would you like to contribute a discussion point of your own about Birmingham City Football Club?  If so, we would be delighted to hear from you.
Recapturing the mood and excitement from the start of the season must be the overall target for our new management. Our amazing August still lingers warmly in the memory, with the vibrant St. Andrew's of that time the only place to be for those that follow our beloved football club.
Fast forward to where we are today, and what we find ourselves experiencing, and things are bordering on utter disbelief. We know the reason, and we know the familiarity of the territory having lived through the Rowett debacle when he was sacked almost seven years ago.
What we don't know is how the next five games will pan out for our under pressure manager. Ten games is a decent and fair opportunity for any newcomer to set out their stall, particularly with the footballing knowledge and experience that our manager has. It's fair to say that, so far, things have not gone well.
Wayne Rooney needs these next five games to resurrect the belief that he is the one to deliver. Fixtures against Sheffield Wednesday, Blackburn, Rotherham, Coventry and Cardiff are his chances to show why Tom Wagner and co. appointed him. Failure to drag the club out of the present quagmire will say it all, whereas a successful run will get us back on course and the rotten weeks since Rooney's introduction will fade away. That being football.
Apart from these next five games and their obvious importance, another current factor is the issue of tolerance which, these days it seems, is very much in short supplying. Frustration with results is all to quickly spilling over into anger and vitriol, making for very ugly atmospheres. We see almost everywhere we look an unpleasant vision which is taking away all hope for better things. Nothing is impossible in the arena of football however, and for that reason I believe, in its own small way, success for Rooney over the next five games will make St. Andrew's the place it was during August. Quite simply, a very happy one.
Mitchell Bray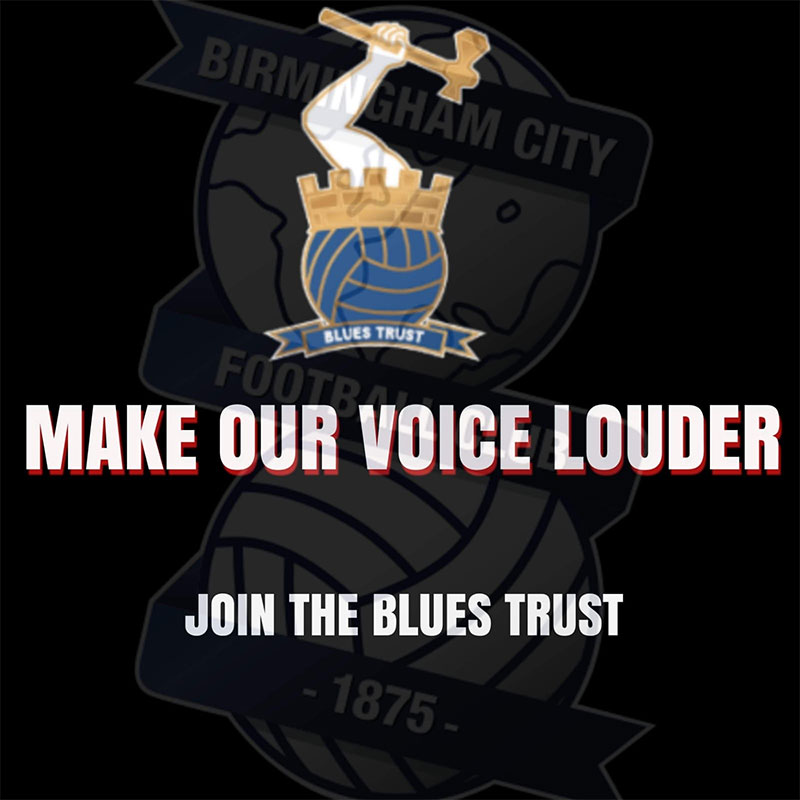 Want to be a full member with voting rights?
We have options for 1 and 2 years at £5 per year.  There is also a 5 year membership for £20 so you get 5 years for the price of 4.  See information and options here.
Have you visited our shop?
To raise funds for Blues Trust, we have for sale :
Blues Trust Pin-badges.
Old Football Programmes that have been donated.
Gift memberships in Blues Trust that you can buy for family or friends.
By making comments:
All we ask is that it relates to the Club that we all love. It can inform, question, challenge, criticise even….but it should not be written to threaten and/or cause personal offence.
By making comments on the above article, you agree to Blues Trust retaining your email address should we need to make contact with you for admin purposes.   Let us know at admin@bluestrust.org if you do not wish us to do this.  We will not give out your email address to any 3rd party sources.
The Trust reserves the right to moderate any comments made (in consultation with the writer) or to deny publication if comments are considered to be inconsistent with the requirements identified above.