The following article has been written by one of our Trust members.  They are the opinions of that person and not necessarily those of Blues Trust.  Would you like to contribute a discussion point of your own about Birmingham City Football Club?  If so, we would be delighted to hear from you.
A failure to see out games following the introduction of fresh substitutes is clearly irritating Wayne Rooney. Against Ipswich, with the frustrating loss of late points despite a much improved performance, plus the surrender of a precious reward against Middlesbrough, backs this up entirely. The quality of the substitutes may not be there, but a do or die attitude must surely be the minimum requirement for any player who takes to the field representing the club? This is what our new manager is referring to and I completely agree with him.
In my opinion there is no doubt that we will not recognise this team in twelve months time, with possible only four who started on Saturday remaining. Recruiting the players who Rooney wants will not be difficult with our new ownership, with priority acquisitions likely being straight down the spine of the team with new numbers one, five and nine.
Add a creative midfield player, plus a holding one, and the picture looks set for the club to make a proper challenge, especially with the return of the first choice full backs in Laird and Buchanan.
Backroom staff, including recruitment personnel, is obviously a top priority right now which suggests the new broom sweeping through the club is giving it's all.
Wayne Rooney, who has been a divisive appointment for supporters, myself included, is beginning to tell us how it is regarding player performance. His post match comments after the Ipswich game regarding the impact (or not) of fresh legged substitutes is the latest example. I like that.
Sunderland away next, and another test of character. Not least for those players in the starting line up who want to earn a place for a future with the club, but also those on the bench who are now crystal clear about what Rooney demands. Impact substitutes is one thing when behind in a game. But seeing out winning positions when defensive nouse is blatantly needed is quite another.
All pulling together at Sunderland and getting a minimum one point would be good. Going a little better and bagging all three might just result in the tin of Quality Street being passed around the coach on the way home. It's that time of year.
Mitchell Bray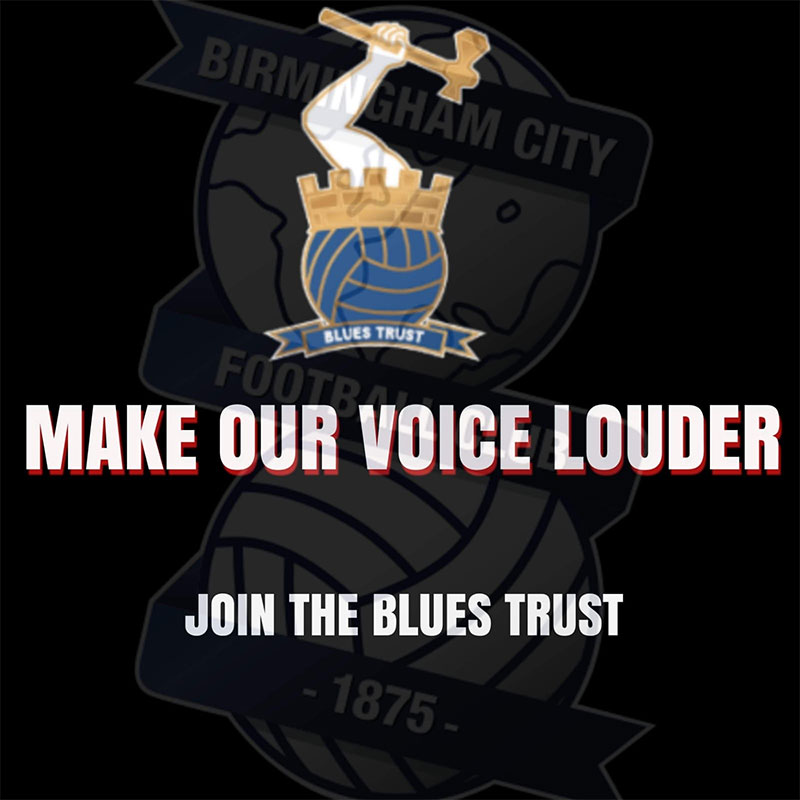 Want to be a full member with voting rights?
We have options for 1 and 2 years at £5 per year.  There is also a 5 year membership for £20 so you get 5 years for the price of 4.  See information and options here.
Have you visited our shop?
To raise funds for Blues Trust, we have for sale :
Blues Trust Pin-badges.
Old Football Programmes that have been donated.
Gift memberships in Blues Trust that you can buy for family or friends.
By making comments:
All we ask is that it relates to the Club that we all love. It can inform, question, challenge, criticise even….but it should not be written to threaten and/or cause personal offence.
By making comments on the above article, you agree to Blues Trust retaining your email address should we need to make contact with you for admin purposes.   Let us know at admin@bluestrust.org if you do not wish us to do this.  We will not give out your email address to any 3rd party sources.
The Trust reserves the right to moderate any comments made (in consultation with the writer) or to deny publication if comments are considered to be inconsistent with the requirements identified above.