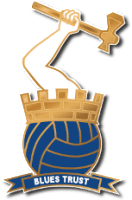 Blues Trust
Welcome from Birmingham City Supporter's Trust
Fans are important and should be heard: Make our voice louder
Join Us
Blues Trust was formed on 21 February 2012 and is an organisation for fans of Birmingham City Football Club, run by fans of BCFC. Our mission is to ensure fans have a true voice in the things that affect our club and how it is run.

If you really care about BCFC and want to affect positive change then we want you on board.

In its short existence the Trust has already secured the long term future of our stadium as an asset of community value, as well as establishing itself as a credible and respected supporter group.

We are a shareholder in Birmingham City Plc

Blues Trust is a member of Supporters Direct whose goal is to promote sustainable spectator sports clubs based on supporters involvement and community ownership.

Blues Trust is affiliated to The Football Supporter's Federation, the democratic organisation representing the rights of fans.
We hope you enjoy exploring our website
For many football fans, their optimism or pessimism about the state of the game is influenced by the last game their team played. Following Birmingham City's fantastic win on Friday evening, some may be thinking that everything is ok. But it's not. This season we have seen Bury expelled from the League.
read more