BCFC: Matchday Employment Opportunity
Birmingham City FC is looking for individual supporters to play a role on matchdays at St Andrew's. Details are shown below, together with a link to the full job description and an application form.
Any queries regarding the opportunity should be sent direct to the club.
Job Title: Supporter Liaison Officer
Department: Marketing
Location: St. Andrew's Stadium
Hours of work: Two hours per home matchday

Supporter Liaison Officers (SLOs) will provide excellent service and assistance to all fans and visitors to the stadium on matchdays. SLOs will be based outside of each stand in the 90 minutes leading up to kick-off in a position to assist with any general matchday queries and issues that may arise such as directing supporters to the correct destination or entrance point.

This role is perfectly suited to Blues fans with a passion for the Club and knowledge of the stadium, and those who would like to play a part in improving the Club's matchday experience. Salary is £25 per match and free attendance of each home game is included as part of the role.

For more information, please see here:

https://birminghamcityfootballclub.peoplehr.net/Pages/JobBoard/Opening.aspx?v=eca29b42-2d0c-4a10-b1bd-6e46b6da31a9

KRO

Davo

David Brown
Supporter Services Officer
T: 0121 772 0101
E: fans@bcfc.com
St. Andrew's Stadium, Birmingham B9 4RL
Blues Trust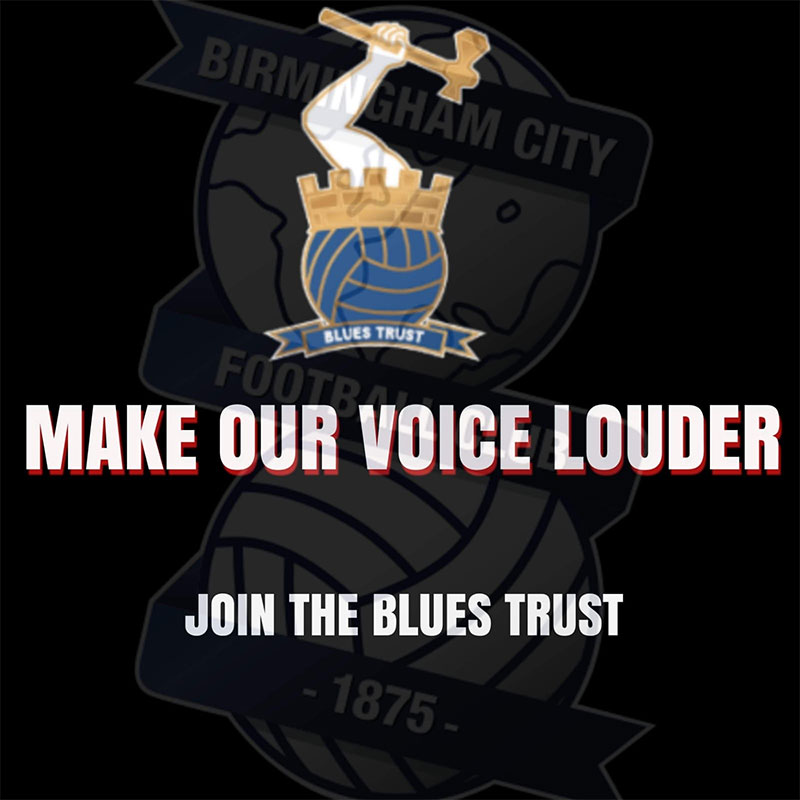 Want to be a full member with voting rights?
We have options for 1 and 2 years at £5 per year.  There is also a 5 year membership for £20 so you get 5 years for the price of 4.  See information and options here.
By making comments:
All we ask is that it relates to the Club that we all love. It can inform, question, challenge, criticise even….but it should not be written to threaten and/or cause personal offence.
By making comments on the above article, you agree to Blues Trust retaining your email address should we need to make contact with you for admin purposes.   Let us know at admin@bluestrust.org if you do not wish us to do this.  We will not give out your email address to any 3rd party sources.
The Trust reserves the right to moderate any comments made (in consultation with the writer) or to deny publication if comments are considered to be inconsistent with the requirements identified above.