Blues Trust has been concerned to read recent reports that the Government is considering delaying progress, or perhaps even scrapping, the recommendations set out in the Fan Led Review which reported last year. The reports have not yet been confirmed, but it is worrying that the new Prime Minister and her Cabinet have allowed the rumours to go unchecked so far.
It is particularly concerning because the FLR was identified as a commitment in the Conservative Party manifesto prior to the General Election in 2019, and it also commands all party support in Parliament. Also, the recommendations set out in the FLR report, including the need for an independent regulator of football, were widely welcomed when published almost 12 months ago.
The Trust has been in touch with Shabana Mahmood, Member of Parliament for Ladywood, to raise our concerns about the rumours and to try and establish what is going on. She has confirmed her own concern and also that she has tabled Parliamentary questions for the Secretary of State for the Department of Digital, Culture, Media and Sport.
Others are concerned too and an e-petition has now been started on the Government website. The details of the petition can been found here
Blues Trust will continue to monitor the situation closely and make further representations as required. But we are urging all Blues supporters…and indeed all supporters of football in general…to sign the petition at the earliest opportunity. This can be done by clicking on the link in the paragraph above.
Blues Trust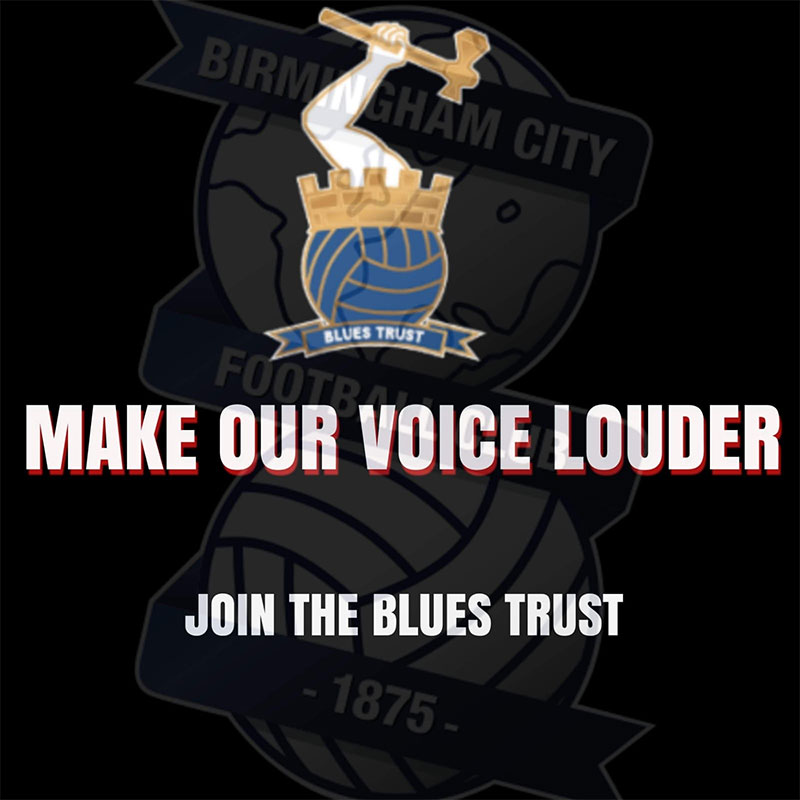 Want to be a full member with voting rights?
We have options for 1 and 2 years at £5 per year.  There is also a 5 year membership for £20 so you get 5 years for the price of 4.  See information and options here.
By making comments:
All we ask is that it relates to the Club that we all love. It can inform, question, challenge, criticise even….but it should not be written to threaten and/or cause personal offence.
By making comments on the above article, you agree to Blues Trust retaining your email address should we need to make contact with you for admin purposes.   Let us know at admin@bluestrust.org if you do not wish us to do this.  We will not give out your email address to any 3rd party sources.
The Trust reserves the right to moderate any comments made (in consultation with the writer) or to deny publication if comments are considered to be inconsistent with the requirements identified above.