Midweek Pinboard 2 Nov 2023
Well? What do you think of events at the Blues this past week? And what are your expectations for the upcoming fixtures? Whether it is about results, performances or developments off the pitch, here is an opportunity to share your views on the week that has just been for BCFC and also to look ahead to the weekend.
Blues Trust will be posting the Pinboard every Thursday morning so that Blues fans can express opinions, good and bad, about progress as the season unfolds. And your thoughts for the fixtures coming up.
We hope you'll participate, and maybe sometimes even start a conversation, by letting us and other Blues fans know what you think……
Please use the 'Comments' section below.
Blues Trust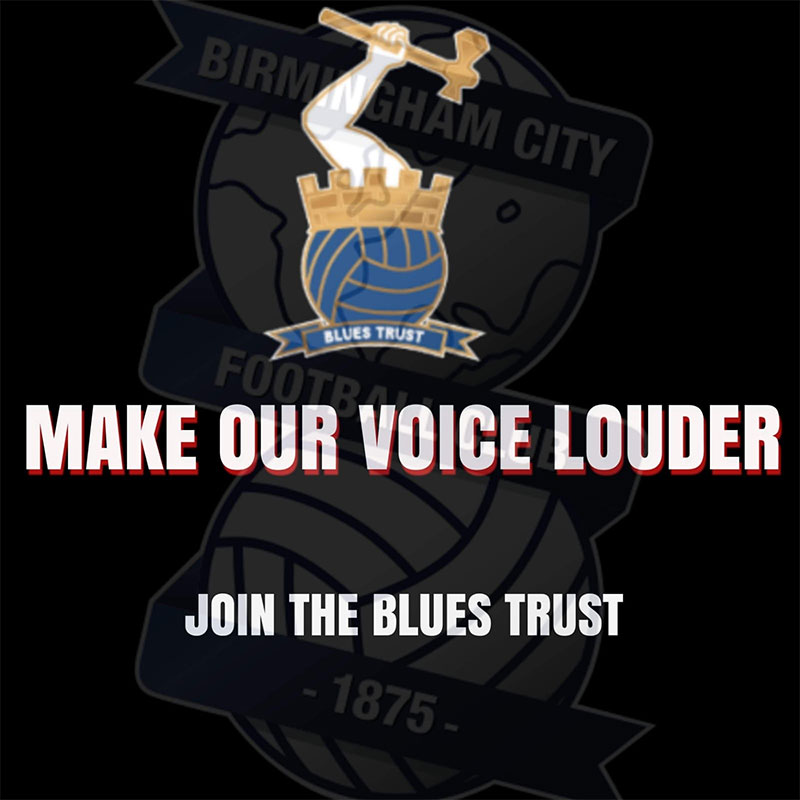 Want to be a full member with voting rights?
We have options for 1 and 2 years at £5 per year.  There is also a 5 year membership for £20 so you get 5 years for the price of 4.  See information and options here.
Have you visited our shop?
To raise funds for Blues Trust, we have for sale :
Blues Trust Pin-badges.
Old Football Programmes that have been donated.
Gift memberships in Blues Trust that you can buy for family or friends.
By making comments:
All we ask is that it relates to the Club that we all love. It can inform, question, challenge, criticise even….but it should not be written to threaten and/or cause personal offence.
By making comments on the above article, you agree to Blues Trust retaining your email address should we need to make contact with you for admin purposes.   Let us know at admin@bluestrust.org if you do not wish us to do this.  We will not give out your email address to any 3rd party sources.
The Trust reserves the right to moderate any comments made (in consultation with the writer) or to deny publication if comments are considered to be inconsistent with the requirements identified above.