The following article has been written by one of our Trust members.  Would you like to contribute a discussion point of your own about Birmingham City Football Club?  If so, we would be delighted to hear from you.
With Lee Bowyer's brilliant impact on our beloved Blues since his arrival, and the almost miraculous turn around in winning games, our once beleaguered club not so long ago has been reborn. With the help of the old, tattered prayer mats and the call to arms in mental strength – especially the nerve shredding Rotherham encounter last Sunday – another 'ask' is needed.
Forty-eight points is now achieved and that may well be enough to ensure survival and another season in the Championship. We will see. But another three points (hopefully tonight against Nottingham Forest) will do very nicely. What has been very clear from reading all sorts of contributions from BCFC supporters is the overall determination to rise above any calamitous setbacks, and there have been many to put it mildly, and stick by the actual belief that our club will not be broken.
Fanciful words maybe, but in reality this is what our following brings…..hope and a huge dollop of belief. Anyone who watched the Rotherham game and saw the Juke leave the pitch in the final seconds, thoroughly exhausted and totally spent by giving everything for the cause, will get my meaning. This club has something about us which, at the end of the day, engages all the suffering from the countless number of Blues fans across the globe. We are joyful and equally in despair more often than not. My thoughts on this season have been one of total frustration but not at the players, just unnecessary actions by hideous decisions prior to Lee Bowyer.
However, back to the present and Nottingham Forest. This might be the one to put the last of the fans shredded nerves to bed. Just brush the prayer mats down for a final time, think of that sight of an exhausted Juke leaving the pitch last Sunday and believe he and the team will be in no mood for lying down to a Forest fire. Everyone I feel is now on board. Thank goodness.
Mitchell Bray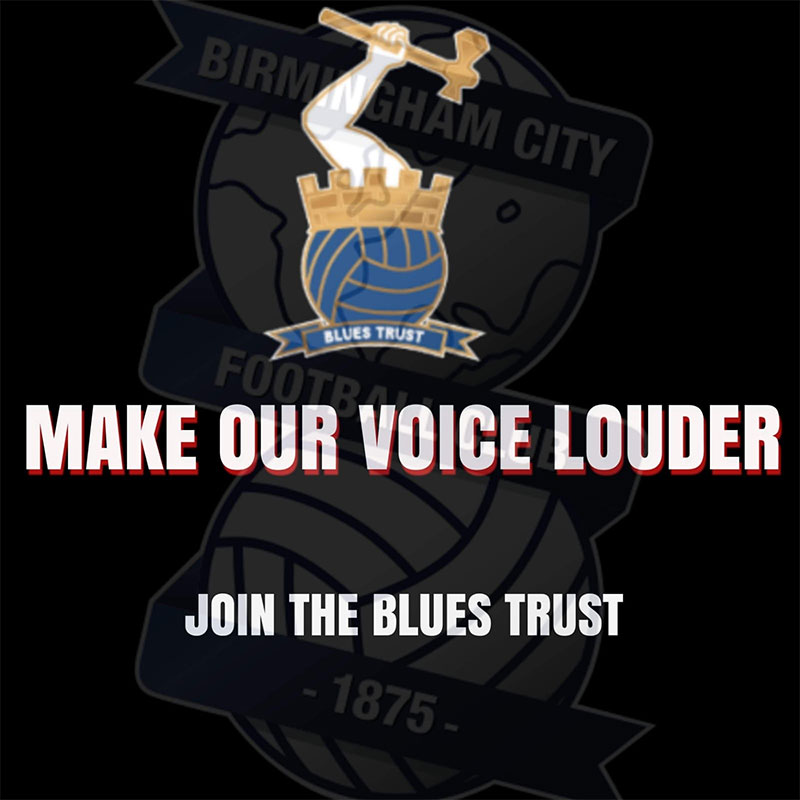 Want to be a full member with voting rights?
We have options for 1 and 2 years at £5 per year.  There is also a 5 year membership for £20 so you get 5 years for the price of 4.  See information and options here.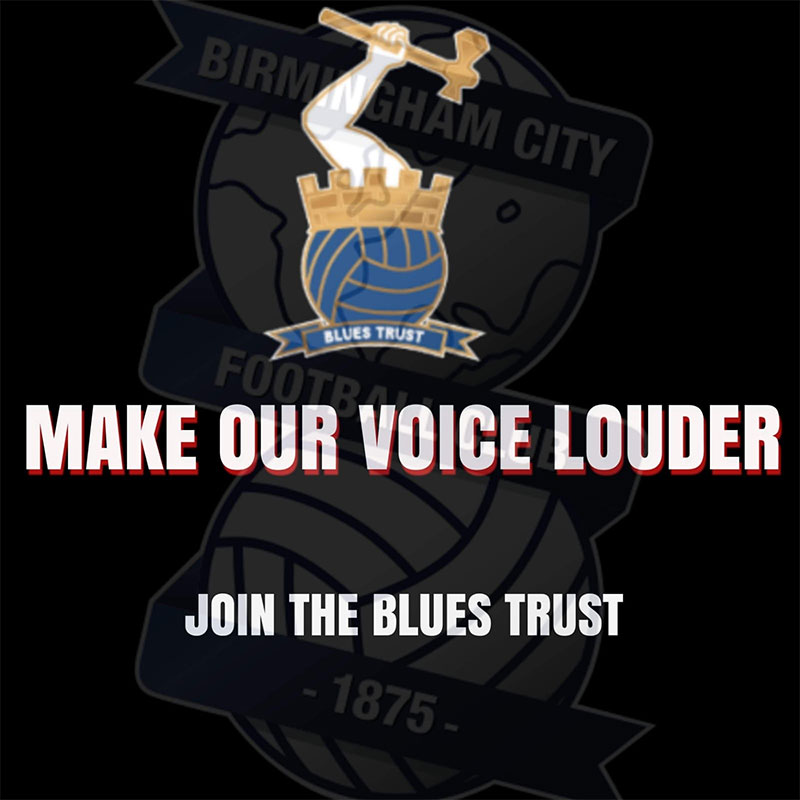 If you can't yet commit to full membership but would like to recieve our newsletters, why not sign-up to become a follower for free?
This category is not a membership and does not carry any voting rights.
By making comments on the above article, you agree to Blues Trust retaining your email address should we need to make contact with you for admin purposes.   Let us know at admin@bluestrust.org if you do not wish us to do this.  We will not give out your email address to any 3rd party sources.