Last Thursday's official statement from Birmingham City Football Club concerning recent media reports about the Blues Women's team was both welcome and refreshing. It was late….several days late….but it did at least attempt to explain the Club's position on a matter very close to the hearts of many Bluenoses, both female and male. In fact, it was a thorough and insightful statement which provided a degree of assurance, although it was difficult not to draw the conclusion that the statement was only made because of the national media coverage and the intense reaction that it provoked.
But it was still welcome because the Club all too frequently pays scant regard to the sharing of information with its supporters and other key stakeholders.
Consider another issue from last week, namely the story which appeared in the press concerning the Club and nine other Championship rivals. The report explained that the ten listed clubs were facing a transfer embargo because of a breach of EFL rules. It later transpired that the matter in question concerned an administrative mix up regarding the late submission of accounts. A number of the clubs involved, and in particular Coventry City and Luton Town, were very quick to put out robust statements which both explained and defended their positions in an attempt to reassure their supporters. And from BCFC……? Nothing.
But then, sadly, nothing is what we Blues supporters have come to expect from the owners and executive of our football club. Yes, the Club can be quick to acknowledge events of national importance or make supportive statements about current initiatives involving the wider football community. Swift recognition of the death of The Duke of Edinburgh and the announcement of a temporary withdrawal from social media in the light of racist abuse are two recent, and indeed worthy, examples of that. But information concerning the Club itself…..? No, that is a very different story.
This linked article makes for an interesting read if you have some time to spare. It originates from Sunderland FC and is an account from a recent meeting its new owner held with supporter groups.
It's interesting not so much because of the content, but because of what it represents….the first in a series of meetings between the ownership and supporters. Hold that thought for a moment.
There are many other examples of good supporter liaison. Check out the Fulham Supporters Trust for example. Or Brentford. Or Wycombe Wanderers.
Now the cynics amongst us might point out….perhaps correctly…that the Sunderland owner is new and wants to make an early impression, or that there are many other examples of football clubs out there which also do not engage with their supporters.
Ok, but what would you hope for from our club? Which approach would you prefer?
BCFC offers no regular and structured dialogue with its supporters. It doesn't even meet the minimum requirement set out by the EFL. Blues Trust has tried repeatedly to start a supportive conversation with the club about matters of concern to our members and supporters, but to no avail. We do not even get the courtesy of a response.
So the question is, why is the Club slow at best….and completely reluctant at worst….to engage with its supporters and to share basic information with people that care deeply about it? What is there to be frightened of, particularly so in this age of speedy digital communication?
If our owners are concerned about things being lost in translation, or they are worried about being unable to communicate effectively, then they should appoint someone or some organisation to do that on their behalf. An awareness and understanding of what is happening, and why….not every time where business confidentiality is concerned of course…but frequently, would dispel an awful lot of anger and frustration and, surprise, surprise, might actually help to improve matters all round for everyone….including the beleaguered owners and executive.
The Cambridge English Dictionary defines a club as "an organisation of people with a common purpose or interest, who meet regularly and take part in shared activities".
A football club is no different.
Blues Trust.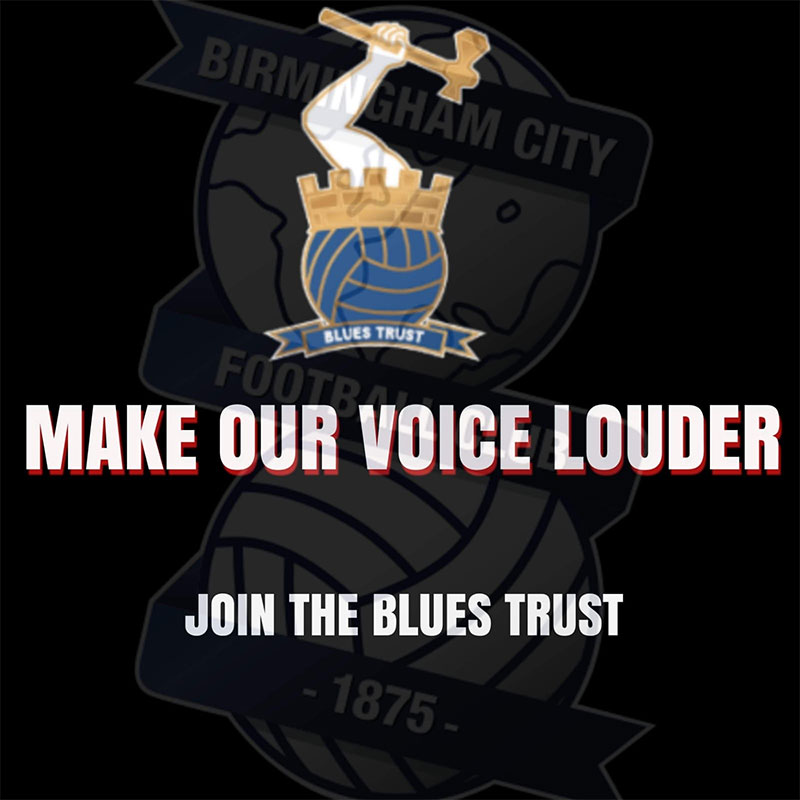 Want to be a full member with voting rights?
We have options for 1 and 2 years at £5 per year.  There is also a 5 year membership for £20 so you get 5 years for the price of 4.  See information and options here.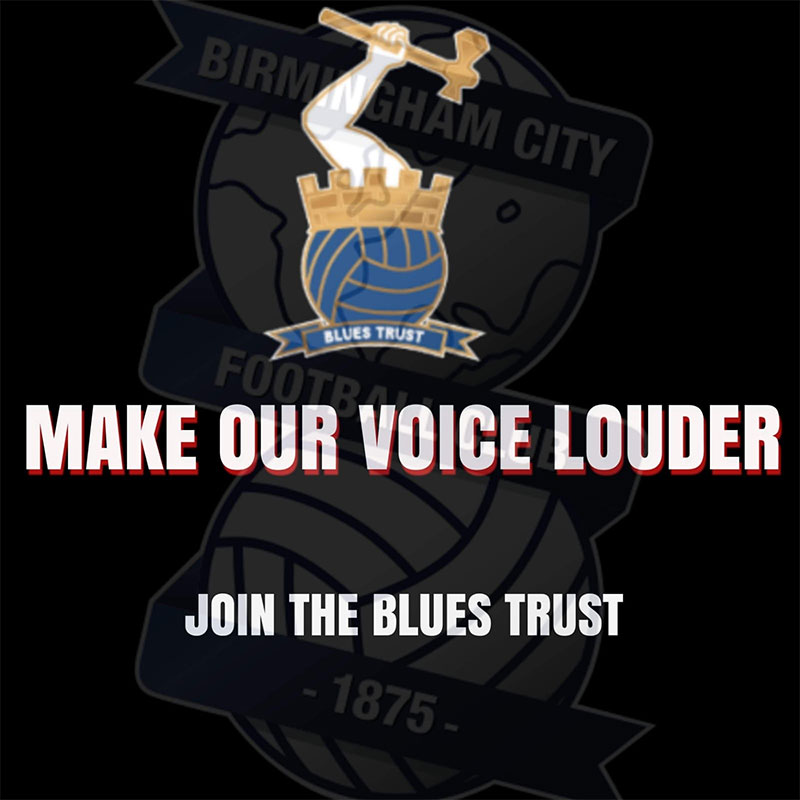 If you can't yet commit to full membership but would like to recieve our newsletters, why not sign-up to become a follower for free?
This category is not a membership and does not carry any voting rights.
By making comments on the above article, you agree to Blues Trust retaining your email address should we need to make contact with you for admin purposes.   Let us know at admin@bluestrust.org if you do not wish us to do this.  We will not give out your email address to any 3rd party sources.