Blues Trust Meeting Review Panel
Blues Trust has been invited to meet the Panel appointed to lead the Government's fan-led review of football. We will be influencing the review through discussions (organised by the Football Supporters Association) with Tracey Crouch MP and the other panel members, starting next week, to support the evidence gathering phase of the review.
We will be submitting a full written report with our proposals to the Panel towards the end of June, and to help us do that we would very much welcome thoughts and ideas from Trust members and other BCFC supporters (individuals and groups).
The review, which has just been launched, will focus on eight key strands of football governance:
ownership tests
independent regulation
engagement with supporters
scrutiny of club finances
distribution of revenues
governance models in other countries
protection of club identities
relationships within the football pyramid
It is expected that an interim report will be produced in July, with the final report being published by Tracey Crouch in October.
Over the next couple of weeks we will be publishing brief articles on each of the eight key strands of the review and inviting comments to help shape the Trust's response. The review is a once-in-a-generation opportunity to address some of the many concerns that football supporters have identified, and the Trust wants to play its part in driving forward a programme for change.
Your views are important and we want to capture them. Please share them with us.
Blues Trust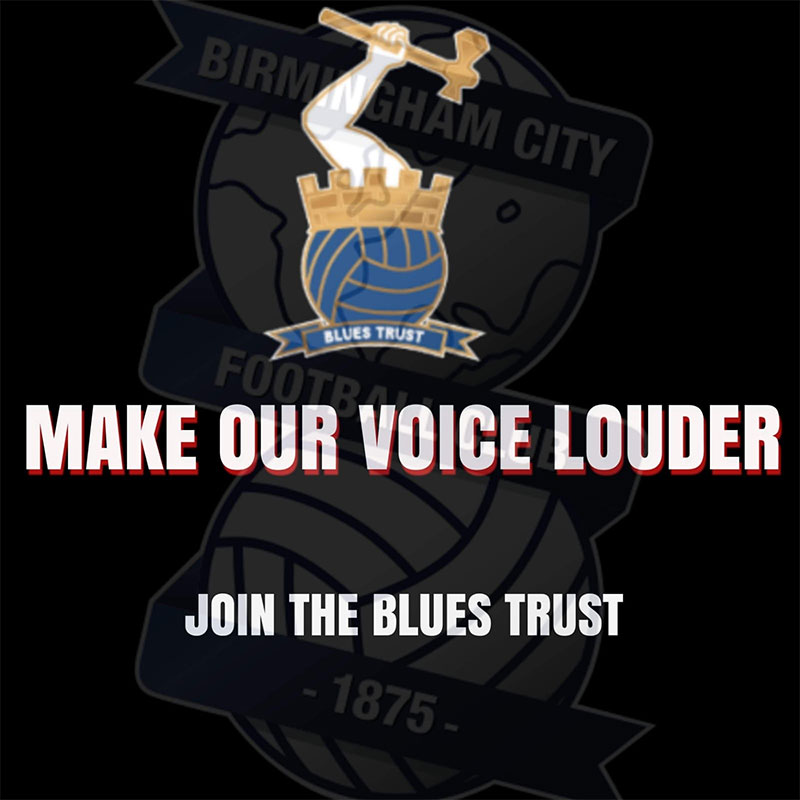 Want to be a full member with voting rights?
We have options for 1 and 2 years at £5 per year.  There is also a 5 year membership for £20 so you get 5 years for the price of 4.  See information and options here.
By making comments on the above article, you agree to Blues Trust retaining your email address should we need to make contact with you for admin purposes.   Let us know at admin@bluestrust.org if you do not wish us to do this.  We will not give out your email address to any 3rd party sources
.