The following article has been written by one of our Trust members.  Would you like to contribute a discussion point of your own about Birmingham City Football Club?  If so, we would be delighted to hear from you.
Since Lee Bowyer's appointment as Blues Manager in mid March, with only ten games remaining, supporters have fully backed him and his selection of players….treating each game with the importance it had become. Forgetting the experimental of the last two games, after league survival had been earned, this season has finished pretty much as it has over recent seasons – surviving and only just. When it comes to supporting a club such as ours, we do rise to the occasion when pushed into a corner, awaiting the arrival of saviours such as Rowett, Monk or Bowyer. Mission accomplished and on to the next campaign.
All very well if that is what's always around the corner, and finishing around sixteenth or seventeenth is about the level to be expected. Three seasons ago I used to write about the luxury of finishing higher than seventeenth and possibly avoiding a season of near despair in terms of dropping down a league. Supporters of our club continually spout about nothing has changed and here we go again. Drama follows drama at B9, with off the field self inflicted wounds affecting on the pitch performances. Reflections after each completed season has become repetitious and quite frankly boring. This club survives, lives another day and in the hope that the previous season is quickly forgotten. This is basically what BCFC is about.
However, and there is always an however, this belief and hope that next season will be different obviously centres around Lee Bowyer and his judgement. Choice of players, who stays, who leaves and who comes in is his call. But without hindrance is the key. Finances dictate obviously, but players must be recruited with decent talent and fitness to make next season break the mould of recent past. Bowyer is no fool and appears to trust his own ability to get things on a proper path, climbing upwards instead of slipping down the ladder.
When crowds hopefully return for the new season at St.Andrews, with again the hope and belief, it must be a season of improvement and promise that leaves supporters feeling optimistic for the future and, perhaps more importantly, the attraction of a younger generation to support this great club. Does this mean drastic changes in the many areas concerned with how the club is run, or simply being sensible and having the right attitude to the paying customers? Maybe both are needed, but my leaning is towards the latter.
Mitchell Bray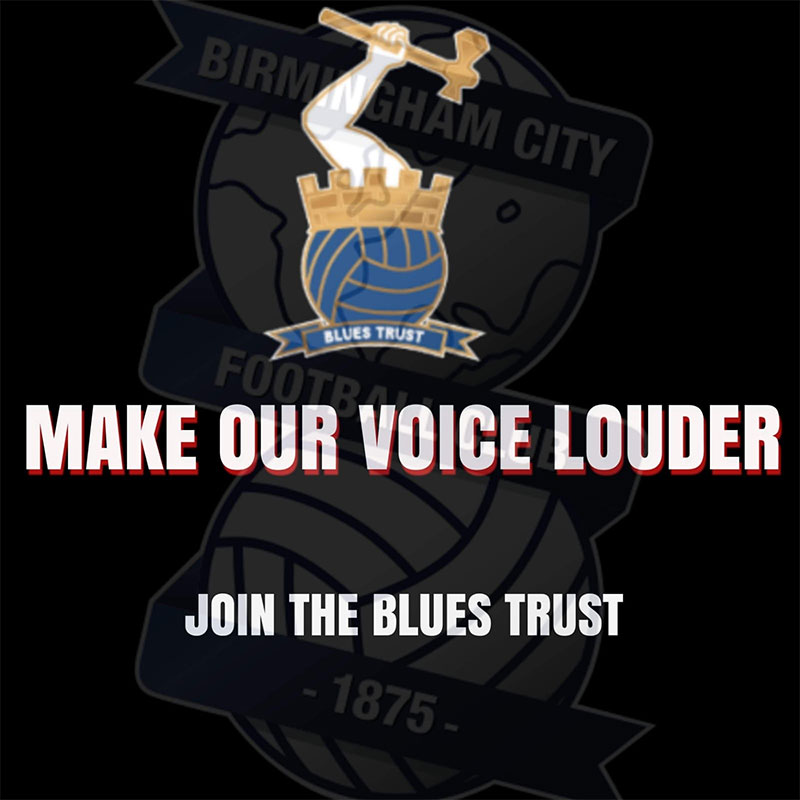 Want to be a full member with voting rights?
We have options for 1 and 2 years at £5 per year.  There is also a 5 year membership for £20 so you get 5 years for the price of 4.  See information and options here.
By making comments on the above article, you agree to Blues Trust retaining your email address should we need to make contact with you for admin purposes.   Let us know at admin@bluestrust.org if you do not wish us to do this.  We will not give out your email address to any 3rd party sources.