Update: Open Letter to the Owners and Executive of Birmingham City PLC
Blues Trust in partnership with Tilton Talk Show
Dear Blues Fans
Thank you to all that have supported the issue of the open letter to our owners. Also thank you for feedback on the contents of the letter.
In response to the feedback we have made a few small wording alterations that remove inaccuracies.
We are happy that these small changes do not alter the substance of the letter.
Blues Trust has partnered with the Tilton Talk Show to prepare an open letter to the owners of Birmingham City PLC and the Board. We are asking blues fans to sign up to the contents of the letter that calls for the appointment of an experienced CEO to stop the rot that these owners are presiding over . The idea is to demonstrate to the owners that the vast majority of fans whilst backing Lee Bowyer and the team are demanding change at the Board and CEO level.
To have your voice heard please read the details below and then complete the petition information, if you haven't already done so. Please complete the petition only once because any duplicate entries will not be counted.  The more signatures the louder your voice so if you have 5 season ticket holders or people who watch the games then we need all 5 to sign.  So come on lets #tiltontalkshow #BluesTrust #bcfc #KRO #getyourvoiceheard !
To the Owners and Executives of Birmingham City Plc,
The fans of Birmingham City FC are annoyed and tired with the continuing poor standards of executive management at our beloved club. We are generally a group that accepts and forgives mistakes so long as lessons are learnt. But years of decline provides the evidence to show that the executive management is severely lacking in its ability to run a football club or even learn to run a football club. This makes us question what the executive is planning next and to whether achieving the best for Birmingham City FC is top of their priority list.
This is the shocking list of decline
| | | |
| --- | --- | --- |
| From This |   | To Now |
| Promotion chasing Mens Team |   | Relegation fighters, as a result of poor decision making and detrimental interference on football matters by the executive that has wasted money, brought instability and lack of unity within the club |
| One of the top Women's Teams in the country |   | Relegation Fighters, following interference in structure and managerial appointments by executive with an exodus of good staff and players |
| Academy producing top players |   | Doubt and uncertain future following executive announcements and exodus of good staff |
| Top administrative management team |   | People with little expertise unable to fill the massive gaps left by exodus of good staff following disputes with executive |
| Close relationship with fans |   | Lack of basic communication with fans with a lack of transparency in plans, decision making, financial stability and future of the club. |
| Debt free club with sustainable business plan |   | Massive debts, uncertain business plan with opportunities lost and investment wasted. Unclear financial arrangements, use of money from opaque sources and breach of EFL financial rules. |
| Maintained ground with safety certificate in the ownership of Birmingham City FC |   | Unsafe ground with confusion over repairs programme and uncertainty as to who owns it with at least 2 companies having partial ownership (both operating in off shore regimes). |
| Hope of improvement under new owners |   | Realisation that owners are destroying our club, the identity of ownership is unclear / unknown and involves an extremely complex structure of companies, and individuals with intertwined loans, debts and equity dealings. |
We fans will always support the teams and the managers. We are all over the moon about the recent results achieved by Lee Bowyer and the team. But the fans cannot support the continuing incompetence at Owner and Executive level. Support for the Executive and Owners has been lost and the rot has to be stopped.
By signing this petition, we call for the Owners (whoever they are) and Executive team to acknowledge the errors made as a result of poor executive management, and to appoint and empower a competent CEO with experience of running a football club, who understands Blues and will be able to support Lee Bowyer and Carla Ward and the players.
Blues Trust in partnership with Tilton Talk Show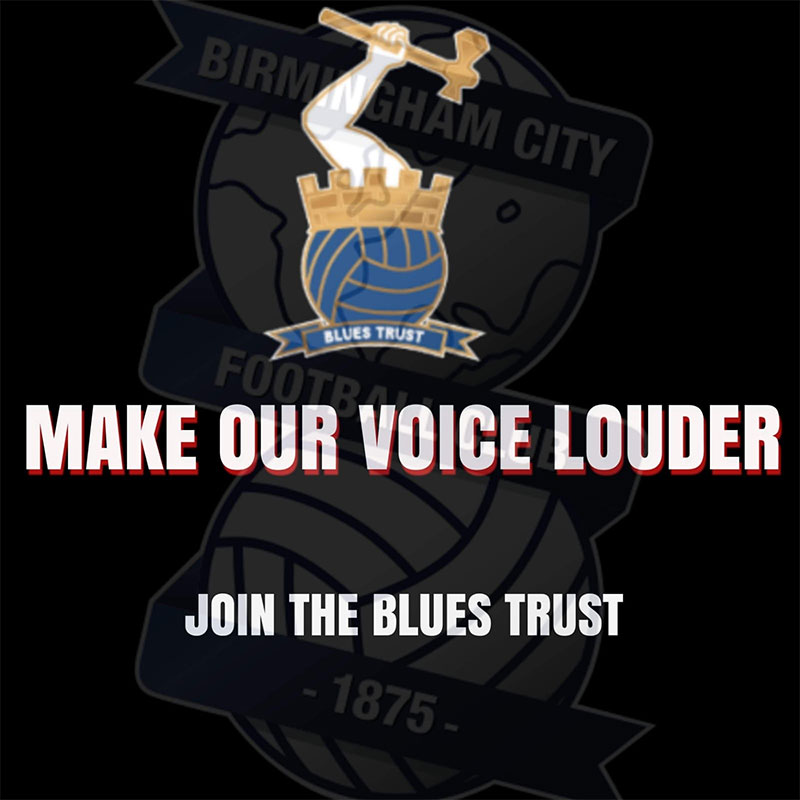 Want to be a full member with voting rights?
We have options for 1 and 2 years at £5 per year.  There is also a 5 year membership for £20 so you get 5 years for the price of 4.  See information and options here.
By making comments on the above article, you agree to Blues Trust retaining your email address should we need to make contact with you for admin purposes.   Let us know at admin@bluestrust.org if you do not wish us to do this.  We will not give out your email address to any 3rd party sources.