Fan-led Review: Blues Trust Meets Review Panel
​Members of the Blues Trust Board held a private meeting with Tracey Crouch MP, Chair of the Review Panel, and other Panel members on Tuesday 8 June.
The Trust took the opportunity to tell the story of Blues recent ownership history and highlighted many of the issues associated with poor ownership and ineffective regulation within football, not least concerning financial fair play rules and owner and director tests. We went on to highlight concerns, and proposals for improvement, in a number of areas including club ownership, ground ownership, supporter engagement, financial management issues and how the disparity in financial distribution distorts competition within the top levels of the game.
Tracey Crouch and the Panel engaged fully in the discussion with us and the issues we highlighted. They were particularly interested in the Blues story and took note of our ideas for improvement going forward. They thanked the Trust for providing evidence and for the level of detail submitted.
The Trust, working in partnership with the Football Supporters Association, also took part in another session with the Panel later the same day together with representatives from other championship club Trusts.  Fan engagement and the financial gap between the premier league and championship were discussed in particular detail, together with a variety of other topics relevant to the Review.
The Trust will be submitting further written evidence in the form of a final report later this month when the consultation exercise with Trust members and other Blues supporters is concluded.
Blues Trust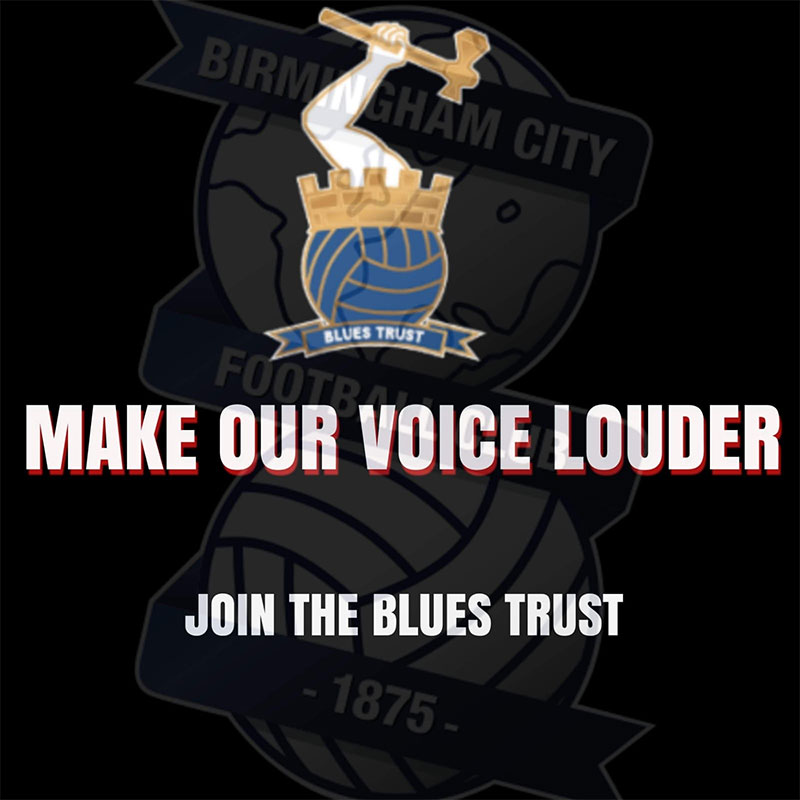 Want to be a full member with voting rights?
We have options for 1 and 2 years at £5 per year.  There is also a 5 year membership for £20 so you get 5 years for the price of 4.  See information and options here.
By making comments on the above article, you agree to Blues Trust retaining your email address should we need to make contact with you for admin purposes.   Let us know at admin@bluestrust.org if you do not wish us to do this.  We will not give out your email address to any 3rd party sources.