Fan-led Review: Distribution Of Revenues
The football industry generates billions of pounds in revenue every year, but this revenue has become more and more concentrated in the hands of the biggest leagues and the biggest clubs. Existing mechanisms for solidarity and distributing income down the pyramid are insufficient to address the growing imbalance in the spending power of clubs. One effect has been the reduction of competition and killing the dream that any club can reach the highest levels of the sport.
Football Revenues
The football industry in Europe is estimated to have generated nearly €30bn (£26bn) in the 2018/19 season, of which almost 25% is generated by English clubs in the top four leagues. Club revenue is generally derived from three primary sources:
Broadcasting
Commercial
Matchday
But it is that first category that most clearly drives the gulf between the top and the bottom of the pyramid, as can be seen in the following diagram (source: Deloitte Annual Review of Football Finance 2020):
Birmingham encapsulates this when looking at how the club's revenue has decreased over recent history. From roughly £60m in our last two years in the Premiership to an average of £26m during our parachute payment years, to an average of £18m since.
Existing solidarity and revenue distribution
There are several means by which revenue currently flows down the pyramid.
Training rewards – When a player becomes a professional or transfers for some value at both an international and domestic level, money is paid to the clubs that trained that player at a young age. These amounts are small in value and do not have a significant impact on club finances.
Parachute payments & solidarity – Money is provided to clubs in the first few years after relegation to ease the financial hit due to reduced revenue (Over £40m for a newly relegated club in the 2018/19 season). Some funds (£4.65m for a Championship club) are paid to the remaining clubs, not receiving solidarity payments directly. This mechanism has led to more relegated clubs either yo-yo-ing between the leagues or falling into financial difficulty.
Transfers – Clubs at a lower level who are able to find and nurture talent and sell them for a profit are essentially pulling money down the pyramid, but there are no guarantees.
What can be done?
The distribution of revenue between clubs requires an overhaul to redress the financial and competitive balance between clubs. Some ideas to be considered include:
Collective bargaining – While the "Project Big Picture" had many deplorable aspects, the proposal to increase the amount of solidarity paid to the lower leagues from 8% to 25% was a good one and should be implemented.
Removal of parachute payments – In line with increasing the amount of solidarity paid to the EFL, the broken parachute payments system should be abolished. It should become mandatory that player contracts contain relegation clauses to ensure a club does not slip into insolvency after relegation.
Central revenue ratios – The EPL has a fixed ratio that ensures that the proportion of money from central funds distributed to the highest club does not exceed 1.8x the amount allocated to the lowest club. This principle could be expanded to cover between the leagues as well.
"Soft" salary caps – While the League 1 & 2 clubs unsuccessfully tried to implement a salary cap for the last season, it is still a mechanism that should be considered. One aspect that can have a redistributive element would be to implement a "soft" cap. This would allow clubs to spend more than the cap, but any amounts over the cap level would be subject to "taxation", with the collected taxation redistributed to clubs who keep within the cap and clubs in the lower leagues. This would ideally need to be implemented at a UEFA level across the leagues and European cup competitions with different levels depending on the competition.
 What are your thoughts?
We would like to know what you think about revenue distribution and what can be done to maintain competitive balance in football.
Please send your thoughts to fanledreview@bluestrust.org , subject "Fan-led Review: Distribution Of Revenues", no later than 15 June 2021.
Blues Trust
​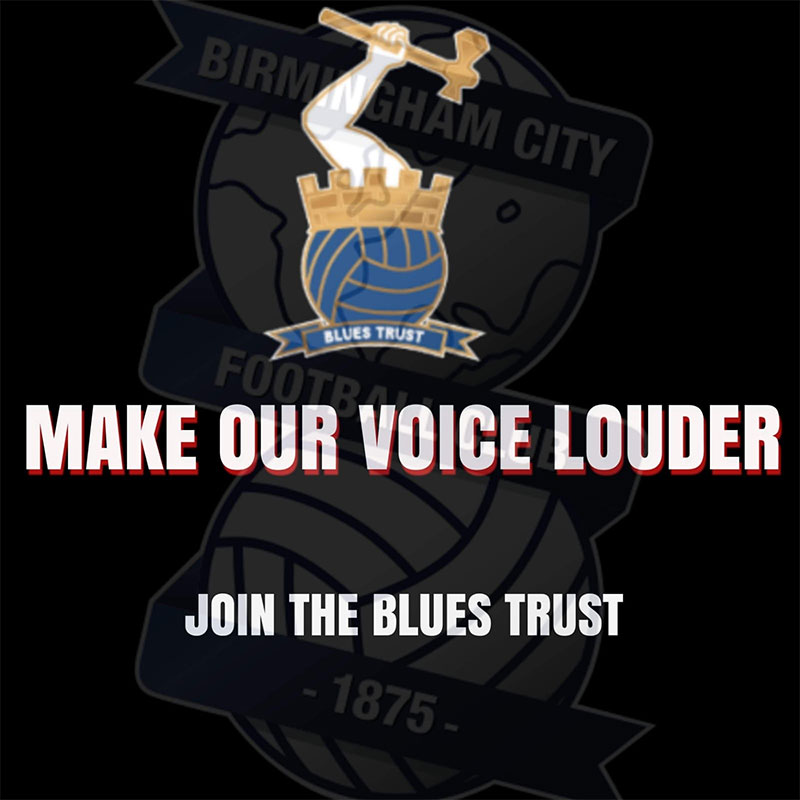 Want to be a full member with voting rights?
We have options for 1 and 2 years at £5 per year.  There is also a 5 year membership for £20 so you get 5 years for the price of 4.  See information and options here.
By making comments on the above article, you agree to Blues Trust retaining your email address should we need to make contact with you for admin purposes.   Let us know at admin@bluestrust.org if you do not wish us to do this.  We will not give out your email address to any 3rd party sources.