Fan-led Review: Independent Regulation
​The governance of football in England sits mainly in the hands of 3 bodies, namely the Football Association (FA), the English Premier League (EPL) and the English Football League (EFL). Each has different responsibilities and structures. For simplicity, where necessary, the term 'Football Authorities' is used in this article to refer to these 3 organisations as a collective group.
The FA is the governing body for football in England and was formed in 1863 but it does not control the running of EPL or the EFL. The Premier League is a private company wholly owned by its 20 Member Clubs who make up the League at any one time. The Football League is a limited company in which each of the 72 clubs holds a single share. Decisions at General Meeting are according to the Articles of Association based on a show of hands.
Where do Supporters fit in?
Supporter representatives are notable by their absence from the governance of English football. There are no supporter representatives involved in the management of either the EPL or the EFL. In the FA, there are 2 supporter representatives on the FA Council out of a total of about 120 Council Members. Interestingly, both Oxford and Cambridge University each have a representative on the FA Council both of whom have a vote. This means that their combined voting power is as great as that of the representatives of the millions of supporters that make up the English fan base.
Reform
Several attempts have been made to reform the governance of English football, going back many years e.g. the Report of the Culture Media and Sport Select Committee on 29 July 2011, and subsequent Government recommendations. On 12 December 2016 David Bernstein, former FA chief executive said
"a lot of work was done looking at how football should reform, including two reports from the Culture, Media and Sport select committee. That reform has simply not been delivered"
Some reforms have taken place following a parliamentary debate on 9 February 2017. These have been mainly in the area of ethnic diversity and representation of women's football.
The problem is that the football authorities do not seem able to initiate key reforms until forced to do so, in many cases as a result of Government intervention.
There are still numerous areas where further reform would be for the benefit of the game as a whole. Three of the most significant are:
Giving supporters a greater role in the running of both their local clubs and football in general
The more equitable distribution of money within the game
A more robust system for

providing transparency of club ownership
investigation of 'fitness' of potential owners to own and run a football club
dealing with 'rogue' owners
Because the reforms involve money and power, the Football Authorities have been, and are likely to continue to be, incapable of agreeing what reforms are necessary because there are too many vested interests for them to take an independent view. The people who would lose out as a result of this are the supporters.
Football is a monopoly industry – there are no competitors against which the performance of the FA, EPL and EFL can be judged. It is common when an industry has monopoly control such as the gas, electricity, water, telecoms industry etc ,  the government creates an independent regulator to prevent the industry acting against the interests of the public
The Blues Trust believes that the only way to achieve real reform in key areas which affect supporters is to create an independent regulator for football with sufficient authority to make the changes which the Football Authorities have shown themselves unwilling to make.
What are your thoughts?
Do you think that the Football Authorities (FA, EPL, EFL) will be able to balance the conflicting interests of all those in football to achieve necessary reforms to protect the interests of supporters or do you believe the time has come to create an independent regulator for football?
Please send your thoughts to fanledreview@bluestrust.org with subject "Independent Regulation", no later than 11 June 2021.
Blues Trust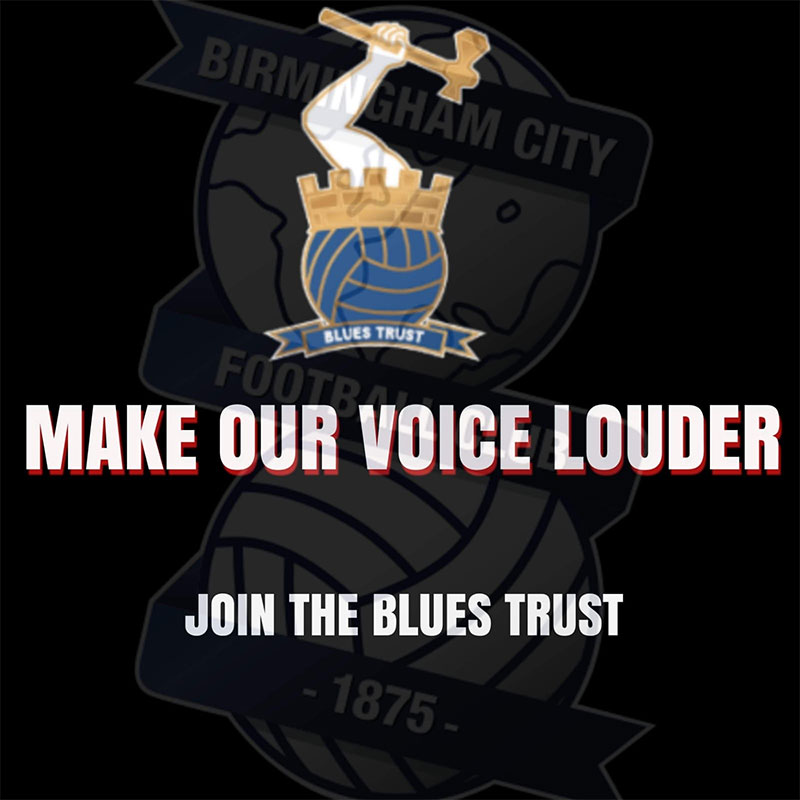 Want to be a full member with voting rights?
We have options for 1 and 2 years at £5 per year.  There is also a 5 year membership for £20 so you get 5 years for the price of 4.  See information and options here.
By making comments on the above article, you agree to Blues Trust retaining your email address should we need to make contact with you for admin purposes.   Let us know at admin@bluestrust.org if you do not wish us to do this.  We will not give out your email address to any 3rd party sources.