Fan-led Review: Ownership Tests
An important consideration for the review is the question of Owners and Directors' Tests (ODT).
What are ODT's?
The ODT applies to all clubs in the Premier League, English Football League, National League, Isthmian League, Northern & Southern Premier Leagues, Women's Super League and Women's Championship. The purpose of the Test is for the owners, directors and officers of clubs in those leagues to meet standards greater than that required under law so as to protect the reputation and image of the game.
The Premier League, the Football League and the Football Association all have separate and different owners' and directors' tests and each is administered differently. However, one thing that all the tests have in common is that they are objective tests. In essence, there are a number of boxes that need to be 'ticked' in order for a person to pass the tests and be deemed a fit and proper person to be involved in the management or ownership of a football club.
The tests all require, to all intents and purposes, simple yes/no answers, and they focus on a number of areas such as unspent criminal convictions, involvement in other clubs (including insolvent clubs), breach of certain league rules, sports bans, bankruptcy, and professional misconduct. So, for example, the rules ask if an individual has been disqualified by law from being a director under the Companies Disqualification Act 1986, or has been convicted of a dishonesty-based offence in either the UK courts or the competent courts of a foreign jurisdiction. If the individual has, he or she is deemed to be an unfit person to run a club and will fail the test unless any disqualifications or convictions have been spent under the Rehabilitation of Offenders Act 1974.
The tests are applied strictly to the letter of the rules.
Are ODT's effective?
Your view on that question is probably determined by the success, or otherwise, of the team that you support. But there is no doubt that, in general terms, the ODT in its various forms is considered to be largely ineffective. This is because it seems, in several cases, to have been unable to prevent bad or undesirable owners from successfully acquiring clubs. Previous controversies at clubs such as Portsmouth, Leeds United, Bury and Charlton Athletic raise difficult issues for football's regulators.
The recent case of Bury FC caused particular shock and sadness throughout the football pyramid. Jonathan Taylor QC's review in the wake of Bury's ejection from the EFL raised serious concerns with the ODT rules, particularly in relation to League One and League Two, and said this about the Bury case:
'There is no doubt that the EFL applied the [Owners and Directors] Test properly in relation to Mr Day and Mr Dale. The question is whether the test as currently written is fit for purpose. In particular, it only looks at a narrow list of objective criteria, and does not take into account various other factors that speak to whether a new owner or director is a fit and proper person to own/run a member Club.'
What else could be done?
Blues Trust believes that many of the problems football is currently facing, including our own, stem from matters related to ownership. These include a lack of transparency, no or poor engagement with supporters and the local community, lax financial control or questionable funding decisions sometimes linked to other, non-football purposes. So, the Trust feels strongly that ODT's are not currently fit for purpose and need to be strengthened.
The Trust supports recommendations made by the Taylor Review that a broader view of would-be owners, directors and officers should be taken, to include the amount of corporate insolvencies they have been involved with, and a more in-depth look at proof of funding and business plans before they take control of the club. It also recommends more fluid monitoring and compliance checks of at-risk clubs and those who have been subject to a change of ownership. The Trust would also like to see real transparency of these processes, with as much information as possible being set out clearly in the public domain and incorporating some form of register of ownership. Another area of consideration could be the deposit of some sort of bond with the relevant league to ensure adequate funding is available.
These recommendations would be important additions, but the Trust also shares the view that a really significant change would be the introduction of a more robust subjective element to the test; something which takes into account reputational issues that a potential club owner may have even if they were not subject to any kind of criminal or regulatory sanction. Of course, there would need to be safeguards to ensure that a potential new owner could not be rejected on discriminatory or malicious grounds, but there does seem to be a need – or at the very least a demand from fans – for some return to the original conception of club ownership. A greater form of moral judgement on the part of the regulatory authorities could help to maintain the integrity of the game, and to ensure those who look after clubs on behalf of fans are those with the necessary competence, knowledge and values to ensure that those clubs are properly looked after for many years to come.
What are your thoughts?
Many of you might agree that as supporters of the Blues it has, of late, been difficult not to feel frustrated and challenged by the ownership question. The decline of the club since the Carling Cup success in 2011 has raised many questions about the direction being taken by the club. On the other hand, some might argue that in a very difficult operating environment the club is firmly established in the second tier of English football and that that is an achievement in itself.
We would like to know what you think about ODT's and whether or not additional measures are required to safeguard clubs like ours for future generations.
Please send your thoughts to fanledreview@bluestrust.org no later than 7 June 2021.  Subject – Fan-led Review: Ownership Tests
Blues Trust
​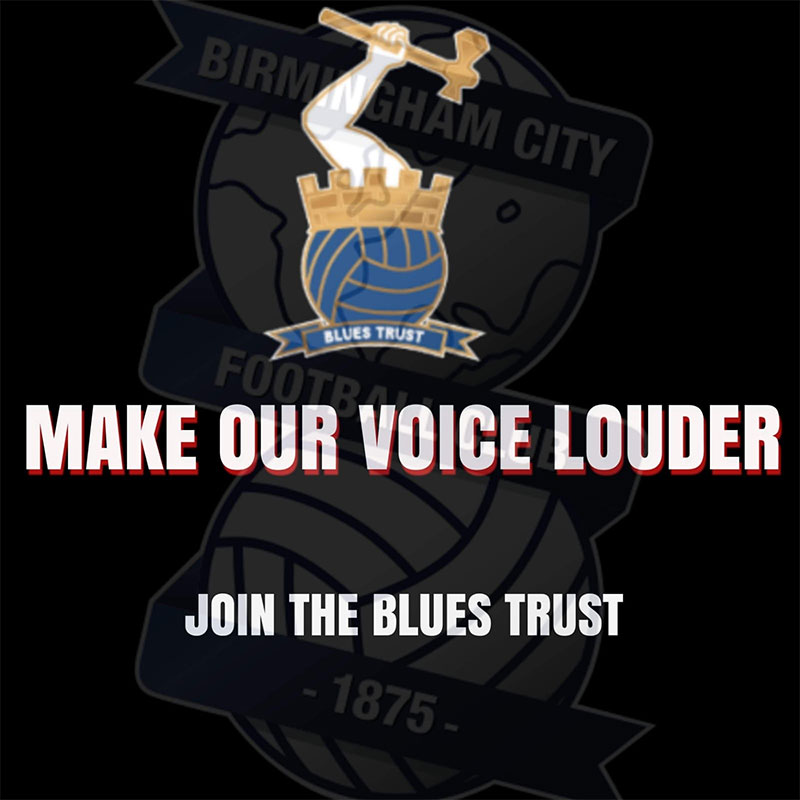 Want to be a full member with voting rights?
We have options for 1 and 2 years at £5 per year.  There is also a 5 year membership for £20 so you get 5 years for the price of 4.  See information and options here.
By making comments on the above article, you agree to Blues Trust retaining your email address should we need to make contact with you for admin purposes.   Let us know at admin@bluestrust.org if you do not wish us to do this.  We will not give out your email address to any 3rd party sources
.