Fan-led Review: Protection Of Club Identities
Club identity is one of the topics to be discussed in the fan-led review. The terms of reference include one that says, "Look at interventions to protect club identity, including geographical location and historical features (e.g. club badges)". If you consider some of the changes that owners have been allowed to make, it is clear that club identity needs protection.
When Wimbledon's move to Milton Keynes was announced in 2001, there was opposition from Wimbledon fans and fans of other teams. But those fans were unable to stop it, the move took place and the team's name was changed to Milton Keynes Dons. The Dons Trust, a supporters' trust, started a new team, Wimbledon AFC, which is owned by fans. They had to start at the bottom of the football pyramid but are now in League 1, the same League as Milton Keynes Dons. Wimbledon AFC have also managed to build a stadium in Plough Lane, close to where their old stadium was, and they started playing there in 2020.
The stadium is also an important part of a club's identity. If it is sold, fans should know why and what plans the new owners have. Some clubs that have sold their stadiums recently, have sold them to companies belonging to their owners to help them comply with profitability and sustainability rules, which limit the amount of money that clubs can lose. Others have sold them to third parties to raise money for other investment but once ownership of the club and ground are separated it raises concerns as to what the long-term plans are for the ground. This is what happened to Coventry City, that has had to share stadiums owned by other clubs. The concern for Blues fans is what will happen with St. Andrews now it is owned separately from the football club.
In 2012, Vincent Tan, the owner of Cardiff City, changed the home shirt colour from blue to red because he thought red was a lucky colour. He also adopted a dragon crest instead of the traditional bluebird. On January 9, 2015, after sustained pressure from the fans, it was announced that the home colour would be changed back to blue.  The next day, the team played at home in blue kits. In a report in the Sun newspaper, in 2018, Vincent Tan was quoted as saying, "I made a mistake by changing the colour and I've reverted back to blue. I made a mistake and I rectified it. There will be no more tinkering with the colours."
Hull City's owner, Assem Allam, attempted to change the name of the club to Hull Tigers but this was rejected by the Football Association on two occasions.
Manchester City involved fans in the design of their new badge in 2016 and this seems to have helped its acceptance by fans. The fact that the team was doing well may have also helped this change to be accepted.
Blues Trust Board members know that fans cannot be involved in every decision made by a football club but believe that fans should be consulted on issues involving the identity of the club.  A way for fans to vote on such issues needs to be agreed.
 What are your thoughts?
We would like to know what you think about protecting club identity and whether or not additional measures are required to safeguard club identity going forward.
Please send your thoughts to fanledreview@bluestrust.org with subject "Fan-led Review: Protection Of Club Identities", no later than 13 June 2021.
Blues Trust
​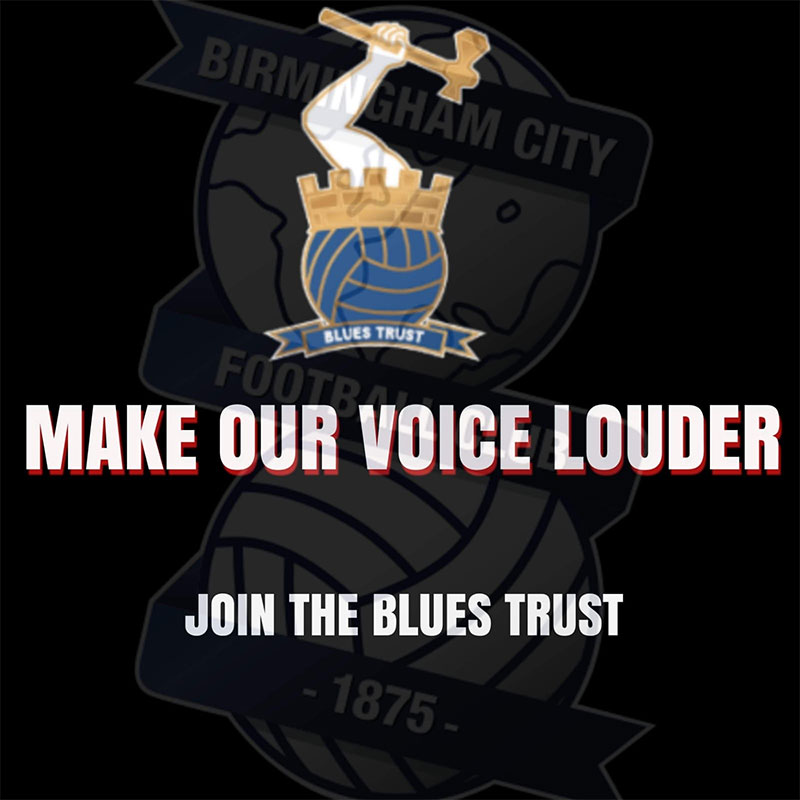 Want to be a full member with voting rights?
We have options for 1 and 2 years at £5 per year.  There is also a 5 year membership for £20 so you get 5 years for the price of 4.  See information and options here.
By making comments on the above article, you agree to Blues Trust retaining your email address should we need to make contact with you for admin purposes.   Let us know at admin@bluestrust.org if you do not wish us to do this.  We will not give out your email address to any 3rd party sources.