The following article has been written by one of our Trust members.  Would you like to contribute a discussion point of your own about Birmingham City Football Club?  If so, we would be delighted to hear from you.
With this week's release of the forthcoming Championship fixtures for the 2021/22 season, what can Blues supporters realistically expect this term? Under Lee Bowyer we can almost guarantee that there will be no tiptoeing into each game and that full commitment will be expected and seen. Players will be primed and ready. Good to know and pleasing to be there to give support from the terraces.
Question is whether we have the quality to make the new season a success. Each season there are many opinions as to what is expected by the fans, with the most popular word usually being stability. But surely it is time to ditch this almost tired and weary word, which incidentally never really materialises, and push on to fresher pastures? Brentford and Barnsley have pushed on recently and that should give hope and inspiration to everyone involved at St Andrew's, including us Blues supporters.
Recent stories as to who might be coming in through the transfer door haven't so far been inspiring – not even remotely – but stories they are, and hopefully they remain as such. Undeniably we are what we are…. a very modest spending club up against more wealthy Championship opponents , especially the yo-yo ones who benefit enormously by the parachute payments. This is the crunch as the longer you spend in our league, the longer you can expect to remain.  So what's the answer and what is the strategy for a club like ours? Before opening a hopeful debate on this the overall feeling I get from fellow supporters is that of survival, with the hope of that word again….stability. Therefore back to square one. No wealth, no progress.
My own view is that a top-class scouting system can make a difference, one that is capable of producing the odd gem that can fit in immediately. Surely they are around, and not necessarily young and untried? Do we mini gamble on a lower league goal scorer who is not so young, or do we nurture an aspiring youngster who might just make it only for the big clubs to poach?
This season is about a popular new Manager at the helm with B9 support itching for some long-awaited joy, together with renewed hope, from the very first whistle. What can we expect is the burning question, and what belief do we genuinely have?
Mitchell Bray
​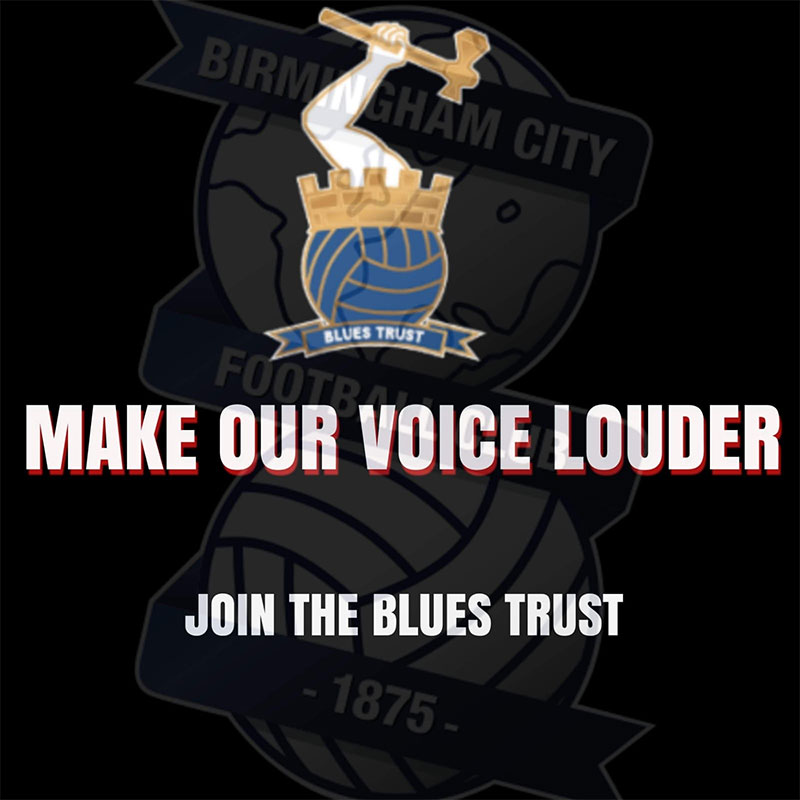 Want to be a full member with voting rights?
We have options for 1 and 2 years at £5 per year.  There is also a 5 year membership for £20 so you get 5 years for the price of 4.  See information and options here.
By making comments on the above article, you agree to Blues Trust retaining your email address should we need to make contact with you for admin purposes.   Let us know at admin@bluestrust.org if you do not wish us to do this.  We will not give out your email address to any 3rd party sources.