Blues Trust Statement: St. Andrew's

The announcement that the Tilton and Kop Stands will not be available for the opening home games is a bitter blow for Blues fans.  Now the majority of us will be unable to support our team, and we are shocked that the administration at the club, only last week, assured us everything was on track to open the upper tiers..
We attended the Fans Forum meeting last week and embraced the 'new start' of transparent engagement with fans. Whist we understand remedial construction work can throw up unforeseen issues, it seems that the risk of not being able to open the stands (top half) for the Stoke game was played down. We are assuming the works that we were told were completed are complete and that the additional works required could not be foreseen. However, it is hard to understand how a full investigation and carrying out of the identified works failed to identify this 'last minute' requirement. It is also unclear whether other issues such as funding availability from the owners / Board or safety certificate procedure are part of the story.
The disappointment and anger towards the administrative management at Blues is only heightened by the feeling that we have been misled. We do not want to go back to hearing nothing from the club but encourage the club to be brave enough to tell it straight. Blues fans can take bad news and move on and remain supportive, but we will not accept being misled.
We will hopefully get the full story, explanation and an apology from the club in the next day or so. Blues fans deserve this detail now.
Blues Trust
​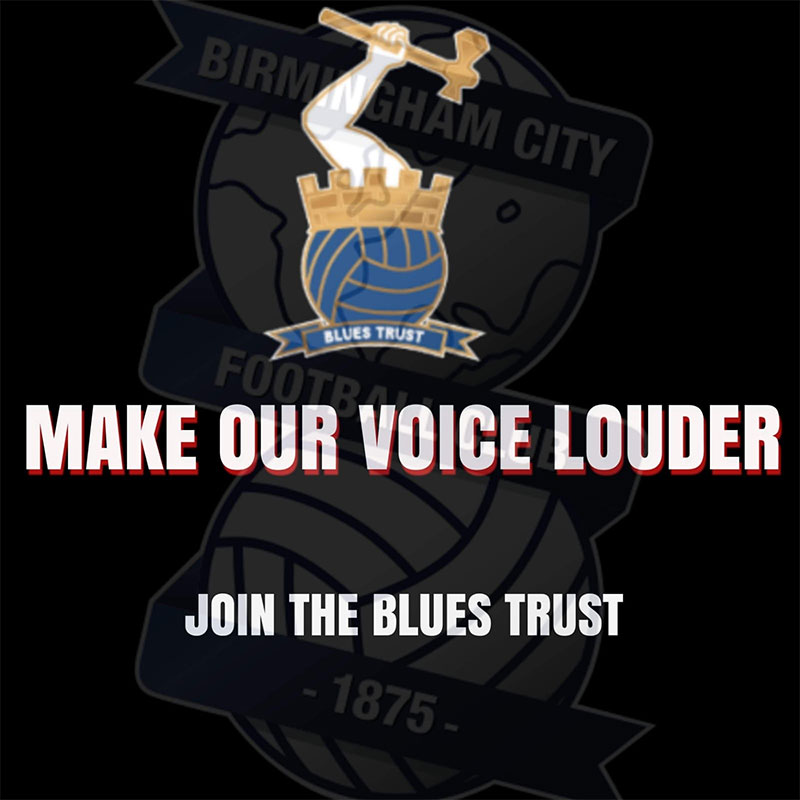 Want to be a full member with voting rights?
We have options for 1 and 2 years at £5 per year.  There is also a 5 year membership for £20 so you get 5 years for the price of 4.  See information and options here.
By making comments on the above article, you agree to Blues Trust retaining your email address should we need to make contact with you for admin purposes.   Let us know at admin@bluestrust.org if you do not wish us to do this.  We will not give out your email address to any 3rd party sources.