The following article has been written by one of our Trust members.  They are the opinions of that person and not necessarily those of Blues Trust.  Would you like to contribute a discussion point of your own about Birmingham City Football Club?  If so, we would be delighted to hear from you.
With confidence building and real belief emerging, Blues next game against Fulham is eagerly awaited. With a healthy league position and players performances consistently good, what is there not to like about life in B9?  Add the Deeney factor and it is easy to see why eyebrows are being raised as to what supporters feel about our chances in the Championship this season.
Fulham are obviously a class act despite their shock defeat by Blackpool last Saturday, and this next game is going to be a real test. But what pleases me most is the fact that we are consistently playing the way Lee Bowyer demands, with performances by every player reaching a high standard.  Hopefully, therefore, such consistency means not having to raise the bar or find an extra gear against certain teams like Fulham.
Again, what I like about Bowyer's approach to games is the simplicity of it all.  Players and supporters are understanding the logic. Against Derby we stood out as a very powerful team, with strengths all over the pitch. And our bench looked more than decent, especially the sight of Troy Deeney and Chuks Aneke.
Lee Bowyer may well tweak things in a minor way against Fulham, and it wouldn't surprise me to see Jutkiewicz give way to Deeney from the start with aerial balls kept to a minimum. So, for me it would be an attacking threat in the form of Deeney and Hogan, with Chong and Bela completing the offensive quartet.
Fulham and Peterborough this week are fixtures to be looked forward to, and why not?  With 6 points on offer I sense a determination within the camp to take the maximum.
Mitchell Bray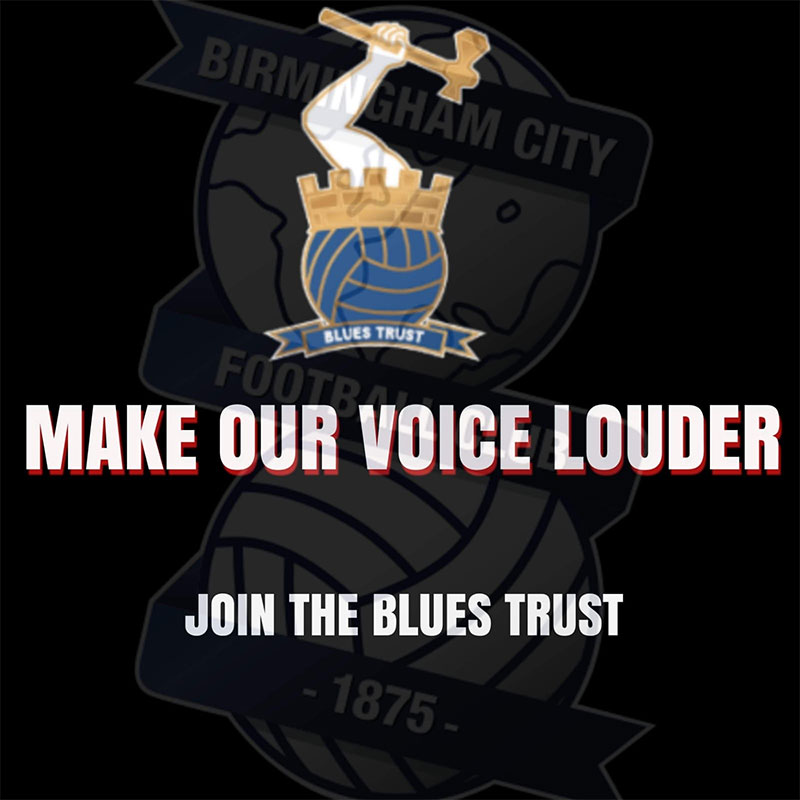 Want to be a full member with voting rights?
We have options for 1 and 2 years at £5 per year.  There is also a 5 year membership for £20 so you get 5 years for the price of 4.  See information and options here.
By making comments on the above article, you agree to Blues Trust retaining your email address should we need to make contact with you for admin purposes.   Let us know at admin@bluestrust.org if you do not wish us to do this.  We will not give out your email address to any 3rd party sources.