The following article has been written by one of our Trust members.  They are the opinions of that person and not necessarily those of Blues Trust.  Would you like to contribute a discussion point of your own about Birmingham City Football Club?  If so, we would be delighted to hear from you.
Patience is beginning to run a bit thin with many of us Blues supporters. We are a forgiving lot with many aspects of the club, and we readily back whoever comes in and takes the job of Manager/Head Coach. What has suddenly forced itself upon us is the inability to score goals, with strikers at the moment not worthy of the name.
Against Fulham, Peterborough, Preston and QPR we have managed just one goal and that being a penalty. A once healthy goal difference of plus 7 has rapidly become a minus 2. Lee Bowyer, as generous and protective as ever, supports his players and I have no doubt that he is the man to see us through this awful barren spell.
Nottingham Forest represents another decent opportunity to get a win and resurrect confidence all round. Particularly with our attacking players. My real concern is the fact that Jutkiewicz, Aneke, Hogan and Deeney appear to lack any clinical presence in front of goal. We hear the well-trodden words about supply and support by wide men and midfielders, but from recent games there doesn't appear to be a clinical finisher amongst them. Attack minded bench players such as Graham and McGree remain almost completely untried, which doesn't augur well.
The win and five goal feast we enjoyed against Luton seems a distance ago now, with many of us supporters at the time getting excited with the performance and our then elevated league position. What we desperately want is to halt this slide and not fall into a clutch of lower half clubs battling it out just to reach halfway. Bowyer now has a situation on his hands as to who and how is best equipped to address this striker problem.
Perhaps there isn't a solution within the camp and maybe we have to accept that?  But surely the likes of Deeney and Hogan/Jutkiewicz need to do better?  Many will point out that we are only ten games into the new season and that may be true, but consecutive games against those teams I have listed without producing one outfield goal does highlight a problem.
We all have views why this is, and my own is that we are certainly a yard slower than most opposition strikers leading me to believe that Tahith Chong should play alongside Deeney or Jutkiewicz. My patience with Hogan has sadly been lost.  Against Forest we have to show something different, hence my choice for Chong.  Flat back four and four midfielders are what we are best at with the two upfront. Here's hoping.
Mitchell Bray
​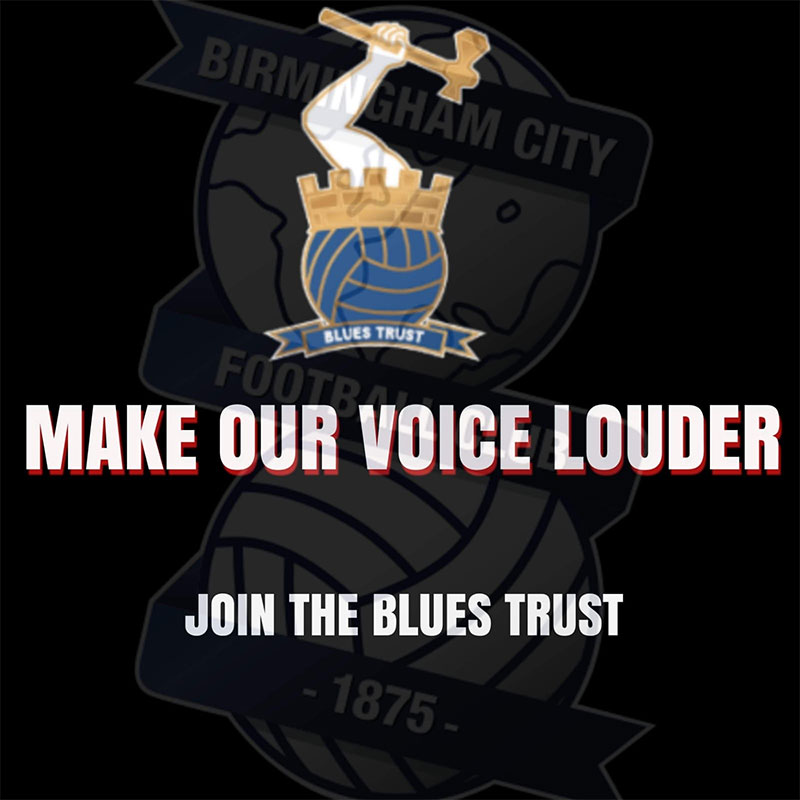 Want to be a full member with voting rights?
We have options for 1 and 2 years at £5 per year.  There is also a 5 year membership for £20 so you get 5 years for the price of 4.  See information and options here.
By making comments on the above article, you agree to Blues Trust retaining your email address should we need to make contact with you for admin purposes.   Let us know at admin@bluestrust.org if you do not wish us to do this.  We will not give out your email address to any 3rd party sources.