The following article has been written by one of our Trust members.  They are the opinions of that person and not necessarily those of Blues Trust.  Would you like to contribute a discussion point of your own about Birmingham City Football Club?  If so, we would be delighted to hear from you.
Next match Huddersfield Town must surely be the game for Blues to stop the rot? This horrendous run of winless games, zero scoring and plummeting like a stone down the table is soul destroying. Lee Bowyer feels that once we get a win then we could go on a decent run, which is heartening to hear and let's hope he's right. For me at this moment a goal would be nice.
Against West Bromwich Albion we gave them a good game and nobody could criticise the hard-working efforts of the players. But, as usual, we lacked quality. That's simply the difference.
Backing the players and the manager is crucial leading up to Christmas. Because if we suddenly find ourselves teetering on and below that seventeenth spot in the table, it will be very hard to climb away and salvage or make a success of this season.
Twelve games in is nothing in any season, but the way we have thrown away a good start to the campaign…plus changing a very healthy 'goals f' orcolumn to a minus one…is quite bewildering. After the Derby game, and the last three points achieved, we have obviously lost that edge with players appearing like strangers to each other. Form has been totally shot.
Lee Bowyer is facing a very testing time and his casual demeanour in front of the media must in reality be anything but. Can we get back to the early 'Bowyer Bounce' days when his philosophy of keeping the game simple and trusting the players was his way ahead?  I do hope so. This club of ours, which doesn't offer a lot of joy at the best of times, really cannot afford continued on-field defeats.
Huddersfield are doing what we hoped we would be doing…. winning games and pressing for a playoff spot. Realistically we still can, but things need to change soon, and we must hope that can begin to happen in Yorkshire on Wednesday night.
This season must be better than the previous several, and Lee Bowyer must be the one to take us upwards with overall improvement as shown when he first arrived. His players need to get back to the performances they gave him in order to actually be playing Championship football today. My plea to the players is simple and clear. Do not be responsible for yet another manager biting the dust. Especially this one.
Mitchell Bray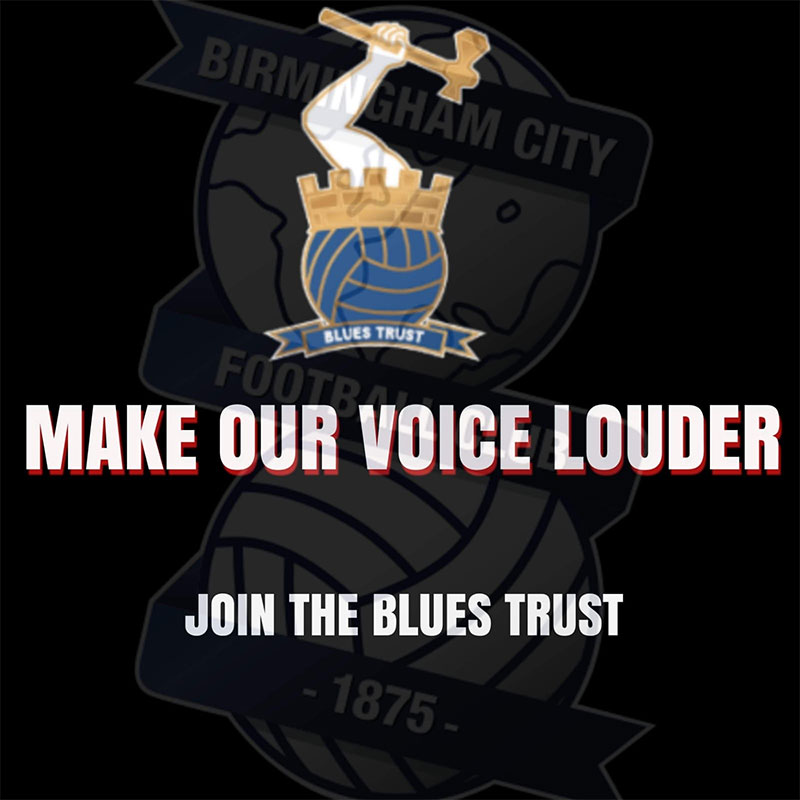 Want to be a full member with voting rights?
We have options for 1 and 2 years at £5 per year.  There is also a 5 year membership for £20 so you get 5 years for the price of 4.  See information and options here.
Have you visited our shop?
To raise funds for Blues Trust, we have for sale :
Blues Trust Pin-badges.
Old Football Programmes that have been donated.
Gift memberships in Blues Trust that you can buy for family or friends.
By making comments on the above article, you agree to Blues Trust retaining your email address should we need to make contact with you for admin purposes.   Let us know at admin@bluestrust.org if you do not wish us to do this.  We will not give out your email address to any 3rd party sources.