Fan Led Review: Final Report
​The final report and recommendations of the independent Fan Led Review of Football were published yesterday.
The Review was announced by the Government back in April. It was tasked with undertaking a comprehensive examination of the English football system with the aim of exploring ways of improving the governance, ownership and sustainability of clubs in the football pyramid.
Blues Trust supported the Review and was given an opportunity to contribute to it by providing evidence to the appointed Review Panel, chaired by Tracey Crouch MP. The Trust's contribution was shaped by the views of our members and other Blues supporters following a consultation exercise undertaken by the Trust in the spring.
Some of the evidence provided by the Trust with regard to Birmingham City has in fact been referenced in the final report. You can find this at point 1.22 in Chapter 1, The Case For Reform (page 29).
The report published yesterday is significant, with recommendations that have the potential to make major changes to the power structures of the domestic game. Included amongst them is the opportunity for supporters to be given a real voice at the heart of football.
The report makes 47 recommendations in total. The main strategic recommendations are as follows:
Governance: there should be a new independent regulator for football (IREF) created by the government which would oversee a number of aspects of the game and which would have the necessary investigative and enforcement powers needed to prevent the recurrence of such developments as the recently proposed European Super League. A new corporate governance code should also be set up to improve football governance;
Finance: football's model is unsustainable with too many clubs making losses. To ensure financial sustainability of the game the IREF should oversee financial regulation in football with the ability to impose stronger financial controls;
Ownership: new owners' and directors' tests should be established by the IREF, replacing the existing tests and ensuring only good custodians and qualified directors should run clubs. Detailed ideas on this are shown in the report;
Engagement: proposals to embed democratic supporter organisations and engagement within the heart of domestic football. Supporters should be consulted on all key off-field decisions through a 'shadow board'. This is a 'board' of a number of elected diverse supporter representatives which would discuss the business and strategy of the club in detail;
Heritage: football stadiums, club badges, location, colours and competitions all deserve special protections. Fans to have a veto on these assets at every club via a "golden share" which is held by a democratic, legally-constituted fan group. These protections confer many benefits of ownership without supporter groups being required to raise capital;
Reform: half of the FA Board should be made up of independent non-executive directors, to reduce elite club influence. The FLR also recommends reform of the FA Council;
Financial Distribution: fairer distribution of finances is needed and football is given a limited time to agree this amongst the leagues. If no agreement is reached the IREF will step in. As part of this there should be more support from the Premier League to the pyramid through a solidarity transfer levy, paid by Premier League clubs on buying players from overseas or other top-flight clubs. Additionally, the removal of restrictions on FA spending meaning more money redirected towards grassroots, non-league and women's football;
Equality & Diversity: equality, diversity and inclusion plans should be mandatory for all clubs;
Women's football: women's football should be treated equally and given its own review;
Player protection: stakeholders should work to increase protection of the welfare of players leaving the game.
Blues Trust welcomes the publication of the Review and its overwhelming call for reform. The Trust will be making further comment once a detailed study of the findings has been undertaken, and all potential implications for Blues supporters and their relationship with BCFC have been considered.
In the meantime, a copy of the full report can be found here. If you can find the time, it is certainly worth reading and not least so the Executive Summary.
The Trust would be very pleased to receive any initial thoughts and comments from members and other Blues supporters now that the Review has been published.
Blues Trust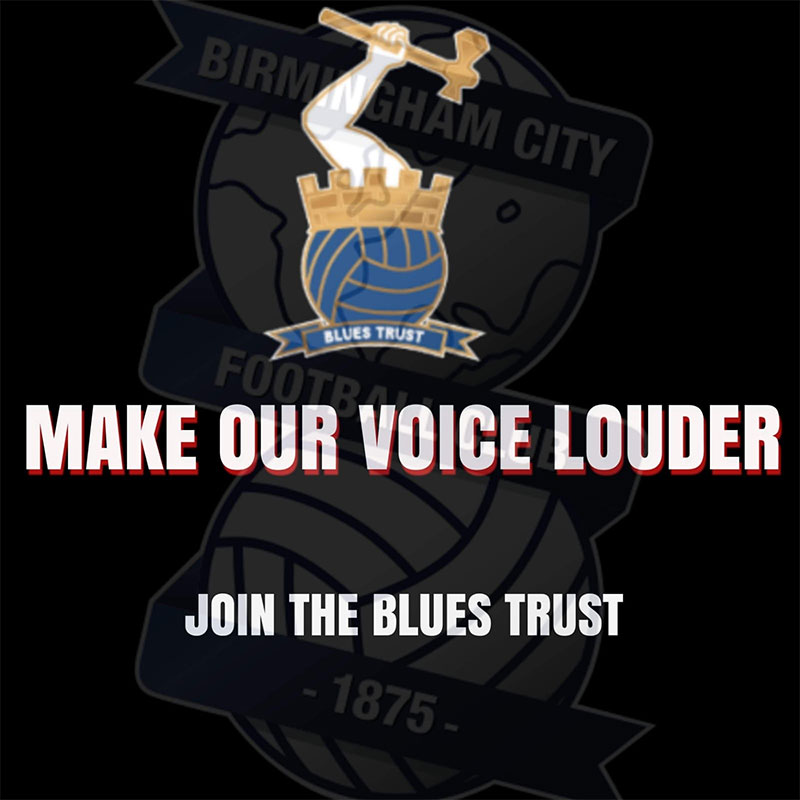 Want to be a full member with voting rights?
We have options for 1 and 2 years at £5 per year.  There is also a 5 year membership for £20 so you get 5 years for the price of 4.  See information and options here.
Have you visited our shop?
To raise funds for Blues Trust, we have for sale :
Blues Trust Pin-badges.
Old Football Programmes that have been donated.
Gift memberships in Blues Trust that you can buy for family or friends.
By making comments on the above article, you agree to Blues Trust retaining your email address should we need to make contact with you for admin purposes.   Let us know at admin@bluestrust.org if you do not wish us to do this.  We will not give out your email address to any 3rd party sources.