The following article has been written by one of our Trust members.  They are the opinions of that person and not necessarily those of Blues Trust.  Would you like to contribute a discussion point of your own about Birmingham City Football Club?  If so, we would be delighted to hear from you.
​Lee Bowyer needs help. Understanding is probably his biggest ask from us as supporters, followed very closely by total support. Injuries and suspensions are hitting hard, with each game throwing up another challenge. As followers of the club we simply cannot allow ourselves to make critical feelings get in the way of reality…..which plainly refers to patched up teams and players being asked to fulfil fixtures obviously out of their comfort zones.
Lee Bowyer and co. are in a hideous place at the moment, and should we emerge with another point this Saturday against a good Blackpool team then it should be applauded. Many times over seasons past we, the fans, have torn into team selections and ultimate performances. Quite rightly so, and no doubt we will do the same again in the future. But at this moment what is needed is unity and total support from everyone who wants Lee Bowyer and his threadbare squad to come through this awful period with a few crumbs.
We did it against Coventry City on Tuesday night and, with home support on Saturday against Blackpool, we can do it again. As supporters, our vocal contribution is all we can offer. But, as we have seen many times before at St Andrew's, it can be crucial.
When we have our recognised first team squad back to something like it was just a few short weeks ago then, and only then, can we genuinely gauge our first half of the season.
Mitchell Bray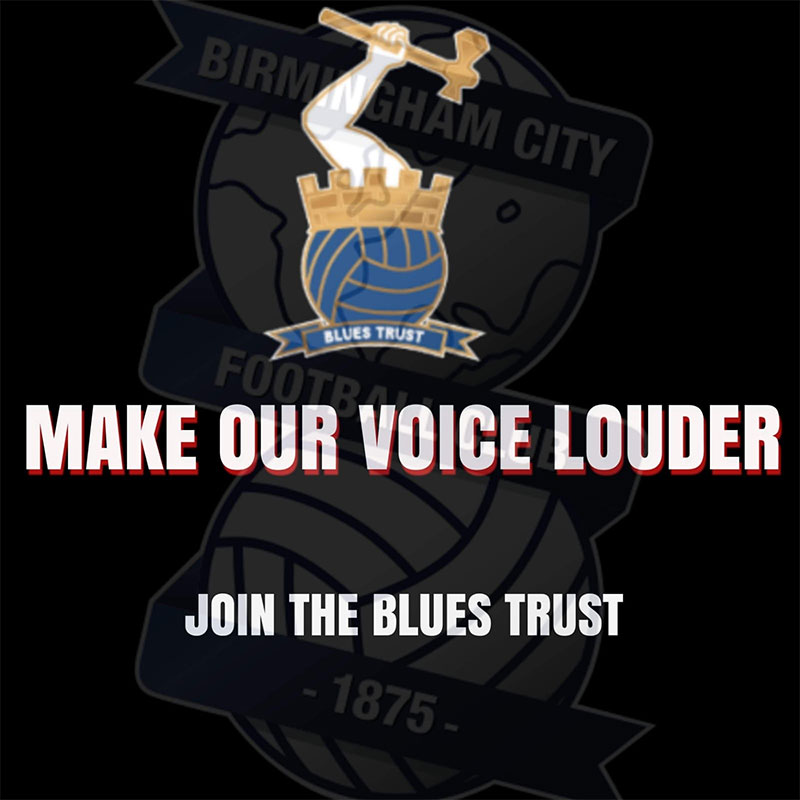 Want to be a full member with voting rights?
We have options for 1 and 2 years at £5 per year.  There is also a 5 year membership for £20 so you get 5 years for the price of 4.  See information and options here.
Have you visited our shop?
To raise funds for Blues Trust, we have for sale :
Blues Trust Pin-badges.
Old Football Programmes that have been donated.
Gift memberships in Blues Trust that you can buy for family or friends.
By making comments on the above article, you agree to Blues Trust retaining your email address should we need to make contact with you for admin purposes.   Let us know at admin@bluestrust.org if you do not wish us to do this.  We will not give out your email address to any 3rd party sources.