The following article has been written by one of our Trust members.  They are the opinions of that person and not necessarily those of Blues Trust.  Would you like to contribute a discussion point of your own about Birmingham City Football Club?  If so, we would be delighted to hear from you.
After Saturday's humiliating defeat at the hands of Blackburn Rovers, and the all too familiar thread that follows season after season, I feel answers are needed. Firstly, this is not a knee jerk reaction by a fed-up supporter who suffered yet another bad Saturday night. Hopefully readers will recognise that. My concern is that we loyal Blues followers have witnessed more than a decade of serious decline now, even if….so far…we have not dropped through the trapdoor and into League One.
Season after season we sit in virtually the same place, at almost the same time each year, nestling in seventeenth spot in the table. We then enter the New Year with half a season left and the same sole target of avoiding relegation.  Often, we change the manager in the hope of a survival bounce, and usually we get away with it. This year of course we have Derby County and Reading to thank for having had points deducted, a circumstance which gives us a cushion that we really do not deserve.  
But for how much longer must this go on?  I urge the club to come clean about why we continually struggle for any type of progress, both on and off the field.
From the outside it appears we are a club which is skint. A club working from hand to mouth, getting short term loans and signing older players not demanding huge wages. Younger and more talented players are sold without so much as a blink of the eye, and the possibility of building a successful team with any sort of medium to long term future is denied.
Question is are we skint?  I am not so sure. We have owners who have kept us afloat and I am grateful for that, especially after the calamities of the Redknapp experiment. As long-standing Blues supporters, we can usually accept anything thrown at us and, well worn as we are, we can still take more. So, should it be that our hierarchy state that our financial situation is deeply concerning and responsible for where we are currently at then fine. Equally, if we are told that high earners need to be moved on then, again, fine. Indeed, statements made following the defeat on Saturday that Harlee Dean is on the transfer list give a big indication that this is in fact the case. He may well not be the only one.
But we desperately need a clear message from the club as to what the way forward is going to be. We need openness, clarity and honesty. History keeps repeating itself, season after long season, and it is getting weary and tiresome. We are now entering a new year replicating the last decade and, should this ownership continue and its policies remain, there has to be a day of reckoning eventually.
We will all have opinions on the situation, I'm sure. My view is that should we have been in or around seventh or eighth spot by Christmases past, then the Board would most likely have pumped money into a second half push for promotion, whoever the manager. Seventeenth spot is a killer however and, therefore, survival has to be the target. Again. My opinion.
Our current squad of players is clearly not equipped for any type of upper table push. Ok, that is hard and frustrating to accept, but it is what it is. My question, though, is how much longer must we wait for any kind of change? The club has stagnated for ten consecutive seasons now, without any real hope of a brighter future. The owners should at the very least explain their thinking and how they see things being for us in the next season or two.
Mitchell Bray
​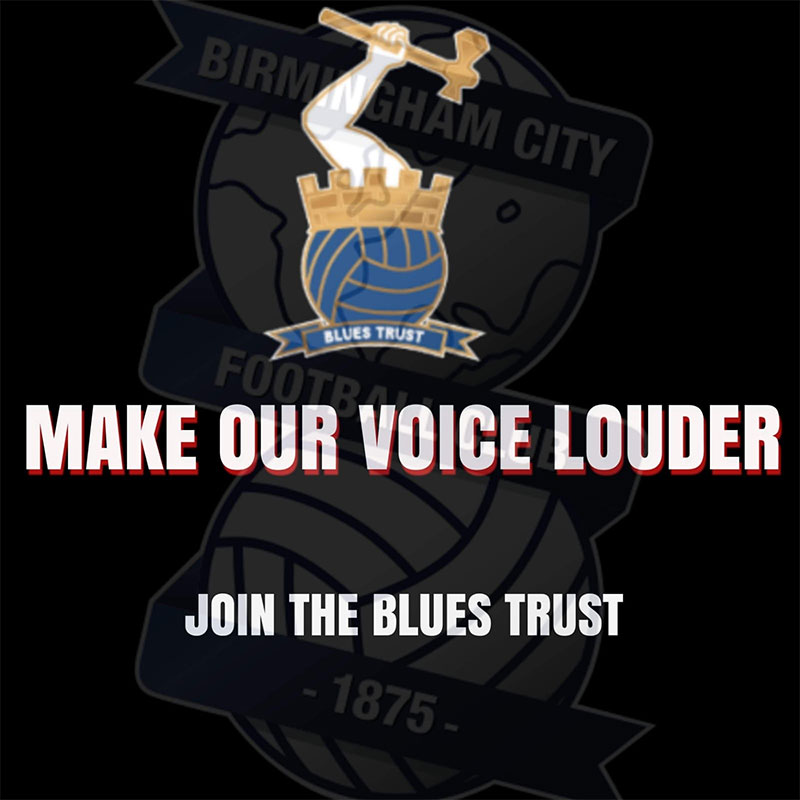 Want to be a full member with voting rights?
We have options for 1 and 2 years at £5 per year.  There is also a 5 year membership for £20 so you get 5 years for the price of 4.  See information and options here.
Have you visited our shop?
To raise funds for Blues Trust, we have for sale :
Blues Trust Pin-badges.
Old Football Programmes that have been donated.
Gift memberships in Blues Trust that you can buy for family or friends.
By making comments on the above article, you agree to Blues Trust retaining your email address should we need to make contact with you for admin purposes.   Let us know at admin@bluestrust.org if you do not wish us to do this.  We will not give out your email address to any 3rd party sources.