Blues Trust: Our Position

Blues Trust is an organisation for Blues fans. We are one of many. We are open, democratic and any Blues fan can join. We have our views and objectives, but have never claimed to represent all Blues fans. With such a variety of views amongst supporters that would be impossible.
We are an organisation that believes our members have the right to express their personal views. To that extent we believe in freedom of speech. To do otherwise would be censorship.
The recent article in our 'In Off The Post' series has seen a lot of criticism aimed at the Trust, and most of it because it was deemed to represent the Trust's views. It did not. This was made very clear in the introduction to the article itself. So most of the criticism was inaccurate and misplaced. However, we understand that the current environment surrounding our football club is heated and we have certainly learnt a lesson from the vitriol poured on us on social media, a lot of it personal and completely unwarranted.
People who comment that they don't know what the Trust stands for should browse our website. The answers are there. Below is a link to our post of 19 January that explains our position and our work regarding the Fan Led Review, and the opportunity we believe it presents as a catalyst for change.
Link to our article "A Catalyst For Change"
The recent Daily Mirror article by Neil Moxley is headed 'Birmingham City must undergo fan-led review to save Championship club from failing owners'. What does he say at the end about Blues fans? 'Their best bet might lie with Ms Crouch and the implementation of her recommendations'.
We get that some supporters don't understand what we do, but the Trust has been active in a number of areas over the last twelve months, including extending the ACV on the ground, pushing various questions about the ownership of the club with the football authorities and actively participating in the Fan Led Review. The Trust was one of a few specially selected organisations to have one-to-one Zoom meetings with Tracey Crouch as part of the Fan Led Review. And why were we chosen? Because of the work we had been doing over the last 3 years to expose the situation at Blues with the Football Supporters Association and, through them, to the EFL and FA.
The FSA put Blues Trust name forward specifically. We asked fans to give us their views on the proposals for change when the Review was underway. Full details can be found on our website. Many of the recommendations in the FLR when it finally reported in November were put forward by Blues Trust. You can read more about what the FLR is here.
There are many ways of bringing about change. Direct action, complaining to authorities and boycotts to name just three. We feel the direct actions taken by supporters to date have been effective in putting our owners under the spotlight, and bringing national attention to the issues at BCFC.  We recognise and support the right to protest, but we firmly believe that any protest should remain legal, safe and non-racist.
But it is our view that there is also another way of creating change at our club, a way that can run in parallel with other actions. That is through Government legislation based on the Fan Led Review.  It will lead to transparency and fan involvement. Will it lead to new owners coming in? Who can tell? But even if the existing owners choose to remain it will force them to change their approach.
We have already started dialogue with the club on the FLR implementation so they can understand what will be expected of them under the new regime.  Some may see this as controversial, but the sooner the recommendations made in the FLR are implemented the sooner greater transparency will be achieved and the ability of fans to have their say directly to the club will happen.
All Blues fans can help with this by writing to their MP as recommended by the FSA Want to fix football? Here's how you can change things – Football Supporters' Association (thefsa.org.uk). We will be promoting this and sharing templates as part of a coordinated national campaign towards the end of February (to fit with the governments timetable to have new legislation included in the Queens speech in May).
The Blues Trust will continue to strive to achieve the best for Birmingham City Football Club and its supporters, within the volunteer resources it has available.
Blues Trust
​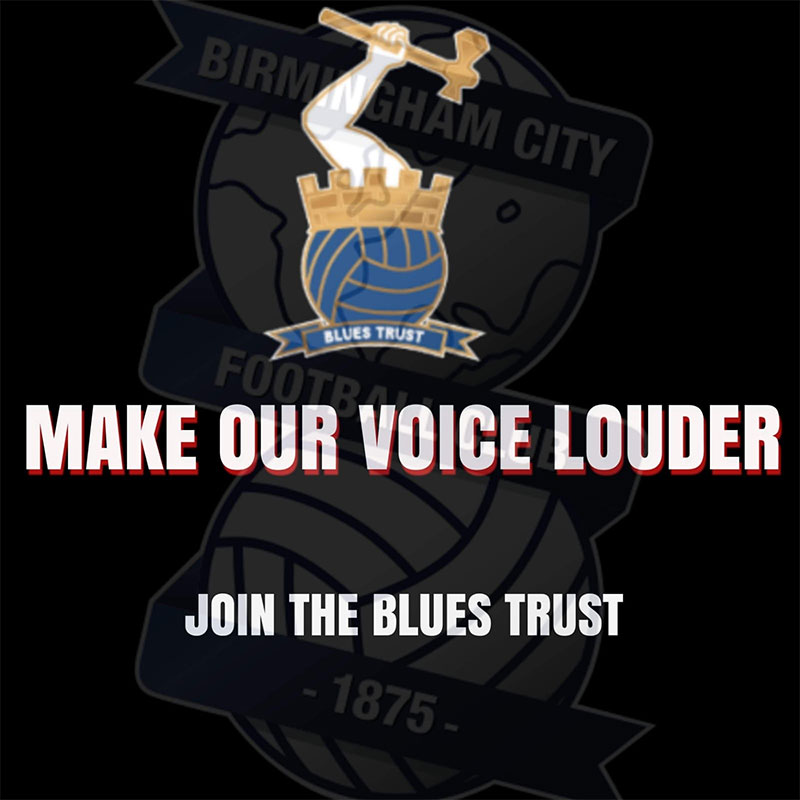 Want to be a full member with voting rights?
We have options for 1 and 2 years at £5 per year.  There is also a 5 year membership for £20 so you get 5 years for the price of 4.  See information and options here.
By making comments on the above article, you agree to Blues Trust retaining your email address should we need to make contact with you for admin purposes.   Let us know at admin@bluestrust.org if you do not wish us to do this.  We will not give out your email address to any 3rd party sources.