As football fans we have all experienced the mid-week game on a cold winter's evening. The rush to get to the game after a busy day.  Is there time for both tea with your family and a beer with your mates before the game? Probably not. Skip the tea! Piling into the ground at one minute before kick-off you feel a sense of achievement with your efforts to get there.
Last Thursday night was the latest meeting for the Board of the Blues Trust.  Ok, it was on Zoom so not so rushed and cold but there are many other similarities.
The meeting kicked off promptly at 7pm and the full team turned up.  We even had a prospective new board member from the membership of the Trust joining us, so a new signing on the bench so to speak.
The Chair, Cliff Horrocks, had come prepared.  A full agenda of what we needed to get through. Tactics!
First up was a review of the minutes from our last meeting in January, which also detailed any follow up action that was agreed to be done by today.  Had I done my part?  Of course I had.  Blues are an important part of my life and I wanted to make sure I was putting in the effort required.  More on my part later.
As each board member gave an update on what they had been doing it became clear a lot of voluntary effort had been put in by all over the last few weeks.  Meetings with BCFC, Birmingham City Council, other clubs' Supporters Trusts, the Football Supporters Association, hosting two online meetings with members of the Blues Trust regarding the important Fan Led Review, engaging with other Blues fan groups, engaging with new and existing members of the Blues Trust, running the website and social media pages, an interview with the Birmingham Mail and analysis of Blues latest accounts.
For my part, I'm recently charged with engaging with our supporters who have a high public profile.  We have quite a few famous Bluenoses, although a lot are hidden behind their agents which makes the job a little more challenging.  However, I did manage to converse with the radio and TV broadcaster Ian Danter (thank you for your time Ian) and although he's not yet a member of the Blues Trust I hope he will be at some point soon. If you happen to be one of our well known or influential supporters, or are friends with someone who is, please get in touch with me.
Time flew by and we were soon into the second half of the meeting. And without an orange slice or hot squash in sight as we tackled two new issues.
Firstly, that the Trust is now entering its 10th year of existence and what should be done to mark this milestone?  It's very difficult to judge the effectiveness of the Blues Trust.  Yes, it has a significant number of paying members whose subscriptions allow the Trust to function.  Yes, it has hundreds of non-paying followers.  Yes, St Andrews has been registered as an Asset of Community Value due, directly, to the efforts of Trust members. Yes, it played a big part…and continues to do so…in the development of the Fan Led Review which is expected to be debated in Parliament in 2022.
I'm even going to claim part credit for the Blues Trust with regard to the recent stadium improvements at St Andrews. The Trust offered the club a small army of volunteers to help clean up the ground.  Free labour which the club didn't take us up on, but have since started their own plan of works.  Maybe they were just uncomfortable by the kind offer from our members, but whatever it was the club have leapt into action to begin to make our ground a little less shabby.
But much still remains to be done. And the Trust certainly needs more members, both to strengthen its voice and also to shape and deliver its programme of activities for the wider benefit of all Blues supporters.
Secondly, and probably the biggest challenge for the Blues Trust at the moment, is how best to communicate the detail of the work we are doing for the benefit of supporters. Whether you are already a member or a Blues fan who still hasn't joined us yet, we want you to be aware of what is going on.  We are developing a relationship with the club, but sometimes they still wish to maintain a degree of confidentiality, which we respect, but which prevents us from full communication of all items discussed.  It's not yet quite the open relationship we are after, but it is a start after years of almost complete silence. So being able to share what is happening is not always straightforward, but the Trust is committed to trying to find ways of keeping Bluenoses informed.
The meeting drew to a close just after 9pm and if there was a sports journalist watching I think the match report in the local paper the following day would probably call the board meeting a competent 1-0 win.  A really good effort by the team, but one or two refereeing decisions made for a nervous ending!
Rob Simpson – Co-opted Member and Influential Supporters Programme
email:  robsimpson@bluestrust.org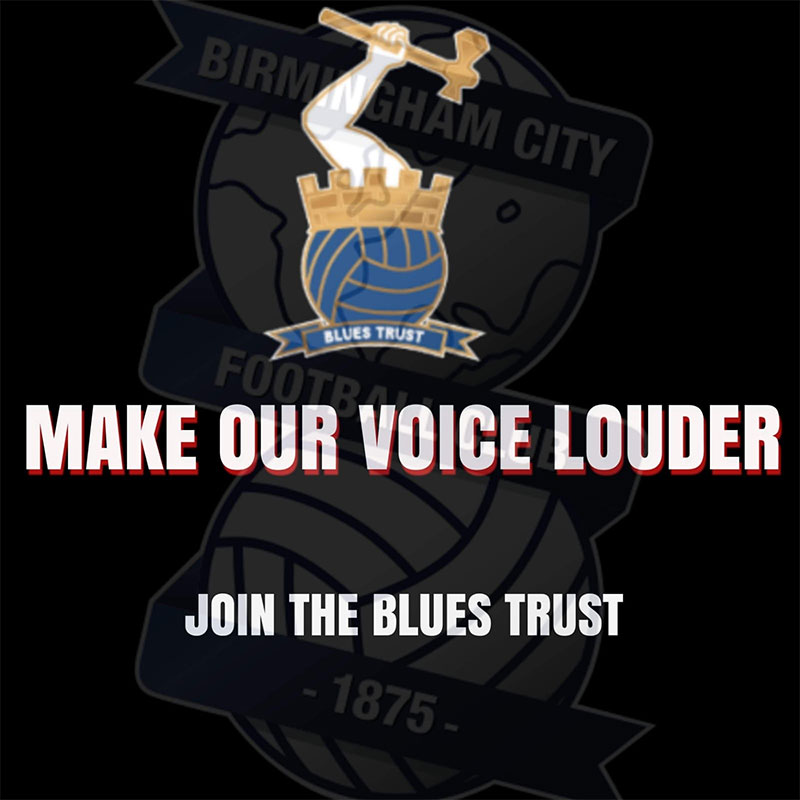 Want to be a full member with voting rights?
We have options for 1 and 2 years at £5 per year.  There is also a 5 year membership for £20 so you get 5 years for the price of 4.  See information and options here.
By making comments:
All we ask is that it relates to the Club that we all love. It can inform, question, challenge, criticise even….but it should not be written to threaten and/or cause personal offence.
By making comments on the above article, you agree to Blues Trust retaining your email address should we need to make contact with you for admin purposes.   Let us know at admin@bluestrust.org if you do not wish us to do this.  We will not give out your email address to any 3rd party sources.
The Trust reserves the right to moderate any comments made (in consultation with the writer) or to deny publication if comments are considered to be inconsistent with the requirements identified above.